Hi There!

I love baked potatoes, although we don't have them too often. But whenever we do, I'm usually good about limiting the toppings to just a bit of butter, salt and pepper — really. The only time I indulge is on rare trips to our favorite steak house, and those are only for very special occasions. But the other day, we happened to have all of the fixings on hand to make our own loaded baked potatoes, including some leftover meat sauce from a previous night's spaghetti dinner.

When I suggested having a potato bar, the kids were less than thrilled with the idea; it just didn't sound appetizing to them. So, I improvised and made a loaded baked potato casserole, and even the pickiest eaters ate it all up!





This is more of a serving suggestion than a recipe, but it's very simple to make. I made enough for two pans, so the proportions may be more than you would normally use, but you could always scale back or use as leftovers! Because it's still warm here, I started the dish in the microwave to cut down on baking time.
Ingredients
4 large baking potatoes

2 cups of shredded cheddar cheese

1 cup of Parmesan cheese

Butter or olive oil

Sea salt, pepper and any spices you like

Cooked ground beef, or leftover meat sauce or chili

Cooked bacon

Sour cream, more cheese and any of your favorite baked potato toppings
First, I washed and cut the potatoes into thin slices. I left the skins on for extra flavor. Then, I layered the slices in the two greased baking dishes and seasoned the layers with the salt pepper and spices. I drizzled some olive oil over the potato layers and cooked each pan of potatoes, covered, in the microwave for about 10 minutes, until the potatoes were getting tender. Then, I added a mix of the Parmesan and cheddar cheese on top and baked the casseroles, uncovered, at 350 degrees for about 20 minutes, until the potatoes were completely cooked.




Then, I heated up the leftover meat sauce and layered it over the cooked potatoes. I topped the meat with more cheese, some cooked bacon and baked the casserole until it was bubbly and the cheese was melted.



To make it a loaded baked potato casserole, we served it topped with sour cream, more shredded cheese and more pieces of cooked bacon. The meat sauce had zucchini in it, so there are plenty of veggies in this dish!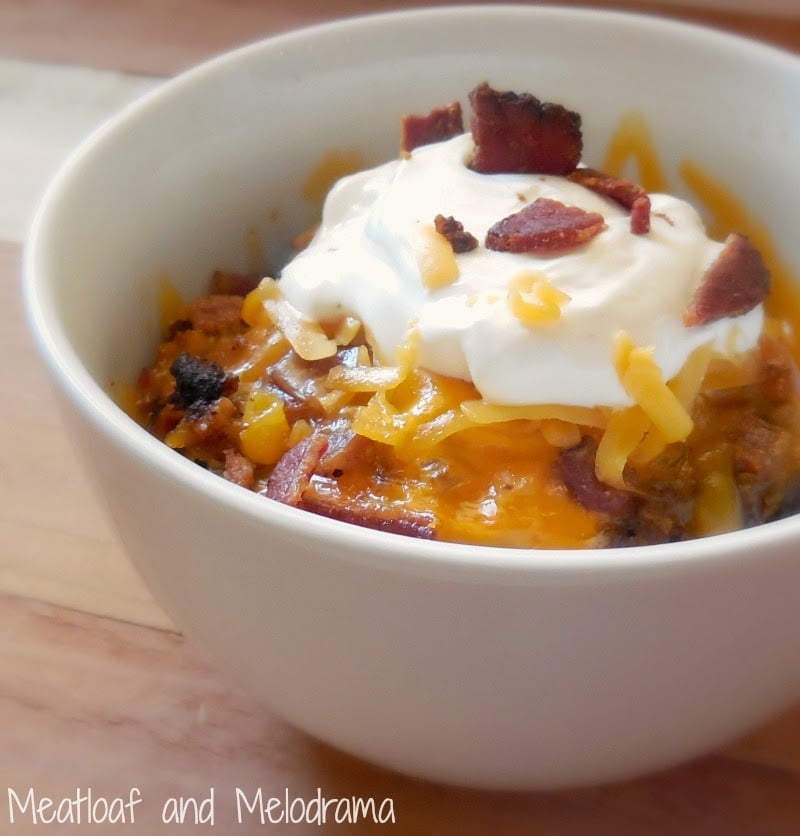 We've been eating lighter meals for most of the summer, so this was a nice change, and it will definitely be on the menu more as the weather cools off!

What's your favorite way to eat potatoes? Do you enjoy casseroles, or do you keep it on the lighter side?

Thanks for stopping by — Enjoy your day!
Dee 🙂