Mini Taco Salad Cups are made with wonton wrappers and baked in a muffin tin. These easy appetizers are the perfect addition to any fiesta!
I love taco salads, but I haven't had one in ages. For one thing, this salad is huge, and I can never finish the entire thing on my own. And, as much as I enjoy eating greens, my favorite part of this particular salad is the deep fried crunchy tortilla shell. Yep — I'm bad. I admit it.
So, that's why I avoid eating them. But, I still like them!
I thought it would be fun to try making mini taco salads, using wonton wrappers as the shell. It's practically time for Cinco de Mayo, and I feel like I'm seeing Mexican food everywhere I look. Plus, I'm slightly addicted to using wonton wrappers any way that I can.
I've used them to make jalapeno popper cups and pollo fundido cups, and my family and I enjoy having these finger foods for dinner every now and then.
Usually, I place the wrappers in a muffin tin and add the filling before baking them. But for the mini taco salads, I baked the wrappers first.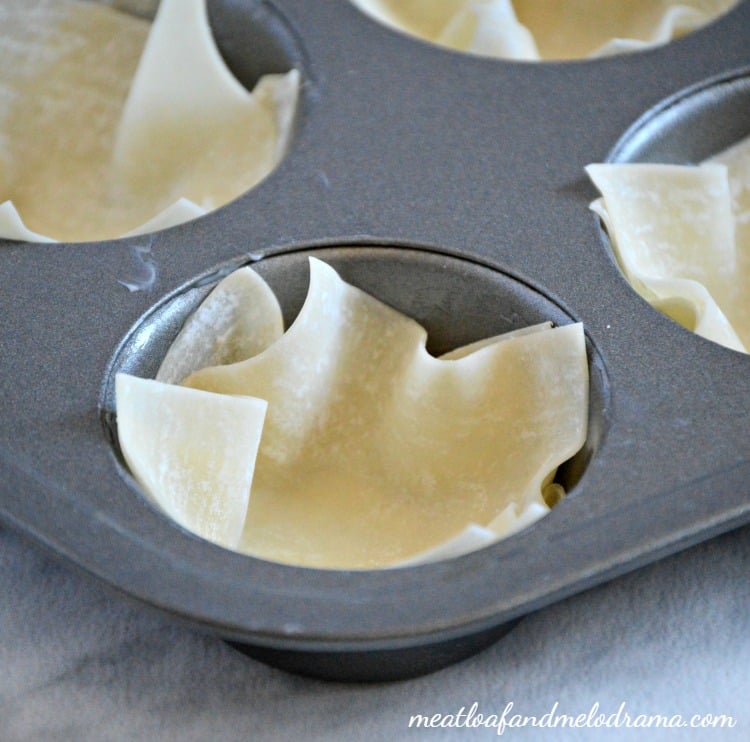 They came out crispy and slightly crunchy — just like the real deal. Well, maybe not just like a fried tortilla, but they were definitely close.
And making the mini salads was a breeze. I just added some chopped iceberg lettuce, seasoned ground beef and whatever toppings I could think of. On a regular taco salad, you can pile on as many toppings as you want. But since these mini salads are smaller, I kept it pretty simple.
I also used leftover taco meat, but if you're making these for a party or starting from scratch, you can cook the beef and add your favorite seasonings or even a packet of taco seasoning.
How to Make Mini Taco Salad Cups
Mini Taco Salad Cups
Mini taco salads in baked wonton wrappers are made in a muffin tin and make tasty appetizers for your fiesta.
Ingredients
24

wonton wrappers

2

cups

chopped ice berg lettuce or shredded lettuce

2

cups

cooked

seasoned ground beef

1

cup

shredded Mexican blend cheese or cheddar

if you prefer

Sour cream

tomatoes, cilantro or any of your favorite toppings
Instructions
Preheat oven to 400 degrees

Spray a 12-cup muffin tin with nonstick spray, and add two wrappers to each cup

Bake for 5 minutes or until brown and slightly crispy

Fill cooled wrappers with lettuce, beef, sour cream and any additional toppings
Nutrition
Calories:
63
kcal
Carbohydrates:
8
g
Protein:
4
g
Cholesterol:
10
mg
Sodium:
339
mg
Potassium:
65
mg
Calcium:
9
mg
Iron:
0.8
mg
These mini taco salad cups were a big hit with the family. They were slightly messy, but they were a lot of fun to eat. And, the kids said that they enjoyed them more than tacos. Score another win for mom!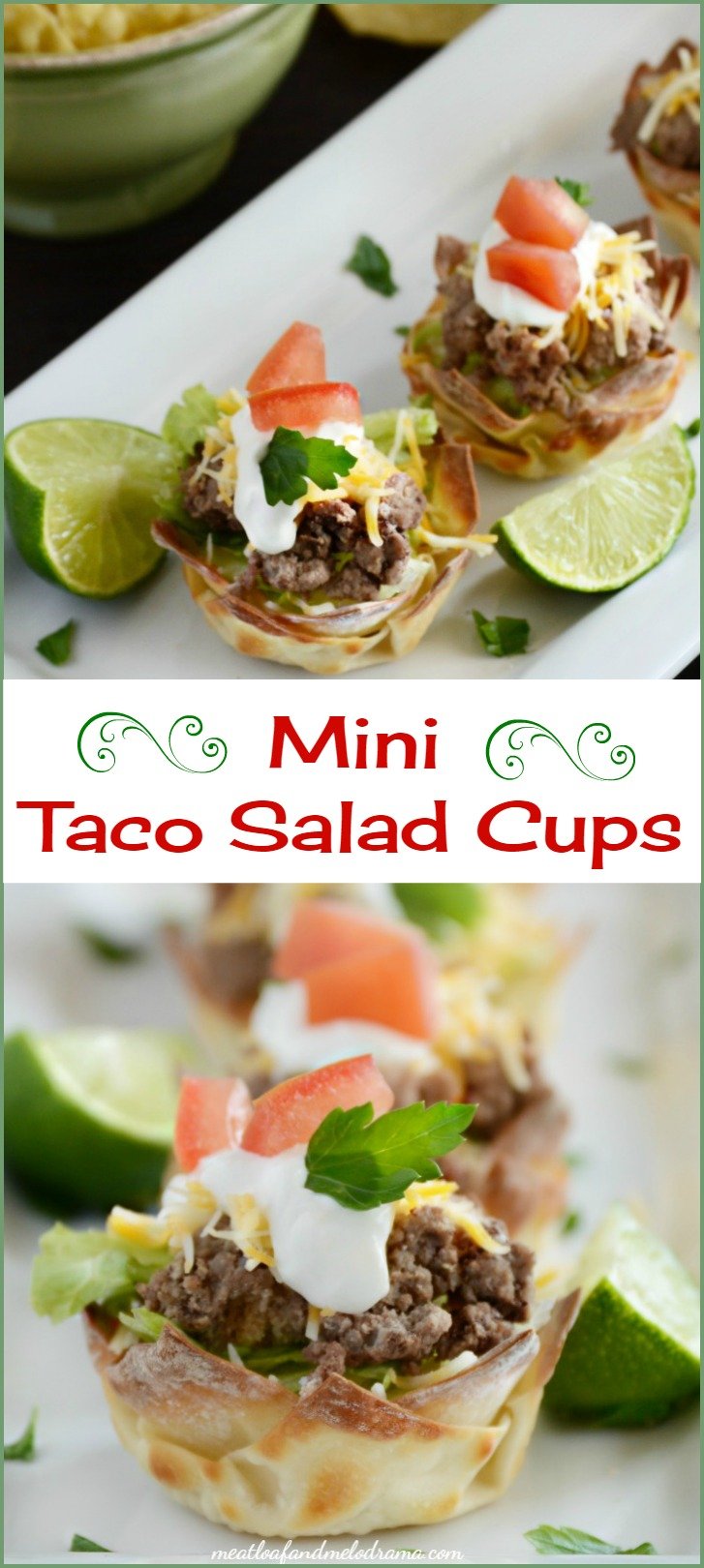 If you're hosting a party, these mini taco salad cups would make tasty appetizers, or you can just enjoy them for a quick and easy dinner like we did.
And if you have leftover taco meat, this is a great way to use it up!
Happy Eating,

Sharing At
TT&J, Met Monday, The Scoop, Delicious Dishes, Wow Us Wednesday