This easy No-Bake Pumpkin Cheesecake Pie is sweet, fluffy and lighter than the traditional version. It may be your new favorite holiday dessert!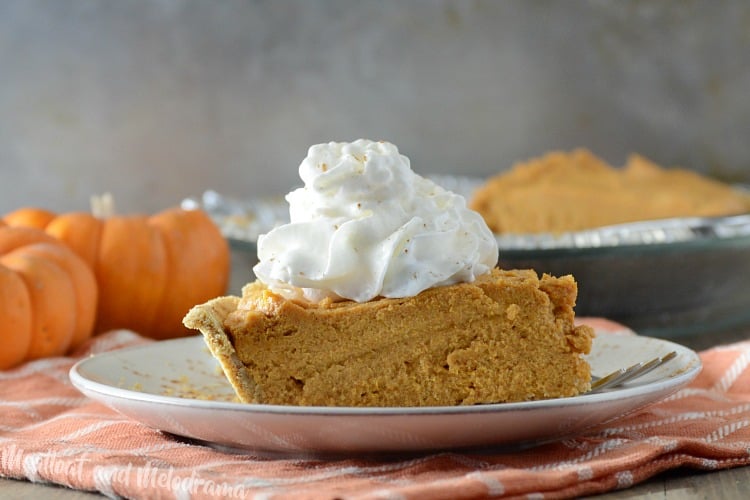 If you're looking for something other than the usual pumpkin pie for Thanksgiving or Christmas, try this pumpkin cheesecake pie, instead. It's a cross between cheesecake and pie, so it's light, fluffy and slightly sweet. Best of all, this is a super easy, no-bake dessert!
And if you're wondering why I'm talking about No-Bake Desserts in November, it's all about making your life easier , especially during the holidays. I mean, you're busy enough as it is, right? So, desserts should be as simple as possible.
I actually wasn't planning on sharing any more pumpkin recipes this year. But, I found this one in my grandma's recipe collection, and it sounded so easy that I had to try it. I know a lot of people have pumpkin pie for Christmas, so even if you have your Thanksgiving menu planned already, you can just save it for next month!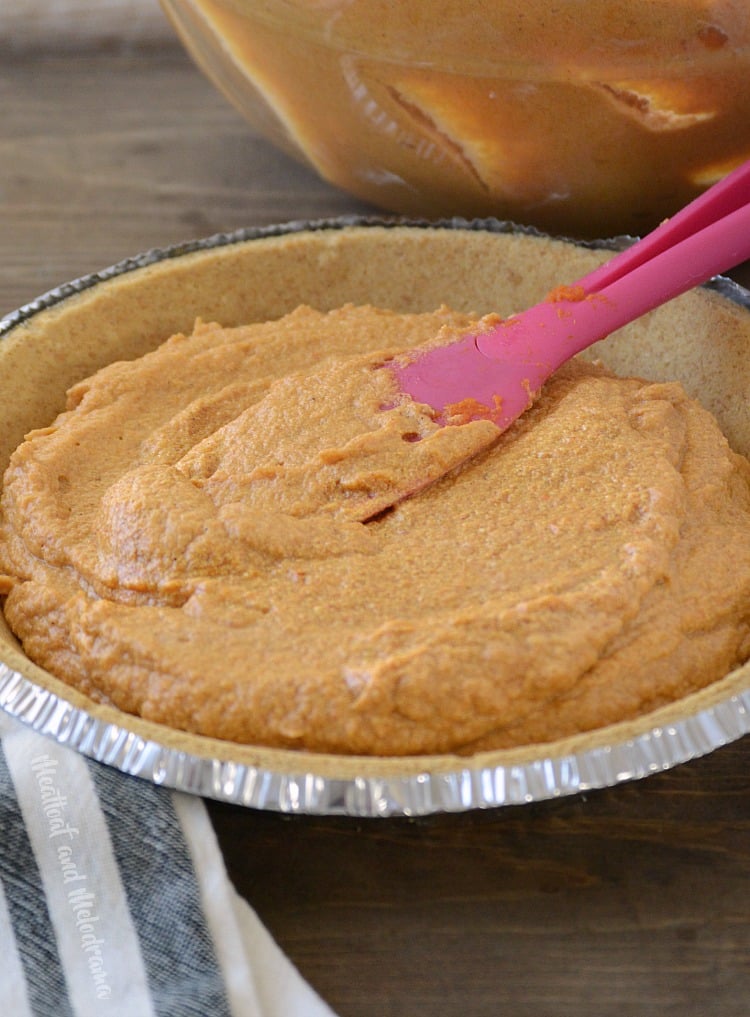 You can whip this pumpkin cheesecake pie up in just a few minutes — it's super simple. But even though it takes just a few minutes to make, it needs to sit in the fridge for about 6 hours to firm up. So, plan on making this pie the day before you actually need it, and it'll be perfect!
I ended up changing the original recipe a little. Nothing major — I added a little cinnamon because I just love the stuff, and I also added some maple syrup for extra flavor. And friends, let me tell you — This is one delicious pumpkin pie!
Even my picky eaters loved it, and they're not all that crazy about pumpkin pie. So, even if you're not a huge fan of pumpkin pie, you might really like this no-bake pumpkin cheesecake pie.
Looking for other no-bake pies and desserts?
How to Make No-Bake Pumpkin Cheesecake Pie
No-Bake Pumpkin Cheesecake Pie
No-Bake Pumpkin Cheesecake Pie is a cross between traditional pumpkin pie and cheesecake. It's lighter and sweeter and super easy to make!
Ingredients
1

8-oz package

cream cheese, softened

4

tablespoons

butter, softened

1

tablespoon

vanilla

1 1/2

cups

powdered sugar

1

15-oz can

pumpkin puree

1

teaspoon

pumpkin pie spice

2

teaspoons

ground cinnamon

1

teaspoon

real maple syrup

1

prepared 9-inch graham cracker crust
Instructions
In a large mixing bowl, cream the cream cheese,butter together until light and fluffy

Gradually mix in the powdered sugar, and beat until fluffy, scraping sides of bowl, occasionally

Add the pumpkin puree, pumpkin pie spice, cinnamon and maple syrup, and mix until well combined

Spoon mixture into graham cracker crust, and spread evenly with spatula

Refrigerate for 6 hours or overnight. Refrigerate any leftovers
Notes
There is no cooking time with this recipe, but it needs to firm up in the refrigerator for at least 6 hours or until firm. 
Nutrition
Loved this recipe?
Leave a comment or share on social media
I hope you enjoy this easy no-bake pumpkin cheesecake pie as much as we did!
Happy Holidays,