Paska Bread is a Ukrainian and Slovak Easter bread recipe that is traditionally served on Easter morning with other Eastern European Food. Similar to Polish Babka, this eggy, slightly sweet bread with golden raisins is a delicious family tradition.
Jump to:
Paska Bread has been a part of my family's Easter celebration for generations. It is a slightly sweet bread that is dense and almost cakey. My Baba used to bake traditional paska bread on early on Good Friday. She would use her hand to make a cross in the dough, and bake it in large coffee cans.
Then, she would place this sweet yeast bread in the Easter basket along with other Eastern European food like kobassi (kielbasa), horseradish, butter lamb, Easter cheese (cirak) and nut roll and take it to church to be blessed on Holy Saturday.
These days, we serve paska on Easte Sunday with Easter ham, kielbasa from our local Polish store, deviled eggs, potato salad and Easter lamb cake along with other Easter Recipes.
I have simplified my grandma's original recipe to make it easier. This delicious bread is a mix of Ukrainian Easter bread recipe and traditional Slovak Easter bread.
I use a stand mixer and bake it in a 9-inch cake pan. You can use a springform pan. It may not be the original family recipe, but you still get a beautiful rise and one gorgeous loaf of homemade bread!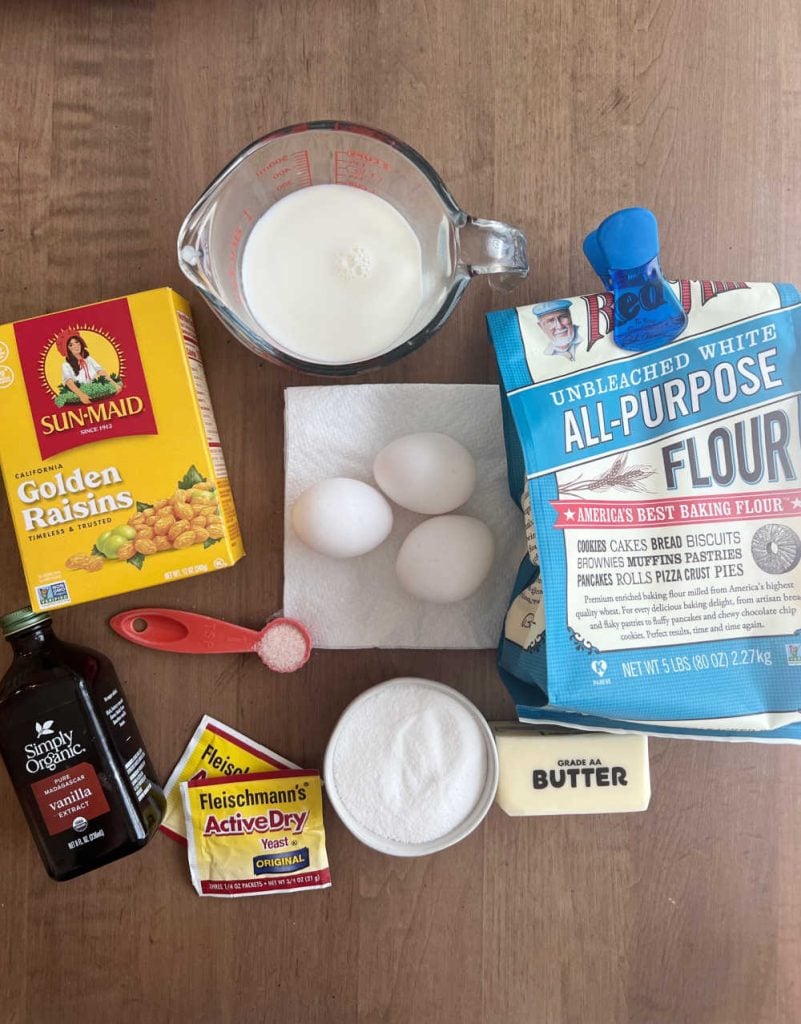 Ingredients
You only need a few simple ingredients for this homemade paska bread recipe. They should be easy to find in your grocery store.
Flour -- I use all purpose flour, usually Bob's Red Mill
Eggs -- large eggs to make the dough and for an egg wash before baking
Yeast -- active dry yeast, not instant yeast
Milk -- warm milk to bloom the yeast and add to the dough. Use whole milk or 2 percent
Sugar -- to help activate the yeast and sweeten the dough
Butter -- either salted or unsalted butter, softened at room temperature
Vanilla -- to add flavor
Salt -- for the dough
Golden raisins -- add sweetness and flavor
How to Make Paska Easter Bread
First, you need to bloom the yeast. Heat ½ cup of milk in the microwave for about 30 seconds or until the temperature reads 110 degrees f.
Add sugar and yeast, and set aside until the yeast starts to bubble.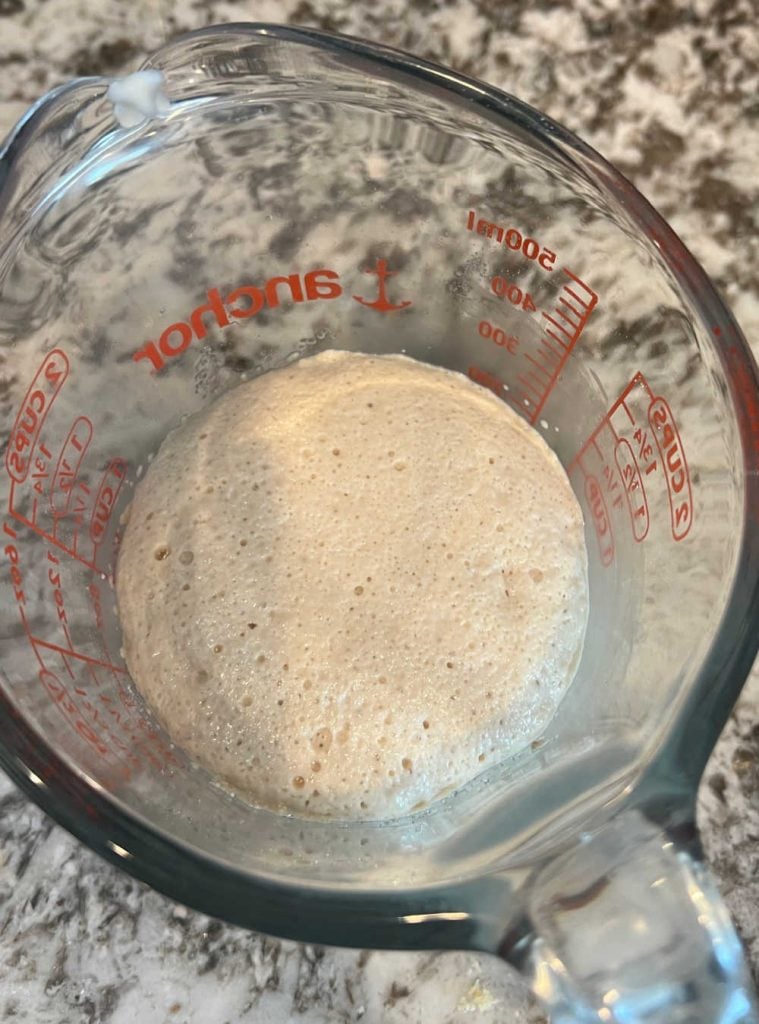 Meanwhile, add the softened butter, eggs, vanilla and remaining half cup milk to the bowl of a stand mixer. Stir until just combined.
Then, add the yeast mixture and 2 cups flour, and mix on low using the dough hook attachment.
Gradually add 3 more cups of flour, and let the mixer knead the dough. Add another ½ cup to 1 cup for a total of 6 cups of flour if necessary.
It takes about 5 minutes of kneading using the dough hook attachment for the dough to come together. It should be slightly sticky but not stick to your fingers when you try to remove it.
You will need to scrape the sides of the bowl a couple of times.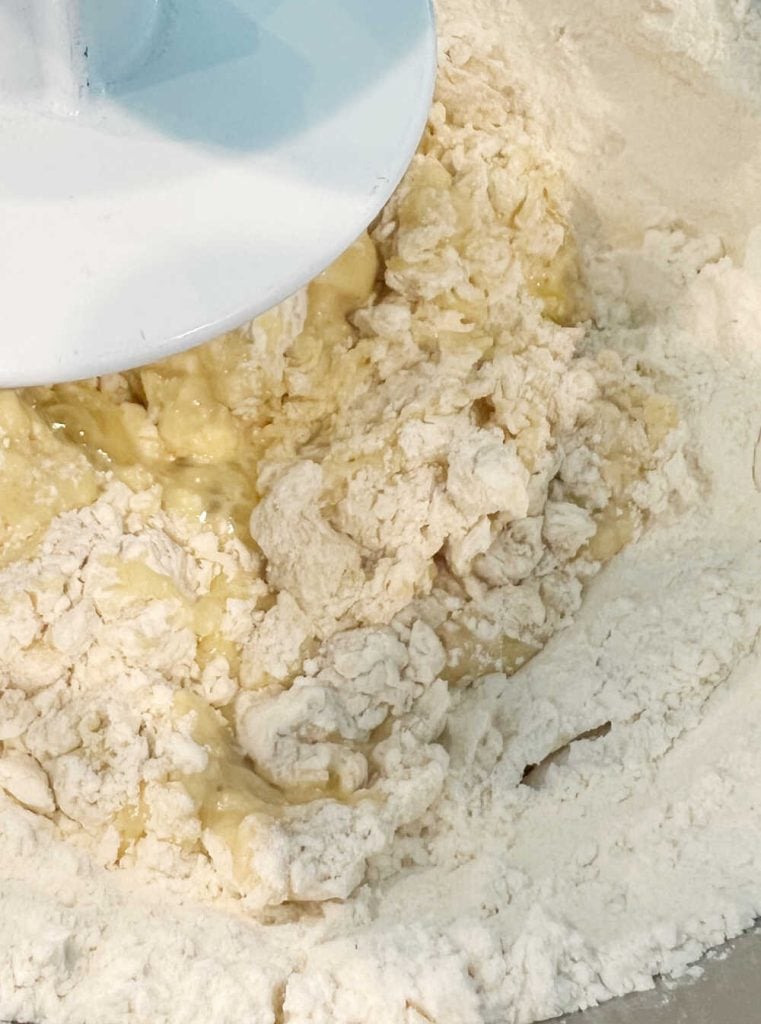 Now, mix in the raisins. You can use the mixer for this or add them in by hand.
Place the dough ball into lightly greased bowl, and turn so that the top of the dough is buttered. Lightly cover the bowl with aluminum foil. You can also use a clean kitchen towel or plastic wrap.
Then, place the dough in a warm spot to rise for an hour. I usually turn on the oven for about 30 seconds and turn it off again -- just enough to warm it slightly -- and place the bowl in the oven. Note -- if you do this, don't use plastic wrap!
After 1 hour, the dough should be double in size. Punch the dough down, and turn it onto a lightly floured surface.
Remove a little less than ¼ of the dough to make the cross. Divide the small piece of dough into 3 pieces, and roll them out into long ropes using your fingers.
Then, press the the ends of the ropes together, and braid the dough into 1 long rope.
Place the large piece of dough into a greased baking pan. Smooth it out so that the dough is even thickness and reaches the ends of the cake pan.
Then, cut the braid in half using a knife or dough cutter. Place one piece of the braid over the larger piece of dough and the other piece over that to form a cross shape.
Tuck the ends of the cross under the inside edge of the pan.
Next, make an egg wash by mixing 1 egg with 1 tablespoon water in a small bowl. use a pastry brush or silicone brush to lightly brush the egg mixture over the top of the dough.
Now, place the dough back into a warm place for the second rise. This takes about 30-45 minutes. The risen dough should be close to the top of the cake pan.
Baking Time
Place the paska into the preheated oven on the middle rack. Bake for 40 minutes to 45 minutes.
When done, the paska should be golden brown and sound hollow when gently tapped. You can also check the temperature. It should be 190 degrees, according to a thermometer inserted into the middle of the bread.
Allow the baked paska to cool down enough so you can handle it. Then, gently remove the bread from the cake pan, and place on a wire rack to cool completely.
How to Store
Homemade paska bread is best eaten within 3 days of baking. Store it in a cool dry place in an airtight container.
Store slices of bread in an airtight container for up to 2 days. You can freeze paska for up to 3 months. To freeze, wrap the loaf in plastic wrap and then, in a layer of aluminum foil.
Recipe Variations
The golden raisins are optional but are traditional in my family's paska recipe. Some people like to soak the raisins in warm water or vodka or rum before using. I have tried soaking and not soaking, and we couldn't really tell the difference.
Easter paska bread is traditionally decorated with religious symbols to celebrate the resurrection of Christ. You can make leaves, birds or small crosses instead of a large braid. Alternately, you can wrap the braid around the loaf or leave the loaf plain.
For citrus flavor, some recipes call for lemon zest or orange zest.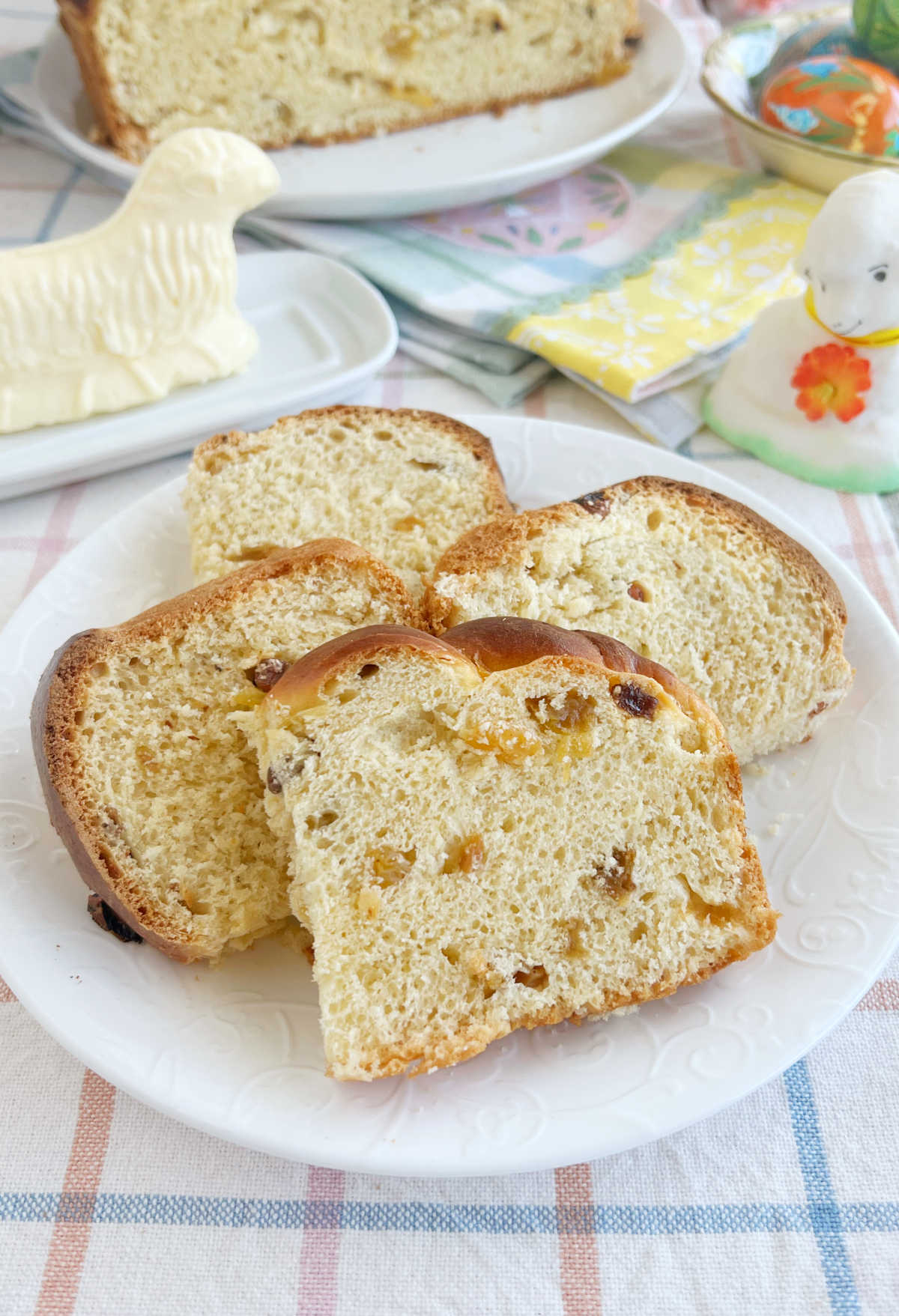 Expert Tips for Perfect Paska
Measure and prep all ingredients before starting to make the bread. It goes much smoother that way. Use room temperature softened butter.
Be sure to use active dry yeast and not instant yeast or rapid rise yeast, as I have not tested the recipe with those. Also make sure the yeast has not expired -- always bloom the yeast first.
The weather may affect the amount of flour needed. On humid days, you may need a little more flour. If it's very dry, you may need a little less. If the dough is too sticky, add a little more flour until you can easily handle the dough.
Check the bread during baking time. If the top is browning too much, cover it lightly with foil. You can also turn the temperature down to 325.
You can definitely make the bread dough by hand -- our Babas did! It will just take longer.
Recipe FAQ
What nationality is Paska?
Paska is Easter bread from Eastern Europe. It can be Slovak, Ukrainian, Carpatho Rusyn or Polish, and recipes vary with different regions. It is similar to Russian Kulich.
What's the difference between Paska and Babka?
Both are very similar. Babka is typically sweeter than Paska and often topped with icing.
Recipe
Paska Bread (Easter Bread Recipe)
Paska Bread is a Ukrainian and Slovak Easter bread recipe that is traditionally served on Easter morning with other Eastern European Food. Similar to Polish Babka, this eggy, slightly sweet bread with golden raisins is a delicious family tradition.
Ingredients
Yeast Mixture
½

cup

warm milk

2

¼-oz

packets active dry yeast

½ ounce total

2

teaspoon

granulated sugar
For the Dough
3

large

eggs

½

cup

granulated sugar

¼

cup

butter

softened at room temperature

½

cup

milk

1

tablespoon

vanilla extract

1

teaspoon

salt

5-6

cups

all purpose flour

1

cup

golden raisins
Egg Wash
1

large

egg

1

tablespoon

water
Instructions
Add yeast and 2 teaspoons sugar to warm milk, and set aside until foamy

Add the eggs, sugar, butter, milk and vanilla extract to the bowl of a stand mixer or large mixing bowl, and mix until combined

Stir in the yeast mixture, salt and 2 cups flour

Gradually add 3 more cups flour, and knead with dough hook attachment or by hand until dough is smooth. Add another cup flour if necessary. Dough should be slightly sticky but shouldn't stick to your hands

Stir in the raisins until well blended

Place dough ball in a large mixing bowl, greased well with butter. Cover with aluminum foil or plastic wrap and place in a warm place to rise for 1 hour or until doubled

Punch dough down. Then, turn onto a lightly floured surface, and cut off slightly less than ¼ of the dough

Divide small piece of dough into 3 pieces, and roll out into 3 long ropes, using your fingers

Pinch ends of ropes together, and braid into 1 long braided rope. Cut rope in half

Place larger piece of dough into buttered 9-inch cake pan, and smooth out so it evenly covers the pan

Form a cross with the braided dough on top of the paska

Place dough in a warm place and let dough rise for 30 to 45 minutes. Dough should be close to top of cake pan

Mix egg and water together. Gently brush the egg wash over the top of the bread

Place paska dough into preheated oven, and bake for 40-45 minutes or until golden brown. Bread should sound hollow when tapped, and temperature should be 190℉ according to instant read thermometer. It may take up to 50 minutes.

Remove bread from oven, and allow to cool slightly. Gently remove from cake pan, and allow to finish cooling on a wire baking rack
Notes
You can warm the milk in the microwave for 30 seconds until it reaches 110 degrees f. Or, follow directions on the package of yeast for correct temperature.
Check the bread during the baking process. If it starts to get too brown, cover loosely with aluminum foil. Or, reduce temperature to 325 degrees f if needed.
Store paska in an airtight container at room temperature for up to 3 days.
Nutrition information is estimated. Please do your own calculation to fit special diets.
Nutrition
Calories:
394
kcal
Carbohydrates:
71
g
Protein:
10
g
Fat:
8
g
Saturated Fat:
4
g
Polyunsaturated Fat:
1
g
Monounsaturated Fat:
2
g
Trans Fat:
0.2
g
Cholesterol:
88
mg
Sodium:
305
mg
Potassium:
226
mg
Fiber:
2
g
Sugar:
20
g
Vitamin A:
270
IU
Vitamin C:
0.5
mg
Calcium:
45
mg
Iron:
4
mg
Paska Easter bread is a wonderful part of our Easter meal. If you're looking for Ukrainian Easter bread, traditional Slovak paska bread or Polish Easter bread, I hope you will give this traditional sweet bread a try.
If you do make this Paska Easter bread recipe, please leave a star rating and/or comment.
For more family recipes and traditional recipes for Easter, sign up for the weekly newsletter and follow on social media.