Easy Peppermint Brownies frosted with dark chocolate topped with crushed candy canes are the best fudgy brownies for Christmas. Everyone loves this one bowl brownie recipe, and it's perfect for holiday baking!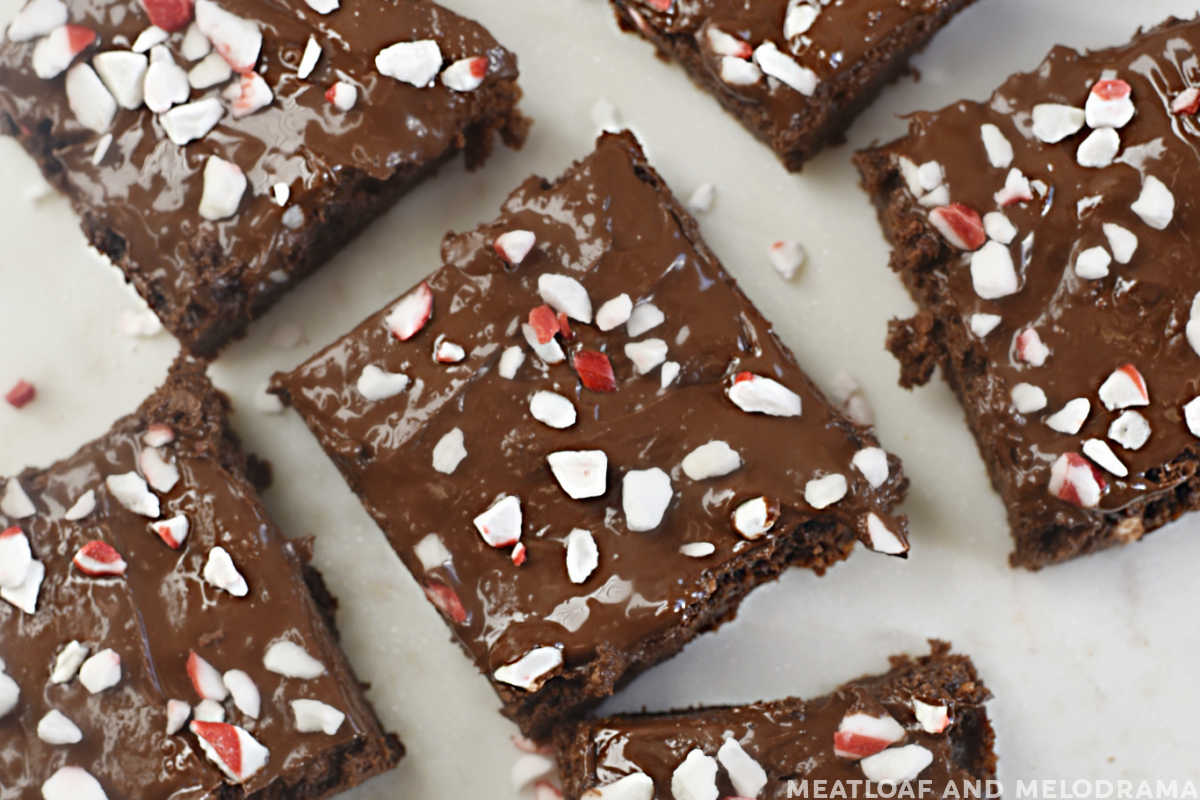 Jump to:

How do you improve double chocolate brownies? You dress them up for the holidays by adding a layer of chocolate frosting and flavoring it with plenty of peppermint extract and peppermint candies!
We've been making these delicious fudgy peppermint brownies for years. These are one of our favorite Christmas desserts, and it wouldn't be the holiday season without them!
This is truly an easy brownie recipe. So easy that older kids can make it -- mine do! And, you can mix up everything in one bowl for easy clean-up!
So if you're looking for an easy holiday treat, these chocolate peppermint brownies are for you!
You can also try our Instant Pot Peppermint Cheesecake, Peppermint Mocha Cookies, White Chocolate Peppermint Fudge, Peppermint Mocha Dessert Dip or Chocolate Peppermint Fudge.
Ingredients
You only need a few simple ingredients for this peppermint brownie recipe. You can find everything you need in your local grocery store or online:
Semi sweet chocolate chips
Butter
Large eggs
Peppermint extract -- just a teaspoon. We don't want too much peppermint extract!
White sugar
Ground cinnamon
All purpose flour
Baking soda
Peppermint candies -- or crushed candy canes
You will also need a glass or metal baking pan, cooking spray or parchment paper, a large mixing bowl and measuring spoons and cups.
How to Make Easy Peppermint Brownies
Preheat your oven to 350 degrees f if you are using a metal baking pan. Preheat to 325 f for a glass baking dish.
First, you melt some chocolate chips in the microwave in a large bowl. Melt them in short increments, stirring well each time.
You can also do this on the stove -- just make sure the pot is big enough to hold all of the ingredients.
When the chocolate is melted and smooth, add the peppermint extract. Then, you add the remaining ingredients, and mix everything together. You can mix the brownie base with a stand or electric mixer, but a rubber spatula works just fine.
The batter will be stiff. But, that's normal.
I like to line the baking pan with parchment paper. This makes it easy to remove the brownies and slice them.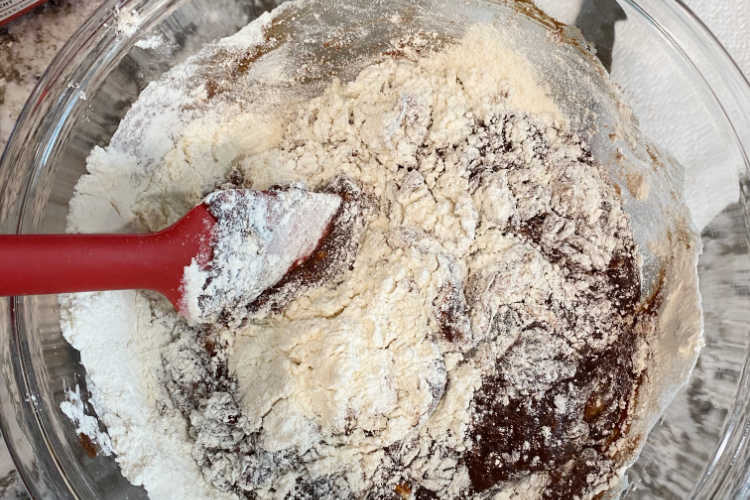 If you don't have parchment paper, you can use foil. Or, just grease the pan with butter or use non stick baking spray.
While many brownie recipes call for cocoa powder, this one doesn't, as the chocolate chips in the batter add enough of a rich chocolaty flavor while giving the brownies a fudgy texture.
Including cocoa powder in the dry ingredients would result in a more cake-like brownie, instead of a chewy brownie.
Baking Time
Bake brownies for 18 to 20 minutes or until a toothpick inserted into the center comes out fairly clean.
The edges will be firm, but the center of the brownies may be a little soft. This is fine -- you don't want to over bake fudgy brownies. The brownies will continue to bake in the pan, even as they cool.
When the brownies are done baking, sprinkle some chocolate morsels over the top. Return the pan to the oven for about 5 minutes or until the chocolate starts to melt.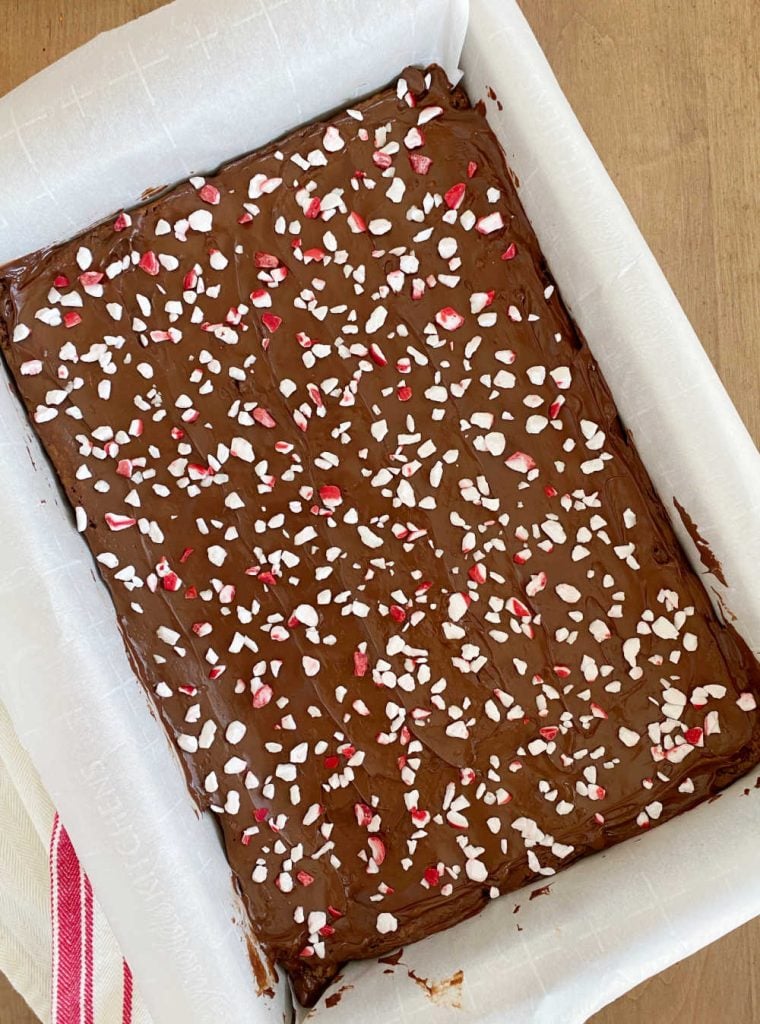 Smooth the melted chocolate over the brownie layer. Then, sprinkle some crushed peppermint candies all over the melted chocolate.
Now comes the hardest part -- you'll need to let the gooey brownies cool down a little before you dig in!
The chocolate layer hardens as it cools, and it's almost like a layer of peppermint bark on top. Yum!
How to Cut Cleanly
Wondering how to cut brownies cleanly? I recommend lining your prepared pan with parchment paper or foil.
That way, you can just lift out the cooled brownies by the lining, and place the whole thing onto a cutting board.
Once the brownies are on the cutting board, use a sharp knife to get the cleanest cuts.
I also like to wipe the knife blade off between each cut, so that the gooey frosting and moist crumbs don't get in the way of a sharp slice!
Variations
There aren't too many variations for this perfect holiday treat, because that rich mint chocolate flavor is exactly what we're going for!
You can use peppermint essential oil instead of extract only if you have essential oils that are food grade.
I usually use semi sweet chocolate chips to make the chocolate layer on top of the brownies, but you could use white chocolate chips or bittersweet chocolate chips, if you'd prefer a different flavor.
Instead of making your own frosting layer with chocolate chips and peppermint candies, use regular chocolate frosting. Or, make a peppermint cream cheese frosting, if that's too much chocolate for you.
You can also leave out the ground cinnamon in the brownie batter, if you'd like.
How to Store
Keep these Christmas brownies in an air-tight container. They stay soft and fresh for a few days -- if they last that long!
The brownies will keep at room temperature, but if your house is warm, I recommend storing the brownies in the refrigerator, since the chocolate layer may melt.
You can also freeze the brownies for later. Just skip frosting them, and keep them in a freezer safe, airtight container. Let the chilled brownies thaw for a little bit before you do frost them.
Recipe
Easy Peppermint Brownies
Easy Peppermint Brownies topped with chocolate and crushed candies are chewy minty and delicious! This one bowl brownie recipe is perfect for holiday baking!
Ingredients
Brownies
2

cups

semi sweet chocolate chips (divided)

½

cup

butter

melted

3

large

eggs

1

teaspoon

peppermint extract

1

cup

white sugar

1

teaspoon

ground cinnamon

1 ¼

cup

all purpose flour

¼

teaspoon

baking soda
Frosting
1 ½

cups

semi sweet chocolate chips

½

cup

crushed peppermint candies
Instructions
Preheat oven to 350° for metal pan, 325° for glass

In a large pot or microwaveable bowl, melt the butter and 1 cup of the chips over low heat. If microwaving, heat chips and butter in short increments, stirring frequently

When melted, remove from heat and stir in the peppermint extract.

Add eggs, sugar, cinnamon, flour and baking soda, and mix well.

Stir in 1 cup of the chocolate chips, and pour mixture into a greased or parchment paper-lined 13 X 9 baking dish.

Bake °for 18 - 20 minutes or until toothpick inserted into center of brownies comes out fairly clean. There will be some chocolate from the chocolate chips on the toothpick.

Remove from oven, turn off heat, and drop remaining chocolate chips over the top. You can add more if you want a thicker layer of chocolate.

Return the brownie pan to the oven and allow chips to begin to melt. No more than 5 minutes

Remove again, and use a spatula to spread the melted chips evenly over the top.

Top with peppermint candies, and cut into squares when cool.

Enjoy!
Notes
Bake at 350 in a metal pan or 325 in a glass pan for the same amount of time.
Brownies should be firm around the edges and softer in the middle -- do not overbake. They will firm up as they cool.
Nutrition information is estimated. Please do your own calculation to fit special diets.
Nutrition
Calories:
457
kcal
Carbohydrates:
50
g
Protein:
5
g
Fat:
26
g
Saturated Fat:
15
g
Cholesterol:
63
mg
Sodium:
110
mg
Potassium:
284
mg
Fiber:
4
g
Sugar:
33
g
Vitamin A:
320
IU
Calcium:
40
mg
Iron:
3.6
mg
More Easy Peppermint Dessert Recipes
Recipe was first published in 2015 and last updated in 2021.
The delicious, rich chocolate and cool peppermint flavor make these the perfect Christmas brownies! My whole family thinks these are the best brownies ever!
For more of my favorite recipes perfect for this festive time of year, be sure to subscribe to the newsletter!