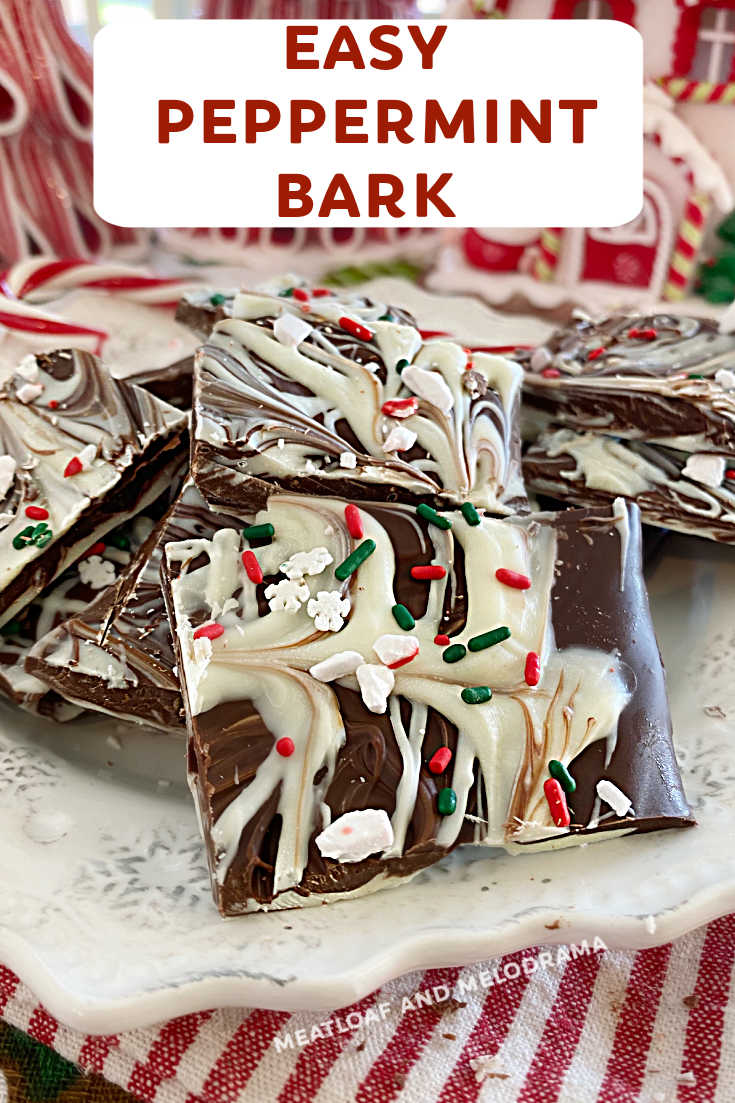 Peppermint Bark made with swirls of white and semi sweet chocolate and topped with crushed peppermint candy is an easy Christmas treat!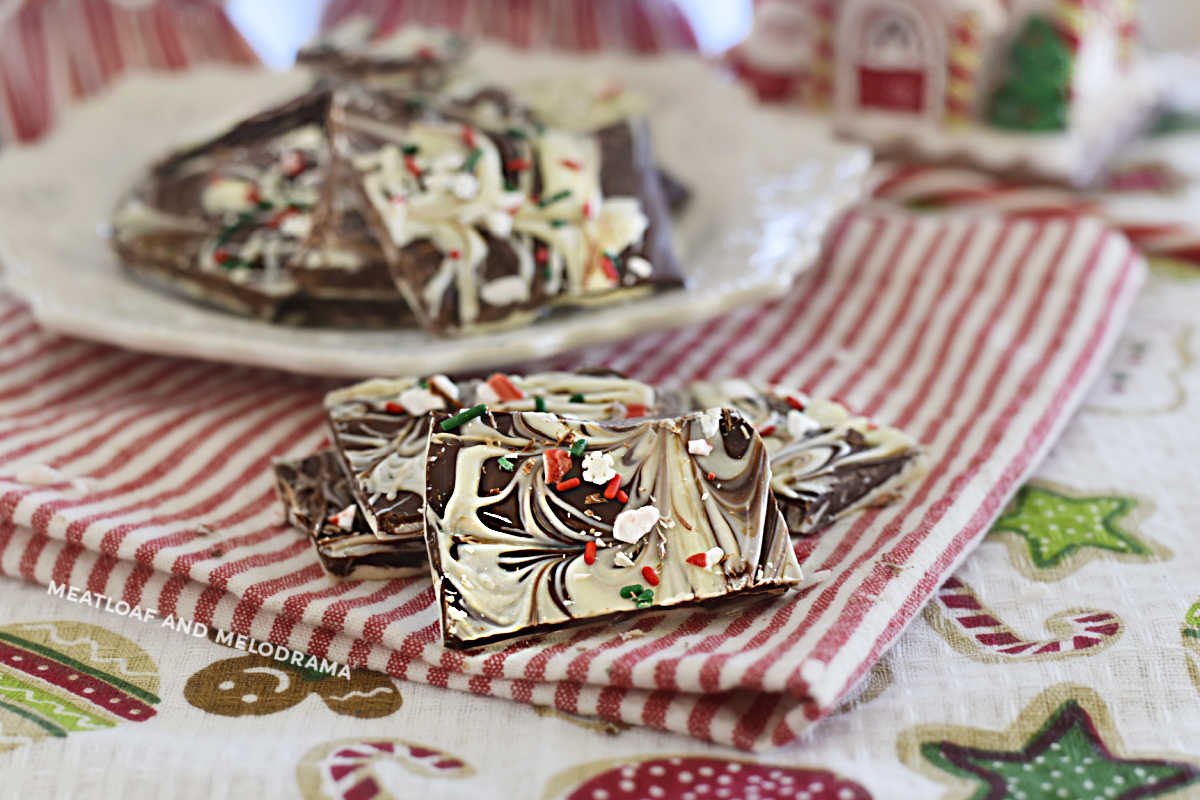 This Homemade Peppermint Bark recipe is one of my family's favorite easy desserts to make during the Christmas holidays. And, it's a good thing it's so uncomplicated because this stuff goes fast!
We make Halloween Bark in the fall, Bunny Tail Bark in the spring and Red White and Blue Bark in the summer. But this festive 4 ingredient peppermint flavored candy is my favorite!
You need a mix of white and semi sweet chocolate for this bark recipe. And unlike other recipes, you swirl the 2 chocolates together so they don't separate!
How to Make Homemade Peppermint Bark
First, melt the white chocolate and semi sweet chocolate in 2 separate bowls. I like to melt chocolate in the microwave, but you can do this on the stove if you prefer that method.
Then, mix a little peppermint extract into the melted chocolate. The extract should be at room temperature so that the chocolate doesn't seize.
Spread the chocolates next to each other on a wax paper-lined baking sheet, and allow to cool slightly. Then, swirl them together using a toothpick or sharp knife.
For a festive look, sprinkle on crushed peppermint candy. You can crush up some candy canes or buy this in the store. It's usually in the baking aisle or in the holiday section.
We like to add red and green jimmies or seasonal candy sprinkles. The more, the merrier, right?!
You can pop the bark into the fridge or freezer to help it set faster. After it sets, cut the bark into squares.You can also break it into smaller pieces with your hands.
How to store it
Store the peppermint bark in a covered container in the fridge. If your house is cold, it'll probably be fine on the counter. But here in the desert, it tends to melt on the counter!
You can also freeze the bark for longer storage. Just break it up, put it into a freezer bag, and take it out when you're ready to munch!
Quick Tips
Peppermint bark is super easy to make. But here are a few tips to avoid the bark separating or the chocolate from seizing:
Melt the chocolate in increments in the microwave or on low heat on the stove
Use room temperature peppermint extract to prevent the chocolate from seizing
Swirl the white chocolate and dark chocolate together to prevent the layers from separating. If you want the layered look, pour white chocolate over the dark after it cools slightly but before it hardens completely.
Peppermint Bark
Peppermint Bark recipe made with swirls of white and semi sweet chocolate and topped with crushed peppermint candy is an easy Christmas treat
Ingredients
2

cups

semi sweet chocolate morsels

2

cups

white chocolate morsels

¼

teaspoon

peppermint extract

or ⅛ teaspoon in each melted chocolate

crushed peppermint candies
Instructions
Pour the semi sweet morsels and the white chocolate morsels into separate microwaveable bowls

Melt each bowl of chocolates separately starting at 30 seconds and then at 15-second increments, stirring frequently until fully melted and smooth. Or follow directions on bag.

Add the peppermint extract to one of the melted chocolates, and stir well. Or add ⅛ to each bowl of chocolate

Pour both chocolates onto a wax-paper lined baking sheet, spread out with spatula, next to each other, allow to cool just slightly

Swirl together with sharp knife or toothpick. Bark should be about ⅛ inch thick. Sprinkle top with crushed peppermint candies, and place in refrigerator until solid.

Remove from fridge, and break apart or cut with sharp knife. Store in fridge.
Notes
Use room temperature peppermint extract.
If you want chocolate layers, spread dark chocolate on bottom, and pour white chocolate over when dark chocolate is firm but not cool yet.
Nutrition
Calories:
80
kcal
Carbohydrates:
8
g
Fat:
5
g
Saturated Fat:
2
g
Cholesterol:
1
mg
Sodium:
7
mg
Potassium:
61
mg
Sugar:
6
g
Vitamin A:
5
IU
Calcium:
19
mg
Iron:
0.5
mg
More Peppermint Recipes

Recipe was first published in 2015 and last updated in 2020.