Red, white and blue bark is a super easy treat that is perfect for sharing at patriotic holidays! Even if you're short on time, you can easily make this tricolored dessert in a matter of minutes.


We always make peppermint bark at Christmas, and one of the things I like best about it is that it only takes a few minutes to prepare. So when I found some blue candy melts at Michael's, the kids and I thought it would be fun to try making some red, white and blue bark.

At first it seemed a little odd to be making bark in the summer, but we got over that feeling fast!

Since candy melts alone would be a tad too sweet, even for me, I decided to use semi-sweet chocolate as a base for the bark. This worked really well, and I love the way all of the colors look together!
I found that it's easier to get the swirl effect by letting the colors firm up just slightly before adding the layers. Just don't wait too long! You want the layers to stick together, but you still want them soft enough to blend.
The bark on it's own looked pretty plain, so we added some colorful red, white and blue candies to the top.
How to Make Red, White and Blue Bark
Red, White and Blue Bark
Red, White and Blue Bark is a red, white and blue dessert made from candy melts and chocolate candies that is perfect for any patriotic holiday
Ingredients
1 12-

oz

bag of semi-sweet chocolate chips

1 12-

oz

bag of white candy melts

1 12-

oz

bag of dark blue candy melts

Red

white and blue candies or any candy for garnish
Instructions
Melt the chocolate chips slowly in a microwaveable bowl.

Spread a thin layer of chocolate onto a baking sheet covered with wax paper, and the chocolate harden in the refrigerator.

Melt the white candy pieces, and layer half on top of the chocolate.

Melt the blue candy, and spread on top of the white layer, and add the rest of the melted white candy.

Then, use a spoon or knife to swirl the colors together.

Finish by adding some red, white and blue candies on top.
Nutrition
Calories:
250
kcal
Carbohydrates:
26
g
Protein:
1
g
Fat:
15
g
Saturated Fat:
10
g
Cholesterol:
1
mg
Sodium:
24
mg
Potassium:
139
mg
Fiber:
1
g
Sugar:
22
g
Vitamin A:
10
IU
Calcium:
15
mg
Iron:
1.5
mg

And, I have to say that a pizza cutter does an awesome job of making neat slices, which is a good thing when you're trying to show off that amazing blue and white swirl.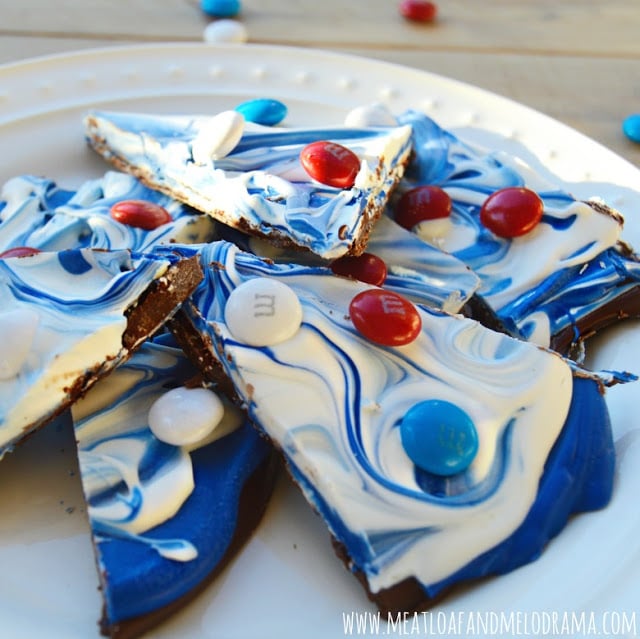 It's starting to warm up here, so keeping the bark in the refrigerator is a necessity. Actually, I keep it in the garage refrigerator to discourage the kids and me from foraging — those little pieces are so tempting. There's nothing like making dessert and not having much left by the time it's ready to serve!

So if you're looking for a quick and easy patriotic dessert for Memorial Day, the Fourth of July or any patriotic holiday, you can't go wrong with red, white and blue bark.


Thanks so much for taking the time to visit. Have a wonderful day!
You May Also Like