Air Fryer Pierogies are crispy and delicious! Learn how to cook frozen pierogies in the air fryer with this easy recipe. Perfect for a simple side dish or quick snack!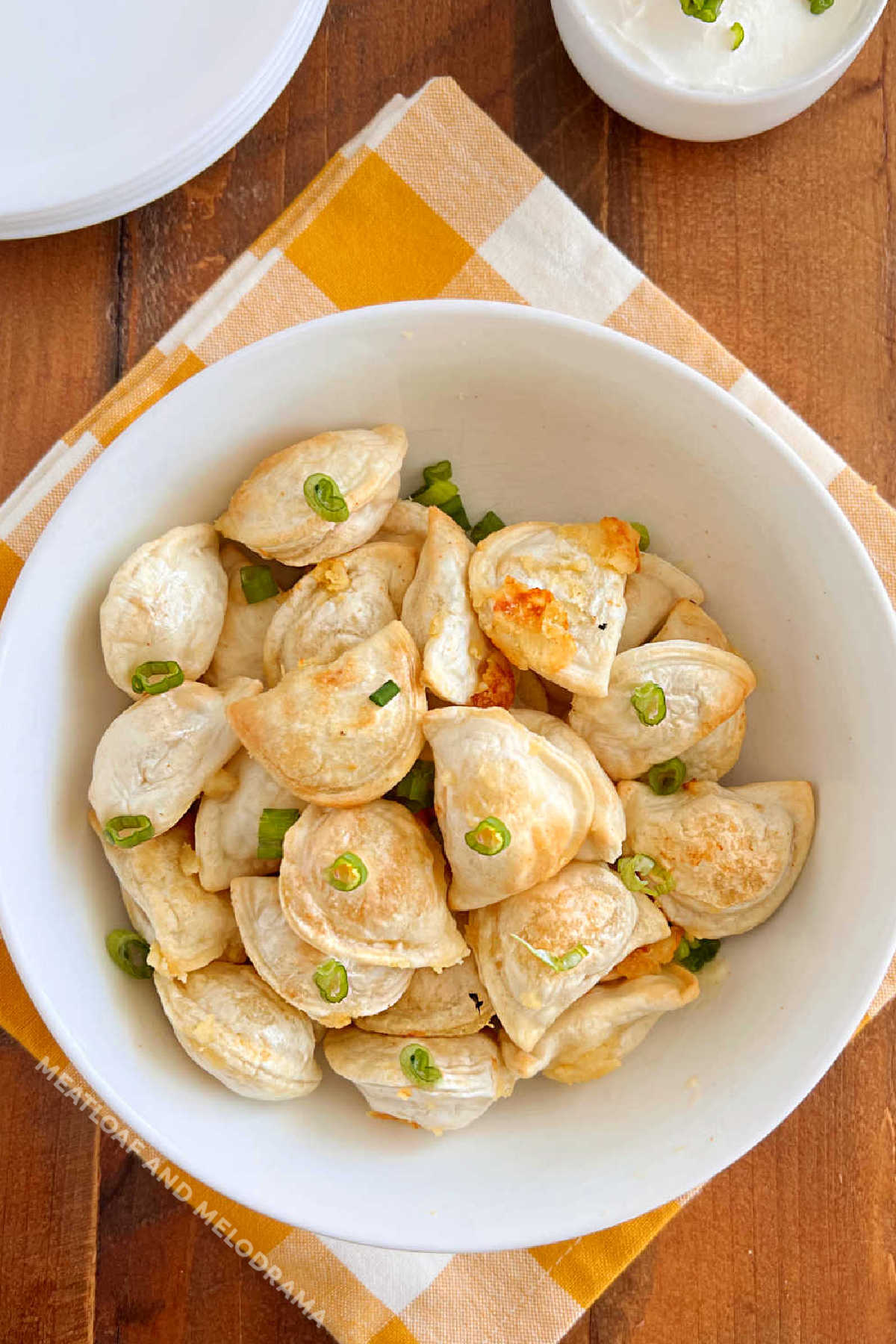 Frozen pierogies are one of the easiest air fryer recipes you'll ever make! They're crispy, crunchy and ready in minutes.
I'm a bit of a purist when it comes to pierogi. I grew up making homemade pierogi every Christmas with my grandma. And I never even bought frozen pierogi until a few years ago.
But, my family absolutely loves these little dumplings, and it's so much easier to use frozen when we need a quick fix!
Usually, I bake pierogies and kielbasa in the oven or make Instant Pot pierogi casserole. But it's even faster to cook frozen pierogies in your air fryer!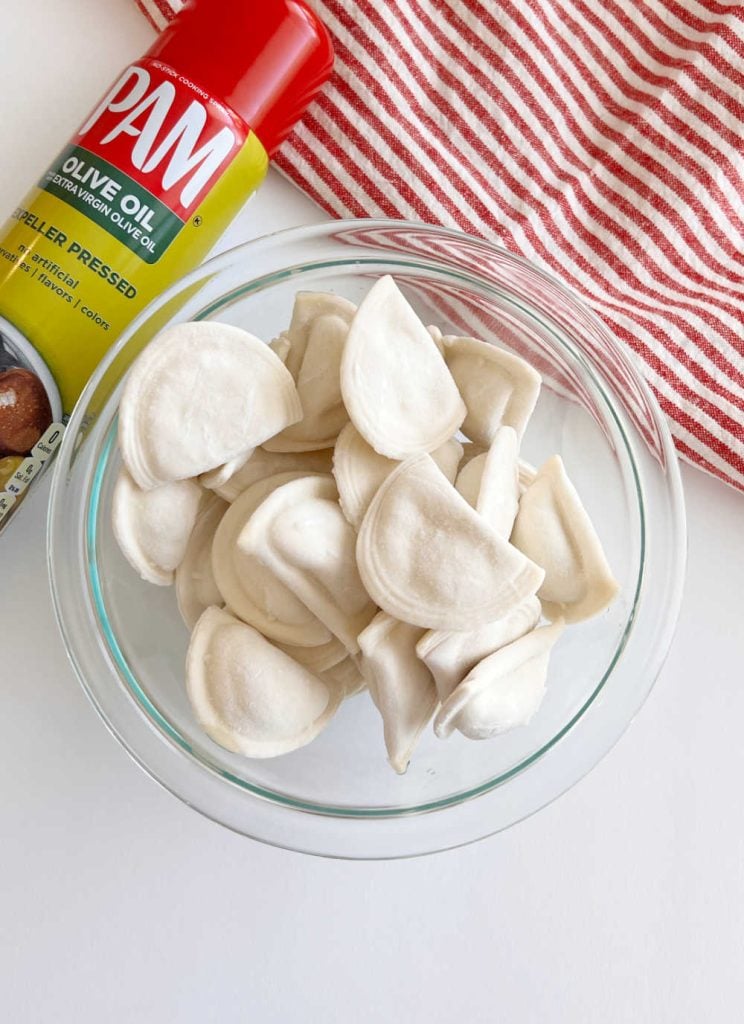 Ingredients
You only need a couple of basic ingredients to make air fryer pierogis. Add whatever spices and seasonings you like!
Frozen pierogies -- mini or full sized
Olive oil spray -- or a little bit of olive oil
Additional spices and seasonings of your choosing. I sometimes sprinkle onion powder on before air frying.
I use both frozen mini pierogies and full sized pierogis. Usually, I use Mrs. T's pierogies, but any frozen pierogi, such as Kasia's, will also work. You should be able to find Mrs T's pierogies online or in your local grocery store.
I used potato filling, potato cheese filling and potato cream cheese, but any savory filling should work. I haven't tried air frying frozen pierogies with sweet filling yet!
How to Cook Frozen Pierogies in the Air Fryer
Prepping your perogies is super simple.
First, remove the frozen pierogis from their box, and place them in a medium bowl or plate.
Then, spritz the frozen perogies with olive oil spray, and toss them until they're coated. If you don't have spray, just pour a little oil on top of the pierogi, and toss until coated.
You could just spray the air fryer tray or basket of your air fryer with nonstick cooking spray, but for best results, I recommend coating the frozen perogi themselves in olive oil. That way, they'll get nice and crispy.
And that's all the prep you need! Easy peasy!
Cooking Time
Preheat the air fryer to 400 degrees F. Place pierogies in the basket of the air fryer, keeping them in a single layer on the bottom of the air fryer basket. It's okay if they overlap a little.
Cook pierogies for 10 minutes at 400 degrees. About halfway through the cooking time, turn over the pierogi.
The perogi are fully cooked when they are golden brown and crispy on both sides.
Remove pierogies from the air fryer, and they're ready to be eaten immediately!
Cook time may vary with different air fryers. If you are using the Ninja Foodi Grill, select air crisp setting.
You can cook pierogi even longer if you want them to have an extra crispy texture. 11 or 12 minutes should do it.
I wouldn't cook homemade fresh pierogi this way, but that's because it just feels wrong after decades of making fried homemade pierogies with butter and onions! What would Baba think?!
And, I actually prefer softer pierogi. If you'd like, feel free to air fry pierogies that are not frozen as well!
What to Serve
So, what to serve with perogies? The possibilities are endless!
We like to eat mini Mrs T's pierogies as a side dish or appetizer, because they're a bit too small for a main course.
Serve your air fried mini pierogi with a side of sour cream or horseradish. Your favorite dipping sauce works just as well!
Serve full size pierogi as a main dish, paring with your favorite vegetables. Sauerkraut, frozen peas, green beans, and cucumber salad are some of my favorites.
Our favorite main dishes to serve perogi with are Polish breaded pork chops and kielbasa and sauerkraut.
Variations
Most frozen pierogies do not come with any flavoring, so you can feel free to customize your air fryer perogi with whatever you'd like!
Add bread crumbs to the perogies while air frying for an extra crispy, toasted dish. This is similar to air fryer toasted ravioili.
Or, pour melted butter or chopped fried onions and butter and shredded cheddar over the pierogies to make them soft and buttery.
I like to sprinkle minced onions or onion powder on the pierogi for extra flavor. If you want to get a bit more adventurous with the flavor profile, throw on your favorite seasoning blend.
Taco seasoning, Italian seasoning, or a spicy dash of cayenne pepper or red pepper flakes are a great way to add a little non-traditional zest.
Another easy way to change things up is to add some jalapeño slices, green onions, or bacon bits to your perogi. These go very well with cheddar cheese pierogi!
How to Store and Reheat
Store any leftover pierogies in an airtight container in the refrigerator, where they'll last for 3 to 4 days.
Reheat pierogis in the microwave or in the air fryer. For air fryer reheating, you'll only need a cook time of a couple minutes--just until the pierogies are warm.
May contain affiliate links. See disclosure for more information.
Recipe
Air Fryer Pierogies
Air Fryer Pierogies are crispy and delicious! Learn how to cook frozen pierogies in the air fryer with this easy recipe. Perfect for a simple side dish or quick snack!
Ingredients
12

pierogi

olive oil spray
Instructions
Remove frozen pierogi from the box, and place in a medium bowl or on a plate

Spritz with olive oil spray, and toss to coat

Preheat air fryer to 400 degrees f for 10 minutes

Place frozen pierogi in air fryer basket and cook for 10 minutes, turning about halfway through cooking time, or until pierogi are golden brown and crisp

Remove and serve immediately
Notes
Exact cook time may vary between different air fryer brands/models.
Nutrition information is approximate and will vary with different pierogi brands.
You can use olive oil or butter in place of olive oil spray.
Nutrition information is estimated. Please do your own calculation to fit special diets.
Nutrition
Growing up Slavic, I've made pierogi almost every way you can imagine: baking in the oven, boiling in a large pot, frying in a frying pan or even a deep fryer!
At the end of the day, air fryer frozen pierogies are the best way to get buttery, crispier pierogies without hours of labor.
If you want more simple recipe ideas, air fryer recipes, and quick dinners, you've come to the right place!
While you're here, subscribe to the newsletter and follow me on social media! If you enjoy this recipe as much as we do, please leave a star rating and review in the comments!