Air Fryer Potatoes au Gratin, or cheesy scalloped potatoes, is a creamy easy side dish perfect for holiday dinners. Cooks super fast in the air fryer oven!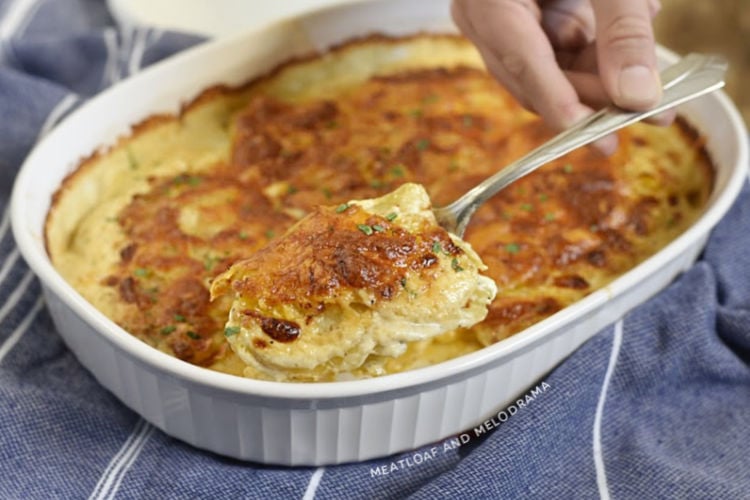 If you're looking for an easy holiday side dish, try these creamy, cheesy potatoes au gratin. They take about an hour to bake in a regular oven but only about 20 minutes in the air fryer!
We just bought the Instant Pot Omni Plus, and it's huge! Most of my air fryer recipes were made in the smaller Vortex. But, I wanted an air fryer that was big enough to make family-sized meals, and this one delivers!
The very first thing I made in my new air fryer was this easy, cheesy scalloped potato recipe. It usually takes about an hour in the oven, but this quick gratin recipe only takes 20 minutes in the air fryer! Amazing!
The Difference Between Scalloped Potatoes and Au Gratin Potatoes
In short -- It's all about the cheese. Both baked potato dishes are made with thinly sliced potatoes and cream or milk.
But, au gratin potatoes have shredded cheese between the layers and on top, which forms a tasty crust as it bakes. Scalloped potatoes traditionally don't have cheese.
So if you want to call this delicious side dish cheesy scalloped potatoes, that's totally fine.
The Best Potatoes to use for Au Gratin
I use Yukon Gold for gratins and most potato dishes because they hold they hold their shape well, and you don't have to peel them. Russets work well in this recipe, too.
Best Cheese for Au Gratin
Gruyere is traditional, but almost any shredded cheese will work. I used a combination of sharp cheddar for flavor and Colby Jack for extra creaminess. You could also add some grated Parmesan to the top.
How to Make Quick Gratin Potatoes in the Air Fryer Oven
First, you want to slice the potatoes as thin as possible -- around ⅛ inch or ¼, but not more. I recommend using a mandoline slicer - just be careful while you slice them.
To make this recipe come together quickly, I don't make a cheese sauce with flour. Some will say you should to prevent the sauce from separating or curdling, but I've never had that happen.
I don't mix the potatoes and cream together. Just butter the dish, and start layering the potatoes.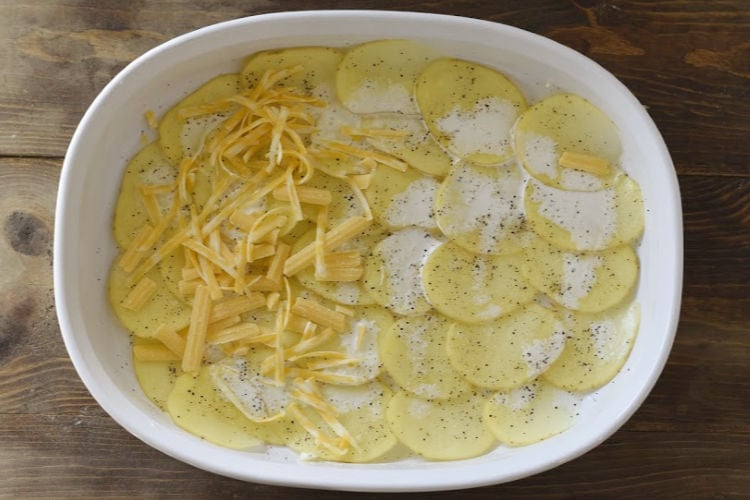 The ends will overlap a little, but don't stack the potatoes on top of each other. Then, season the potatoes, and add a little cream and cheese.
Repeat the process until you have 4 layers of potatoes. Then, finish with a layer of cheese -- you can add more here if you want.
Pour the remaining cream over the potatoes, and dot with a little butter. Did I mention this is not a light dish?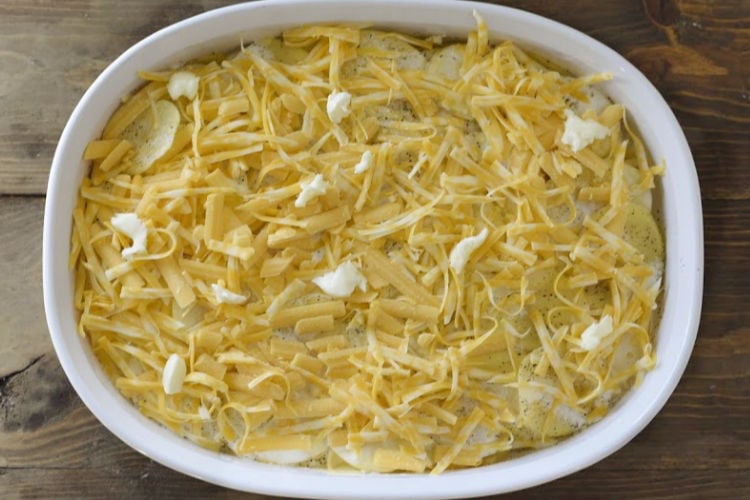 There's no need to cover the dish. Just pop the potatoes into your air fryer oven, and bake at 350 degrees.
As the potatoes au gratin bake, the cheese forms a nice crispy crust on top. If you want, you can add more cheese to the top right before it's done.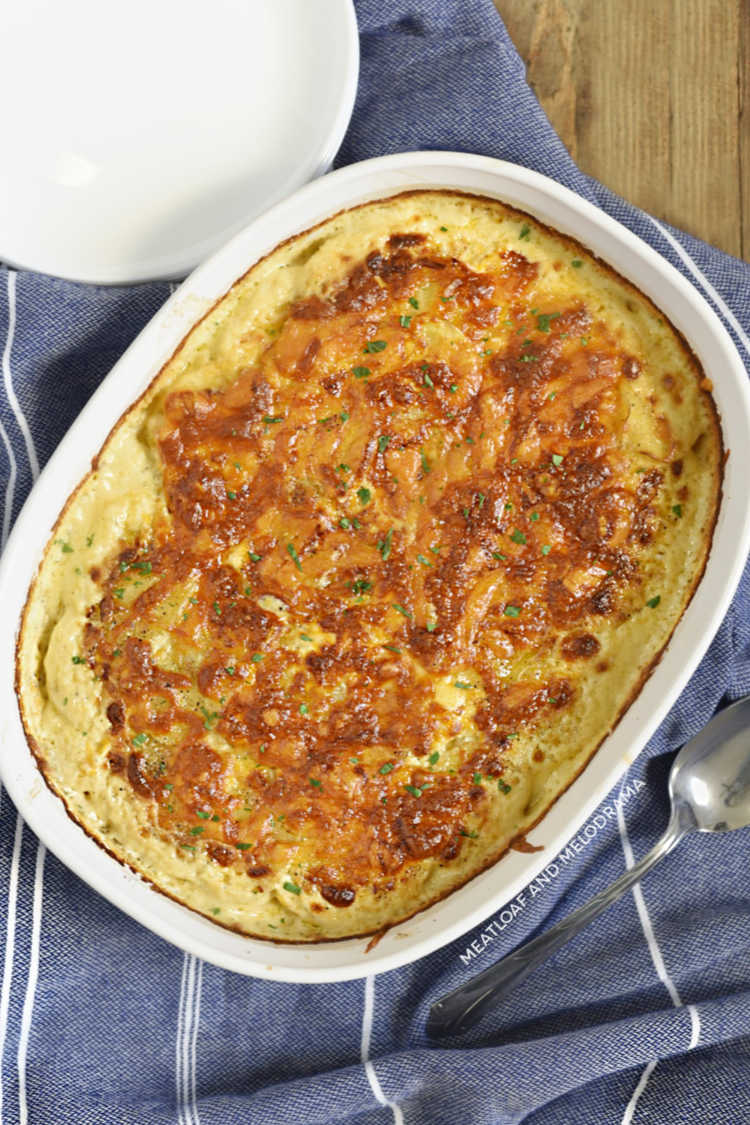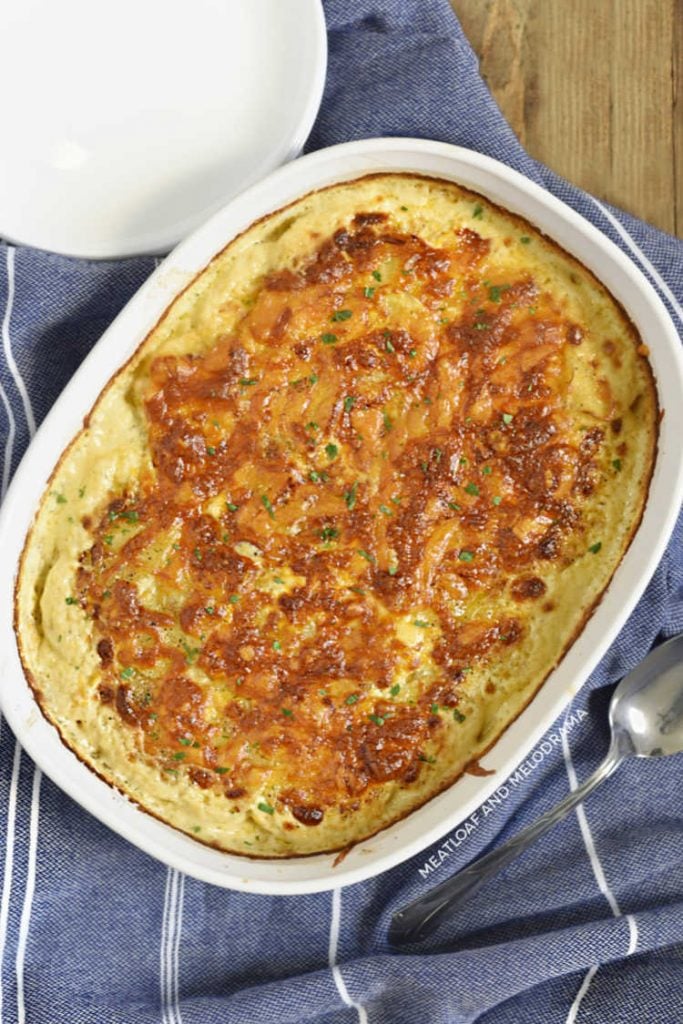 How Long to Bake au Gratin Potatoes in an Air Fryer
Every air fryer is different, but these cheesy potatoes were perfectly cooked and fork tender after just 20 minutes. You'll want to keep an eye on them as they cook.
Let the potatoes rest for about 5 minutes after baking. This helps the cream sauce thicken up, and it will continue to thicken up as it cools down.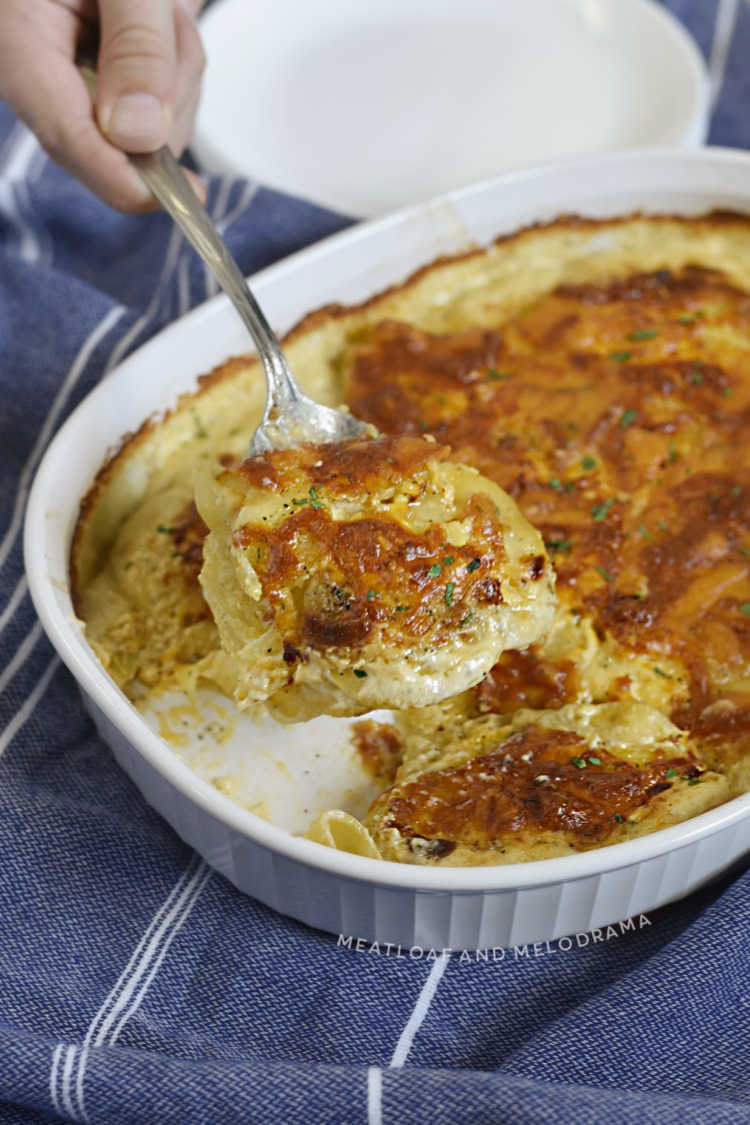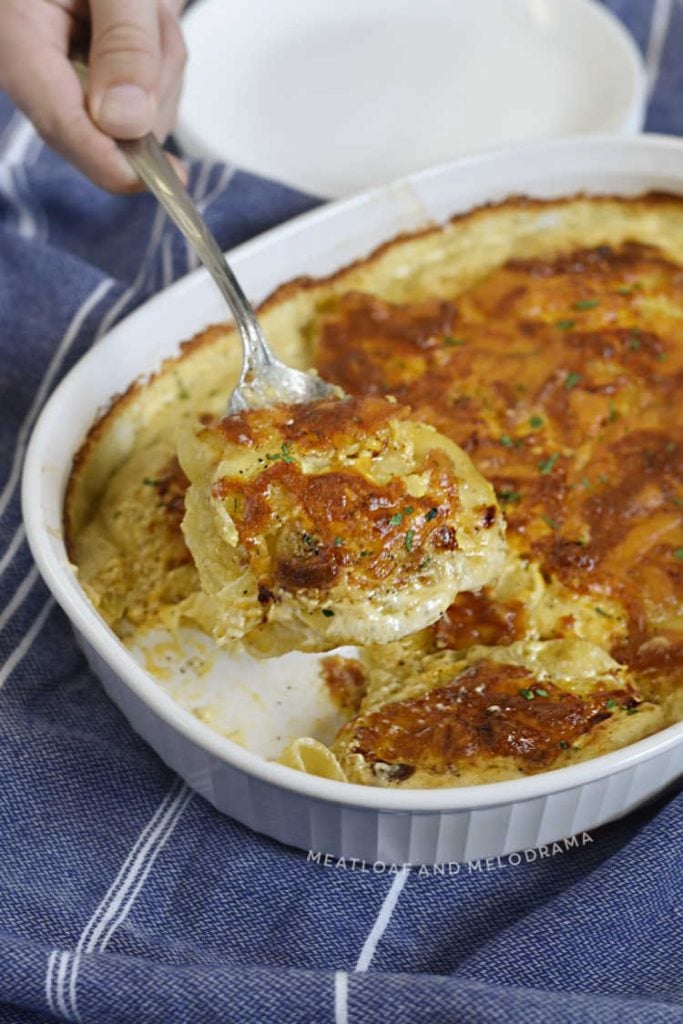 More Easy Potato Recipes
Air Fryer Potatoes Au Gratin Recipe
Recipe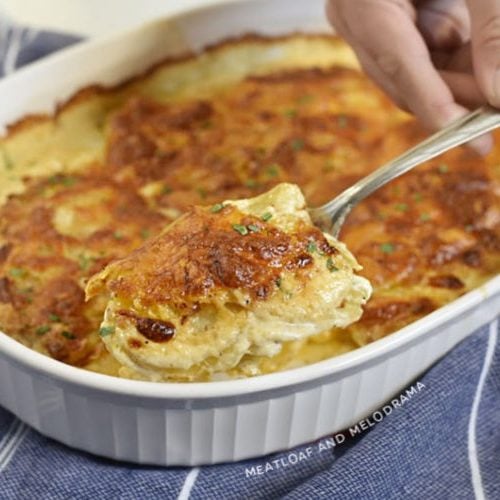 Air Fryer Potatoes au Gratin
Air Fryer Potatoes au Gratin, or cheesy scalloped potatoes, is a creamy easy side dish perfect for holiday dinners. Cooks super fast in the air fryer oven!
Ingredients
3

medium

Yukon Gold Potatoes

thinly sliced

½

teaspoon

sea salt

½

teaspoon

garlic powder

¼

teaspoon

ground black pepper

¾

cup

heavy cream

3

cups

shredded cheese

cheddar and Cheddar and Colby Jack

1

tablespoon

butter
Instructions
Use a mandolin to slice potatoes into ⅛-inch slices

Grease a large, shallow baking dish, and begin layering potatoes so that only the ends are overlapping slightly

Season each layer of potatoes with a sprinkle of salt, garlic powder and pepper, then pour a tablespoon of cream over potatoes, and top with a thin layer of cheese

Repeat process until you have 4 layers of potatoes, then top with remaining spices, cheese and cream. Dot with butter.

Place dish in air fryer, and bake at 350 degrees for 20 minutes, or until potatoes are cooked through

Allow to rest for 5 minutes before serving. Sauce will thicken as it cools.
Notes
Recipe was made in the Instant Pot Omni Plus air fryer but can be made in any air fryer oven. Cook times may vary between brands and models.
You can add more cheese for a cheesier dish.
Nutrition information is estimated. Please do your own calculation to fit special diets.
Nutrition
Calories:
253
kcal
Carbohydrates:
10
g
Protein:
11
g
Fat:
19
g
Saturated Fat:
12
g
Cholesterol:
68
mg
Sodium:
436
mg
Potassium:
312
mg
Fiber:
2
g
Sugar:
1
g
Vitamin A:
656
IU
Vitamin C:
7
mg
Calcium:
246
mg
Iron:
2
mg
Air Fryer Potatoes au Gratin Recipe