Baked Pierogies and Kielbasa is a quick and easy dinner made on one sheet pan and ready to eat in just 20 minutes! Perfect for busy days!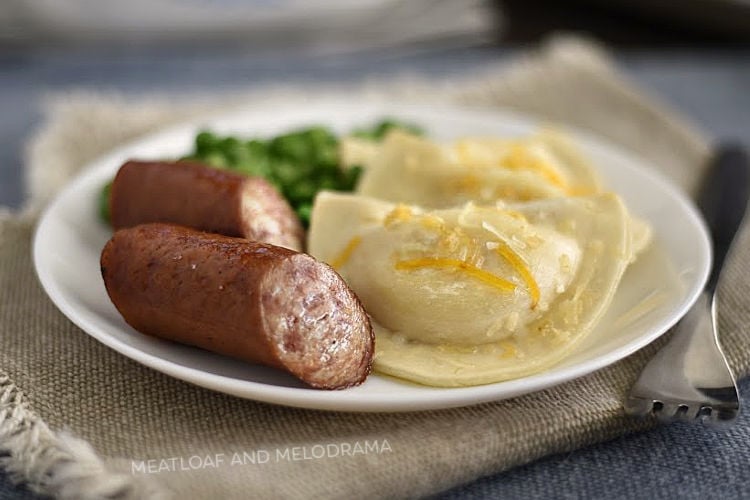 Baked pierogies and kielbasa is a super, super easy dinner. It's probably one of the easiest dinners you can make, although it does start out with frozen pierogies. But it's a busy time of year, and you gotta do what you gotta do, right?
I was raised on homemade pierogi, and I still make homemade pierogies from scratch every year at Christmas, using my grandma's traditional pierogi dough recipe. But that is a TON of work, friends, so when a sudden craving for pierogies snuck up on me last week, I bought a box of frozen ones from the store.
My family was seriously shocked. They know how I feel about frozen pierogies. But since there are no stores that carry homemade pierogies near me, I caved.
But, these little frozen potato dumplings really weren't bad. I baked the pierogi with kielbasa and turned them into this easy sheet pan dinner. And even my picky teen daughter said they were "legit"!
How do you cook pierogies and kielbasa in the oven?
You can you bake frozen pierogies in the oven as long as the they have already been boiled or steamed. So basically, you're just reheating the cooked perogies and kielbasa.
I like to line the sheet pan with foil, but it's not necessary. It just makes clean-up easier, and that's a big plus with me! Then, you toss the pierogies in olive oil and sprinkle them with a little bit of sea salt and dried onions.
You could use chopped onions here, but we're keeping dinner as easy as possible today. This is definitely a fix-it-and-forget-it kind of easy dinner!
Dot the pierogies with some butter, add the kielbasa, and bake for about 20 minutes. Did I mention we're not counting calories today, either?
You'll want to turn the sausage and pierogies at least once so that they heat evenly. You can also add more butter or oil if they seem dry.
After about 20 minutes, dinner is ready! For crispy pierogies, you can let them bake a little longer, but 20 minutes works for me.
What do you serve with pierogies and kielbasa?
My family always served peas with pierogi, but you can make green beans or peppers on the same sheet pan. Really, almost any veggie works here!
More easy kielbasa recipes
Easy baked pierogies and kielbasa dinner recipe
Recipe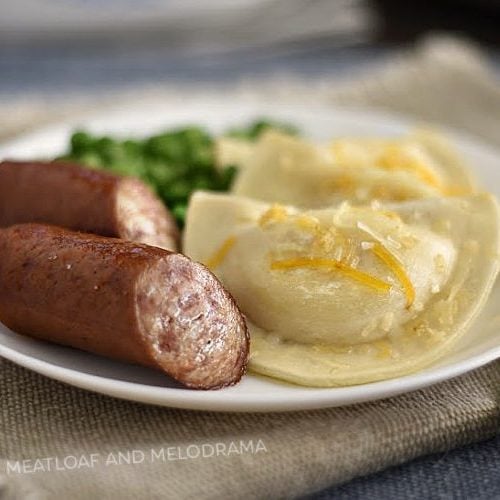 Baked Pierogies and Kielbasa
Baked Pierogies and Kielbasa is a quick and easy dinner made on one sheet pan and ready to eat in just 20 minutes! Perfect for busy days!
Ingredients
2

tablespoons

olive oil

2

tablespoons

butter

12

frozen pierogies

1

pound

kielbasa sausage

1

teaspoon

dried minced onions

1

teaspoon

sea salt
Instructions
Preheat oven to 400 degrees

Line a baking sheet with foil, and place pierogies on top

Pour olive oil over pierogi and on baking sheet. Rub oil over pierogies and spread over baking sheet

Dot pierogies with butter, and sprinkle with sea salt and onions. Place cut kielbasa on baking sheet, and bake for 20 minutes, turning at least once, or until pierogies and kielbasa are cooked through

Remove from oven, and serve
Nutrition information is estimated. Please do your own calculation to fit special diets.
Nutrition
Calories:
457
kcal
Carbohydrates:
30
g
Protein:
13
g
Fat:
42
g
Saturated Fat:
15
g
Cholesterol:
95
mg
Sodium:
1593
mg
Potassium:
234
mg
Fiber:
1
g
Sugar:
2
g
Vitamin A:
175
IU
Vitamin C:
0.9
mg
Calcium:
11
mg
Iron:
1.1
mg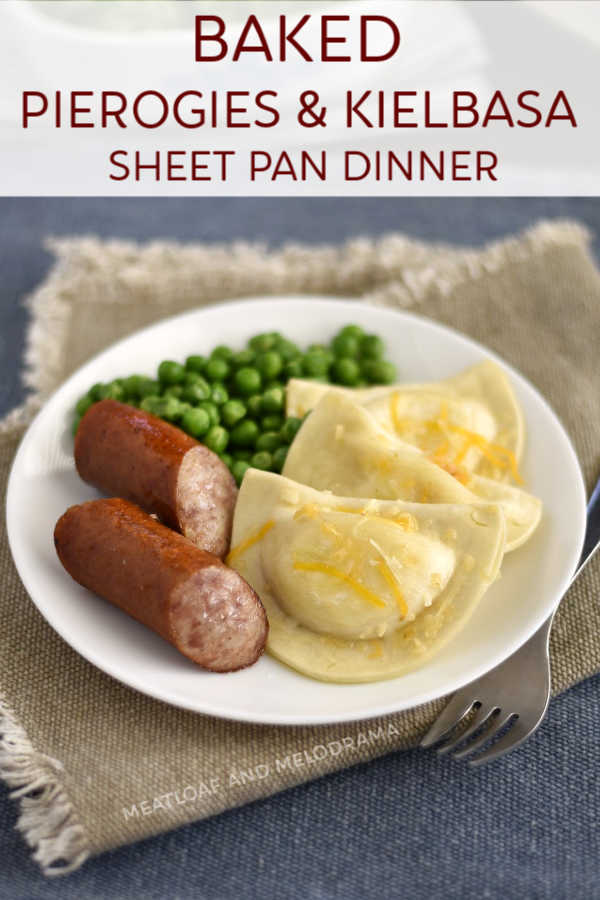 I hope you enjoy this easy baked pierogies and kielbasa sheet pan dinner as much as we do.