This Sheet Pan Smoked Sausage Dinner with potatoes and green beans is super easy to make, takes just 25 minutes to bake and is definitely kid approved! Clean-up is easy, too!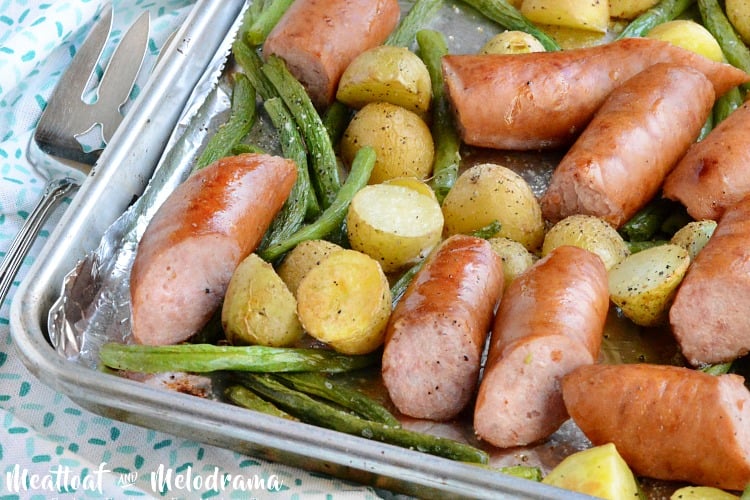 So, this is the latest sheet pan supper recipe on the blog. And if you've been a regular reader, you probably know I 'm just slightly addicted to these meals made on just one baking sheet. Not only are these some of the easiest dinners one the planet, but there's also practically zero clean-up. And that, my friends, is priceless!
I grew up eating kielbasa, or smoked sausage, or Polish sausage, as you may call it, and even today, I just love it. My parents always boiled or fried the sausage and served it with a side of fried potatoes -- yum!
Check out some of our other favorite smoked sausage dinner recipes:
Sometimes, I'll make it with fried egg noodles or tortellini. But let me tell you, the sheet pan method is much, much easier. And it's got fewer calories, as well!
Actually, the first time I made this kielbasa dinner was right after Christmas. We happened to have tons of kielbasa around, and I wanted to try something different with the leftovers. If you're of Eastern European descent, you'll get it!
Anyway, I tried cooking the entire dinner at once, but since the kielbasa is already cooked, it was done way before the the potatoes. But the next time, I got it right.
I added the potatoes and green beans to the sheet pan first. Then, I seasoned them with plenty of sea salt and pepper and baked them until the potatoes were done.
Next, I added the sausage, and after about five minutes, this sheet pan dinner was ready to serve!
This recipe works with any kind of precooked sausage. So if you would rather use something other than kielbasa, go for it! And, I have to add that I found smoked sausage that was organic and free of nitrates and preservatives. But, any kind will work.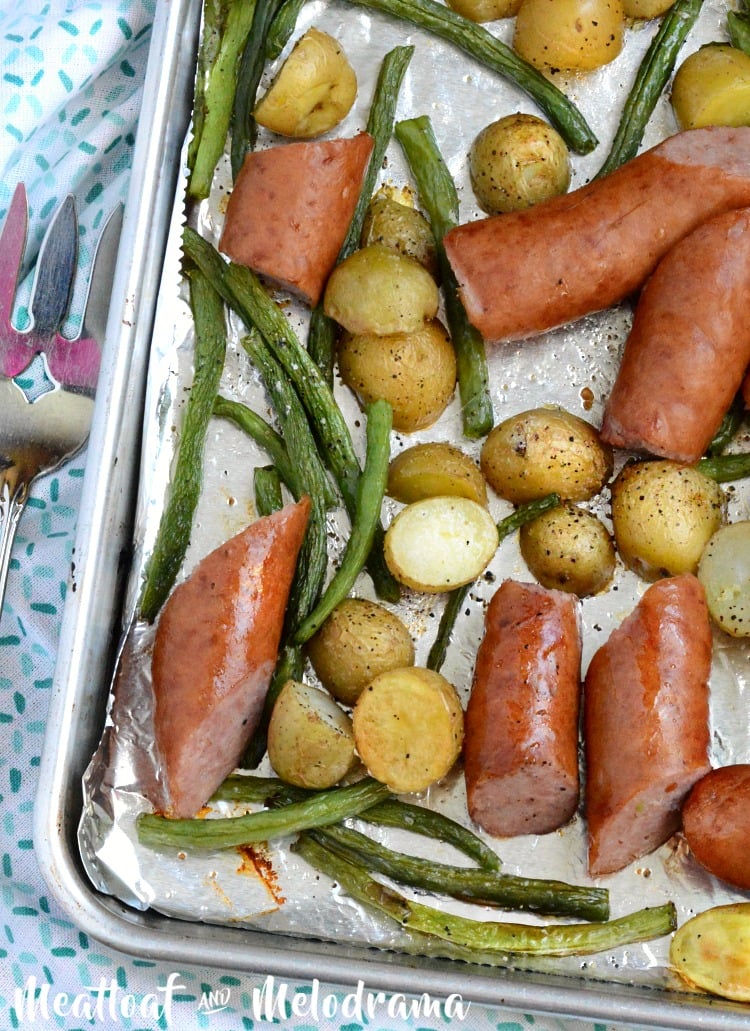 How to Make Sheet Pan Smoked Sausage Dinner
Sheet Pan Smoked Sausage Dinner
A quick and easy one pan dinner with smoked sausage (kielbasa) roasted potatoes and green beans that's ready in only 25 minutes!
Ingredients
2

tablespoons

olive oil

1 ½

pounds

smoked sausage (kielbasa) cut into rouply 2-inch pieces

Try an all natural brand if you can find it!

1

pound

small white potatoes, halved

1

pound

fresh green beans, trimmed

1

teaspoon

sea salt

½

teaspoon

ground black pepper
Instructions
Preheat oven to 425 degrees

Line a baking sheet with heavy duty aluminum foil, and pour olive oil onto baking sheet

Add potatoes and green beans, toss in olive oil to coat, and season with sea salt and pepper

Bake for 20 minutes, or until potatoes are done

Add smoked sausage pieces, and cook for another 5 minutes or until heated through
Nutrition
Calories:
426
kcal
Carbohydrates:
11
g
Protein:
15
g
Fat:
34
g
Saturated Fat:
11
g
Cholesterol:
80
mg
Sodium:
1356
mg
Potassium:
526
mg
Fiber:
1
g
Vitamin C:
8.6
mg
Calcium:
31
mg
Iron:
3.6
mg

This sheet pan smoked sausage dinner is always a big hit in my house, and even the pickiest eater in the universe will eat this without complaining. Gotta love the easy clean-up, too!
Happy Cooking!