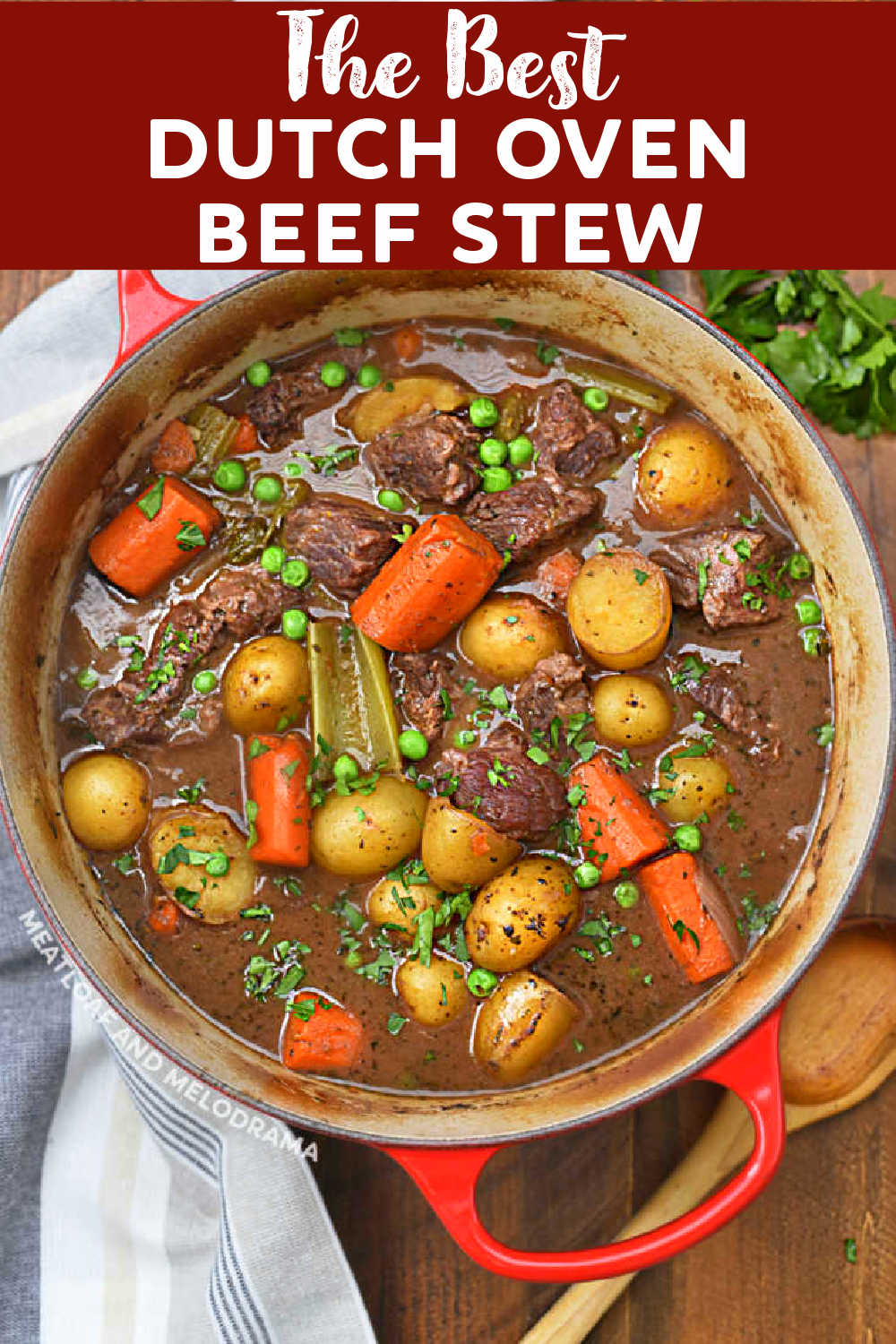 The Best Dutch Oven Beef Stew Recipe with red wine, carrots, potatoes cooks low and slow until tender and delicious. Easy comfort food! This classic beef stew recipe is a one-pot meal the whole family will love!
Jump to:
This hearty Dutch oven beef stew recipe is one of my family's favorite cold weather dinners. It's loaded with tender chunks of meat and root vegetables in a thick, rich gravy, and it's absolutely delicious.
I have made a lot of beef stew recipes over the years, but this is seriously the best!
I combined my grandma's old fashioned beef stew with Julia Child's classic beef Burgandy or Bouef Bourguignon recipe. When your kids say it's the best beef stew recipe they ever had, you know it has to be good!
Even though I love making quick beef stew in my Instant Pot, the Dutch oven really brings out the flavor -- same with my Roast Chicken Dinner. I use my Le Creuset enameled cast iron Dutch oven for this easy Dutch oven beef stew recipe.
Dutch oven recipes rock! While this oven baked beef stew takes a couple of hours to cook, you can relax or get stuff done while it's in the oven! You can check out more soups and stews in the recipe archives
Ingredients
You just need some very simple ingredients for this beef stew dutch oven recipe. If you don 't already have them in your pantry or fridge, you can find them at your local grocery store.
Beef chuck -- This is the best cut of beef for stew meat. Have it cut by the butcher or you can cut up a chuck roast.
Flour -- all purpose flour to coat the meat and thicken stew
Olive oil or avocado oil or vegetable oil for browning the meat
Onion -- yellow or white onion
Garlic -- I use both garlic cloves and garlic powder (adds great flavor)
Red wine -- Pinot noir works well here or any dry red wine
Beef broth -- use low sodium beef broth if you can
Tomato paste -- adds richness and flavor and helps thicken the stew
Worcestershire sauce
Baby potatoes -- or Yukon gold potatoes
Carrots -- chopped carrots are perfect, but baby carrots work in a pinch
Celery -- adds flavor and texture
Seasonings -- salt, black pepper, garlic powder and herbes de Provence seasoning
Peas and parsley -- optional but adds color and flavor
How to Make Beef Stew in the Dutch Oven
First, pat the beef dry with a paper towel. This removes moisture and helps the meat brown faster.
Then, season it all over with salt and pepper, and heat oil in a large Dutch oven.
Coat the beef in flour. Then, add a few pieces of meat at a time in a single layer to the Dutch oven. Cook on medium heat to medium-high heat until brown.
Use kitchen tongs to turn the meat over. When it releases easily, it's time to turn it over.
Brown the meat in batches, and keep covered on a plate until you're done.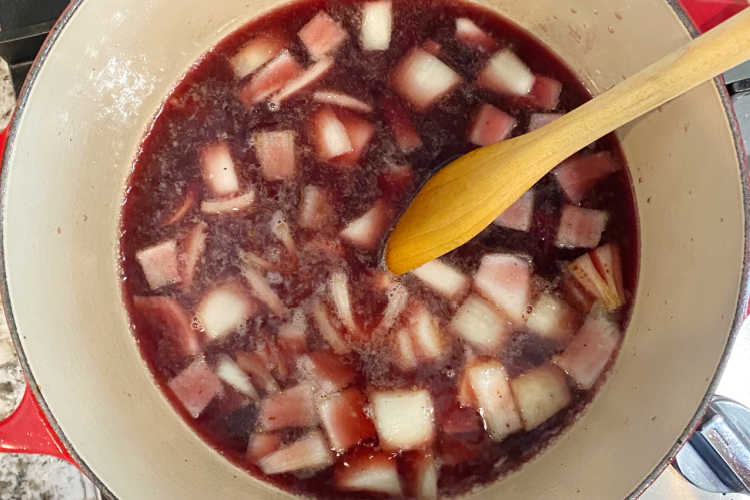 Next, add the chopped onion and garlic to pot. Stir and cook until tender and fragrant.
Pour the wine into the Dutch oven, and deglaze by using a wooden spoon to gently stir and scrape up browned bits from the bottom of the pot.
You can add the rest of the ingredients, and bring the stew to a simmer. Then, add the lid, and place the stew into your oven.
You can go put your feet up and relax for a couple of hours!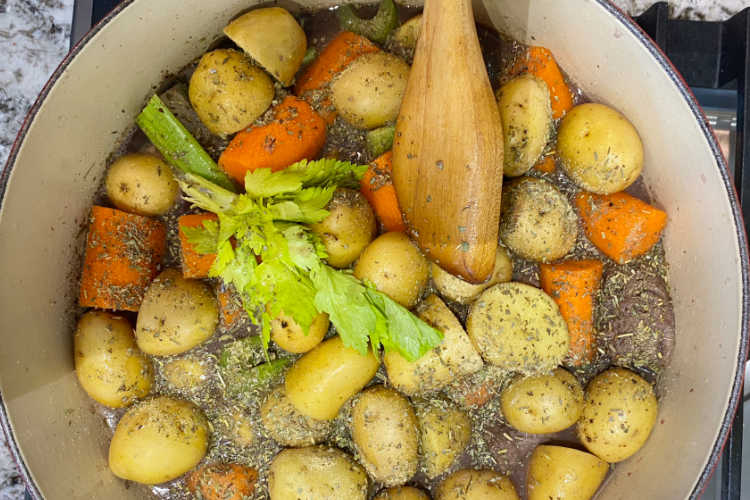 Cooking Time
This Dutch oven stew needs to cook for 2 ½ to 3 hours. After 3 hours, your stew will be thick, rich, tender and perfect!
And, your home will smell amazing!
When you can easily pierce the tender beef with a fork, and the veggies are soft, it's done.
You can throw in some frozen peas near the end if you want. A little bit of chopped fresh parsley adds an extra pop of color and freshness.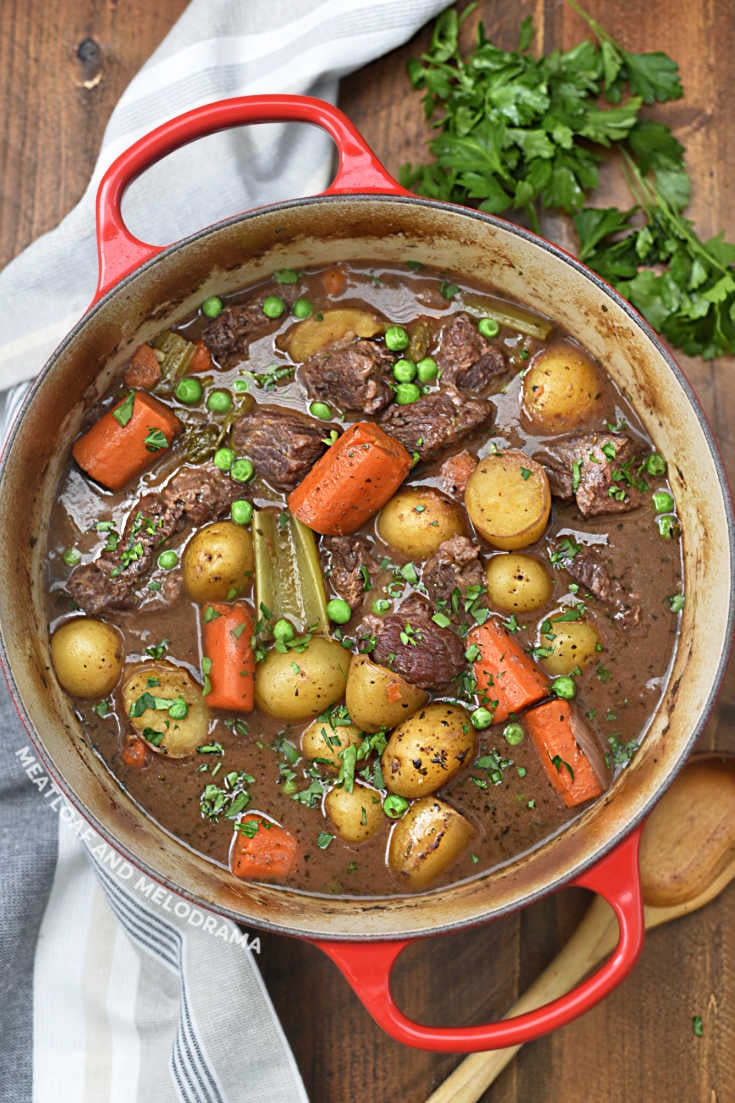 What to Serve with Dutch Oven Stew
Stew is perfect and filling on its own as a complete meal. But, we love to make some Rosemary Beer Bread to dunk in the thick rich gravy. If you don't want to cook anything else, any crusty bread works well with this delicious dinner.
If you aren't using potatoes in the stew, mashed potatoes, sweet potatoes or rice or buttery pasta are all great choices.
Best Wine for Beef Stew
So, what's the best wine for beef stew? Don't cook with any wine you wouldn't drink.
It doesn't have to be expensive, but it shouldn't be labeled cooking wine.
Pinot noir or other Burgundy wines work best here, as do merlot or cabernet. A Bordeaux might overpower the stew.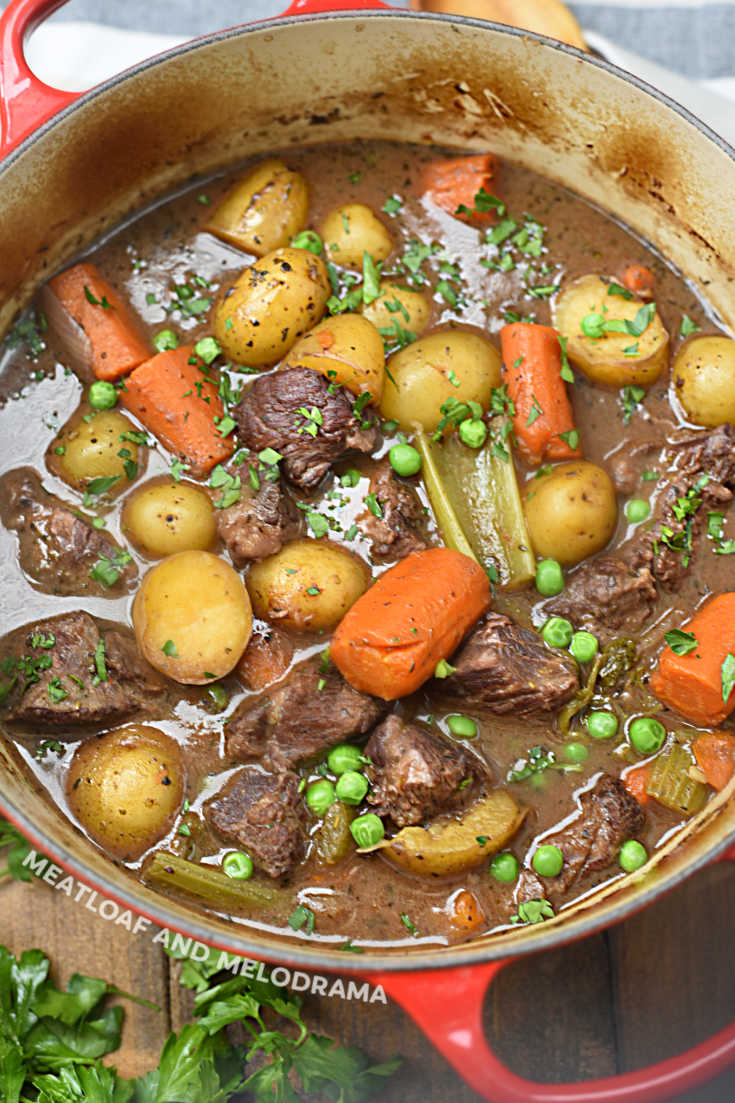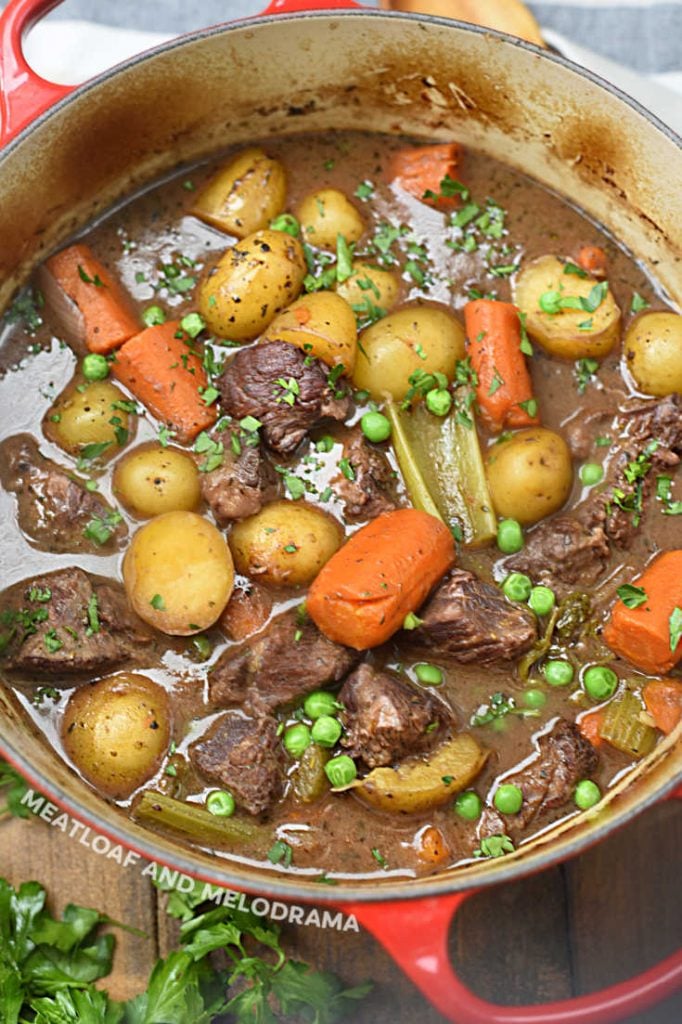 Variations
If you're looking for a beef stew recipe without red wine, here are some substitutes for red wine: cranberry juice, grape juice, beer, or all beef broth.
Feel free to use your favorite hearty vegetables-- a couple of turnips, whole chopped potatoes, green beans, or baby carrots, for example-- instead of the listed ingredients.
You can also add fresh thyme or bay leaves for extra flavor.
If you don't want to use the oven, you can let the beef stew simmer on the stove top. Just make sure to stir frequently so that it doesn't burn.
How to Store
To preserve its great flavor, keep your leftover stew in an airtight container in the refrigerator--it will be good for 3 to 4 days after your initial serving date.
Wondering how to freeze beef stew? It's simple. Just store in a freezer bag or freezer safe containers. Beef stew reheats easily in the microwave or on the stove.
Cooking Tips
Have all ingredients prepped and ready to go. This is huge timesaver and makes the cooking process go smoothly.
Don't skip browning the meat.
Make sure to deglaze the Dutch oven after browning the meat. A wooden spoon is best, but a silicone spatula works too.
Allow plenty of time for the vegetable beef stew to cook low and slow. This will give you tender meat and vegetables and an incredibly flavorful stew.
If you want more liquid in your stew, you can add some during the cooking process.
Recipe
Best Dutch Oven Beef Stew Recipe
The Best Dutch Oven Beef Stew Recipe with red wine, carrots, potatoes cooks low and slow until tender and delicious. Easy comfort food! This classic beef stew recipe is a one-pot meal the whole family will love!
Ingredients
2

pounds

beef chuck

cut into 2 inch chunks

2

tablespoons

olive oil

or vegetable oil

1½

teaspoons

sea salt

½

teaspoon

ground black pepper

2

tablespoons

all purpose flour

1

medium

onion

chopped, yellow or white

3

garlic cloves

roughly chopped

2

cups

red wine

pinot noir

1

cup

low sodium beef broth

2

tablespoons

tomato paste

1

tablespoon

Worcestershire sauce

1

pound

baby potatoes

sliced in half

5

large

carrots

peeled, cut into large chunks

3

medium

celery stalks

cut into large pieces, with leaf for extra flavor, if desired

1

teaspoon

garlic powder

1

tablespoon

herbes de Provence seasoning

1

cup

frozen peas

parsley

optional
Instructions
Pat the meat dry with a paper towel, and season with salt and pepper

Coat the meat all over with flour, heat a Dutch oven to medium heat, and add olive oil

Brown the meat in batches, remove to clean plate, and cover to keep warm

Add the onion and garlic, and cook until just soft and fragrant, stirring frequently

Pour in wine, use a wooden spoon to gently scrape up brown bits from bottom of pot

Stir in the beef broth, tomato paste and Worcestershire sauce

Add the meat back to the Dutch oven, then add the potatoes, carrots, celery, garlic powder and herbes de Provence

Cover with lid, place in oven, and cook for 2 ½ to 3 hours. Add frozen peas or thawed peas about 15 minutes before removing from oven. Meat and vegetables should be fork tender

Sprinkle with chopped parsley, if desired before serving
Notes
You can check stew and stir once or twice during cooking. Leave the lid ajar about halfway through cooking to reduce liquid if necessary.
You can use all beef broth, cranberry juice or grape juice instead of wine, although stew won't have the same flavor.
This stew can simmer on the stove for 2 ½ to 3 hours instead of in the oven. Just stir frequently so that it doesn't burn.
Nutrition information is estimated. Please do your own calculation to fit special diets.
Nutrition
Calories:
386
kcal
Carbohydrates:
23
g
Protein:
26
g
Fat:
17
g
Saturated Fat:
6
g
Trans Fat:
1
g
Cholesterol:
78
mg
Sodium:
675
mg
Potassium:
1035
mg
Fiber:
4
g
Sugar:
5
g
Vitamin A:
7747
IU
Vitamin C:
24
mg
Calcium:
64
mg
Iron:
4
mg
More Easy Recipes with Chuck Roast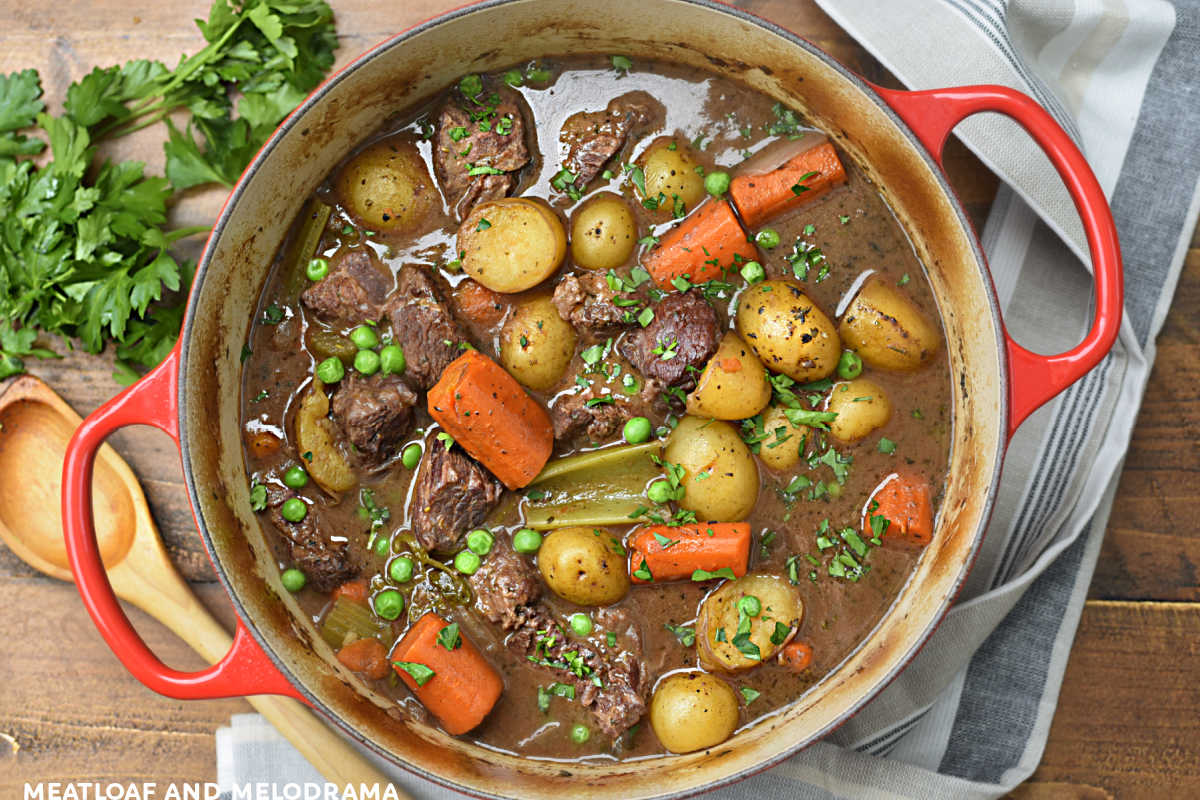 I hope you enjoy my beef stew recipe in the Dutch oven as much as we do. If you do try this easy recipe, please add a comment and/or star rating.
For more easy recipes, including slow cooker recipes, dinner recipes and crock pot meals, be sure to subscribe to the newsletter!Also follow me on social media!
Recipe was originally published in February 2021 and updated in 2023.