The Easiest Instant Pot Beef Stew recipe with tender beef and vegetables is simple, quick and easy to make and packed with flavor. The Best beef stew ever!
You guys, I have a ton of Instant Pot recipes on the blog, but my family honestly thinks this easy beef stew recipe is one of the best! Although I hate to brag and call this the best Instant Pot beef stew, it's got to be the easiest! And since the beef is tender and absolutely delicious, this stew just might be the best ever!
My grandma used to make old fashioned beef stew that was simple and satisfying but took several hours to make on the stove — most beef stew recipes do. And because I almost never have that kind of time, I found a way to make beef stew in the Instant Pot in about an hour.
Did I mention my beef stew requires very little prep work or chopping? That's right. Other than chopping an onion and a few stalks of celery, that's all you do. Everything else gets thrown into the pot and pressure cooked!
So if you're looking for melt-in-your-mouth beef stew that's easy to make and also completely delicious, this recipe is for you. This is comfort food, folks, that will warm your heart and soul!
How to make the easiest instant pot beef stew in the pressure cooker
I do like to brown the stew meat, but it's really not something you have to do. I think it ads to the flavor, but if you're really pressed for time or just plain tired, you can skip this step.
What I like to do is pat the stew meat dry with a paper towel. This makes browning the meat easier. Then, I season the meat and brown it in some oil.
It's best to work in batches so the meat browns faster — about a pound at a time. Just remove the beef to a plate and cover it until you're done, then add it back to the pot.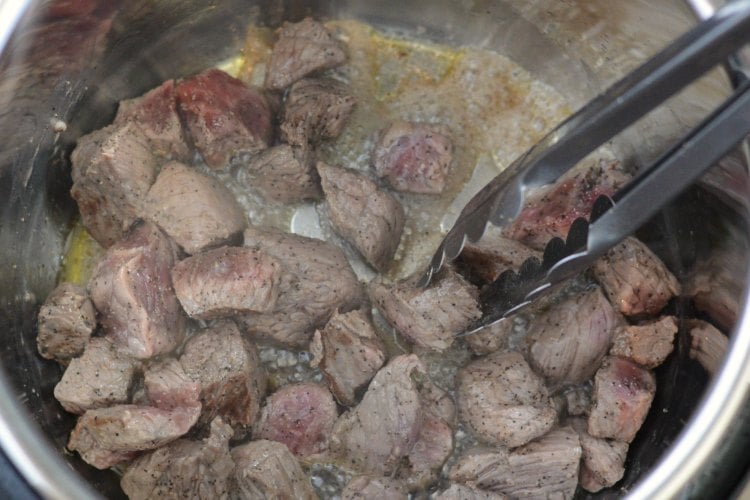 Then, add a cup of beef broth, and deglaze the pot with a spatula or wooden spoon to remove any browned bits from the pot. Next add some Worcestershire sauce, Dijon mustard, onions and veggies. I also like to throw in some celery leaves for extra flavor.
The key to making the easiest beef stew is using baby potatoes and carrots and layering them. so they're not sitting in the liquid. This lets you skip peeling and chopping, and your veggies won't turn to mush. They'll be tender but not mushy!
I throw in some tomato paste at the end, and then, I sprinkle in the piece de resistance — some herbes de Provence for extra flavor. I absolutely love this French seasoning, and I make whole chicken in the Instant Pot with it. I was a little hesitant to add it to an all-american beef stew, but I found it mentioned in this beef stew recipe.
So, I added the seasoning the next time I made Instant Pot beef stew, and boy, did it pack a flavor punch! If you can't find herbes de Provence, you can leave it out or use Italian seasoning. Don't sweat it! The beef stew tastes great without it, but if you want a flavor boost, go with the herbes!
How long do you cook beef stew in the Instant Pot pressure cooker
I found that 30 minutes is perfect! The beef is tender, and you can cut it with a fork!
After the beef stew cooks, you can serve it right away, or you can make a quick corn starch slurry to thicken the sauce. We like the stew as is, but if you like a thicker sauce, go with the slurry.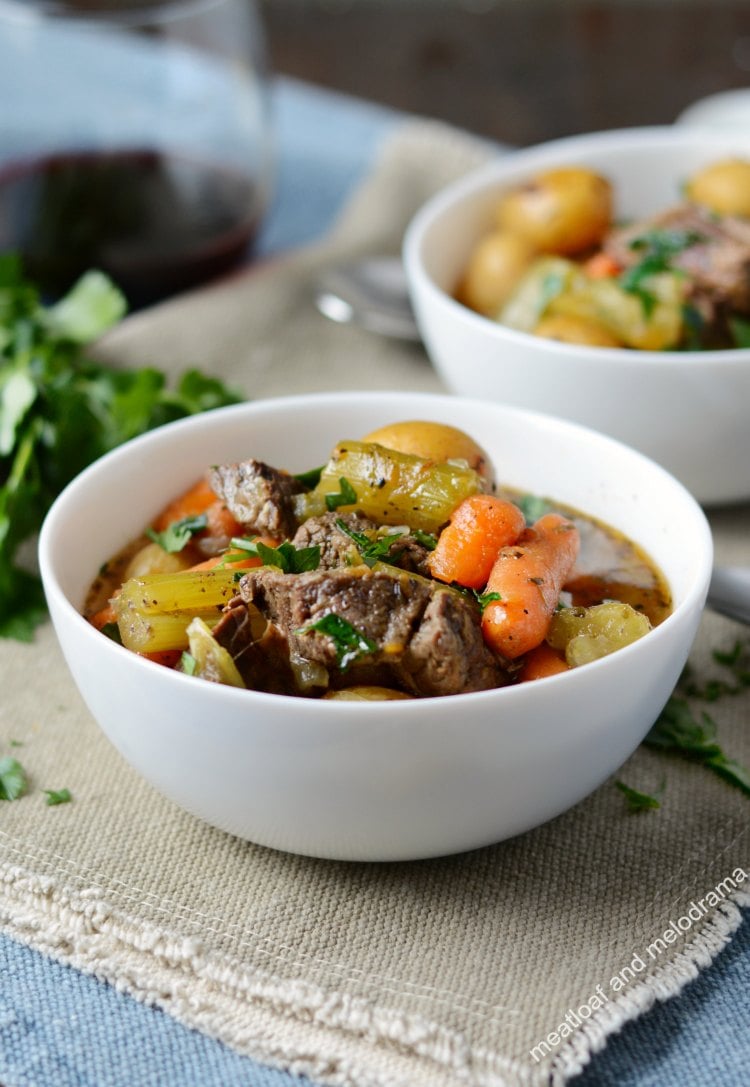 Looking for more Instant Pot beef recipes?
Recipe for Easiest Instant Pot Beef Stew
Easiest Instant Pot Beef Stew
The Easiest Instant Pot Beef Stew recipe with tender beef and vegetables is simple, quick and easy to make and packed with flavor. The Best beef stew ever!
Ingredients
2

pounds

lean beef stew meat

1

teaspoon

sea salt

1/2

teaspoon

ground black pepper

2

tablespoons

olive oil or vegetable oil

1

cup

low sodium beef broth

2

teaspoons

Worcestershire sauce

1

teaspoon

Dijon mustard

1

yellow or white onion, chopped

3

stalks celery, chopped

1

pound

small baby potatoes

1/2

pounds

baby carrots - 1/2 of a 1-pound bag

1

tablespoon

herbes de Provence seasoning

1

teaspoon

tomato paste
Instructions
Pat the meat dry with a paper towel, and season with sea salt and pepper

Hit SAUTE on the Instant Pot, and when it reads hot, add the olive oil and the stew meat. Brown 1 pound at a time, and remove the browned meat to a plate until all of the meat is browned.

Add the beef broth to the pot, and deglaze to remove any browned bits from the bottom of the pot

Add the meat back to the pot, and stir in the Worcestershire sauce and Dijon mustard.

Add the celery, celery leaves, onion, potatoes, carrots, herbes de Provence and tomato paste Do not stir. Cover with lid, turn valve to Sealing position, and hit PRESSURE COOK for 30 minutes

Pot will take a few minutes to reach pressure, then start counting down and cook for 30 minutes. Allow a 10 minute natural release, then do quick release to release remaining pressure

When pin drops, remove lid, stir the stew, and serve. Or, hit SAUTE and mix 1 tablespoon cornstarch with 1 tablespoon cold water and stir into the stew to thicken even more
Notes
Recipe was made in 6-quart Instant Pot electric pressure cooker
Nutrition
Loved this recipe?
Leave a comment or share on social media
I hope you like this easiest Instant Pot Beef Stew as much as we do!