The BEST Zucchini Bread is moist, delicious, super easy to make and turns out perfect every time with this classic zucchini bread recipe.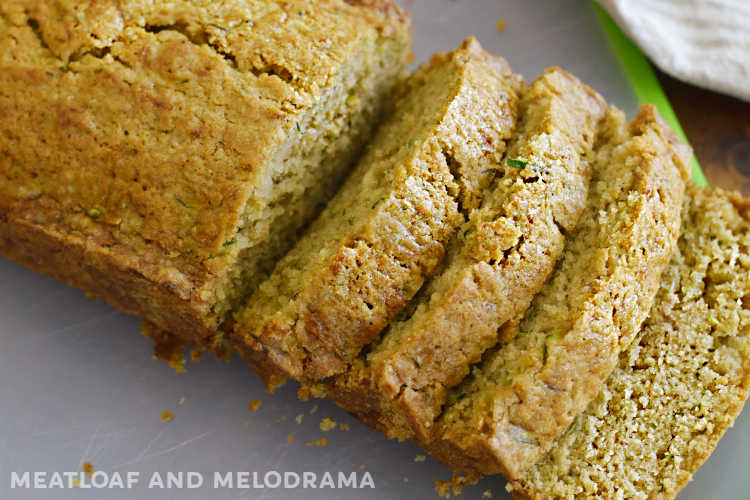 You can't go wrong with this Classic Zucchini Bread recipe. It's super easy to make and is a terrific way to use up extra zucchini!
This awesome recipe for zucchini bread comes directly from a former neighbor of mine, who was a master gardener. This sweet lady was very generous, and she would come over nearly every week with a basket filled with zucchini, tomatoes and, sometimes, freshly baked zucchini bread.
Not only did she share the bread, but she was also kind enough to share her recipe. It's classic in that there's no extras — no nuts, no glaze, no chocolate. It just has hints of cinnamon and vanilla, and it tastes absolutely wonderful!
How to Make Homemade Zucchini Bread from Scratch
This is a quick bread recipe, like Beer Bread or banana bread, so there's no yeast or rising or anything like that. But, it does take a while to bake.
You only need 1 bowl to make the batter. Just grate your zucchini and set aside while you start adding the other ingredients to a mixing bowl.
Do you Peel the Zucchini?
There's no need to peel the zucchini skin. It softens as it bakes, and it just adds texture. There's also no need to squeeze water out of the zucchini.
The batter will seem dry at first, but as you mix the zucchini into the batter, it will release plenty of liquid. Then, you pour the batter into your prepared baking pans.
This recipe makes enough for two loaves. It sounds like a lot, but it goes fast. And, it tastes so good that you will probably be tempted to have more than one slice.
How Long to Bake
The bread takes an hour to 1 1/4 hours to bake. Times vary on your oven and the pan you use. I found the bread bakes best in a metal loaf pan and was done in an hour, while the glass loaf pans took the full hour and a quarter.
I probably make zucchini muffins more often so that I don't keep the oven on that long in the summer, but this bread is so worth it. To make muffins from this recipe, just use a muffin tin and bake for 20 minutes or until done.
You can also try Zucchini Banana Muffins. And if you want a savory zucchini recipe, you'll love Easy Baked Chicken and Zucchini.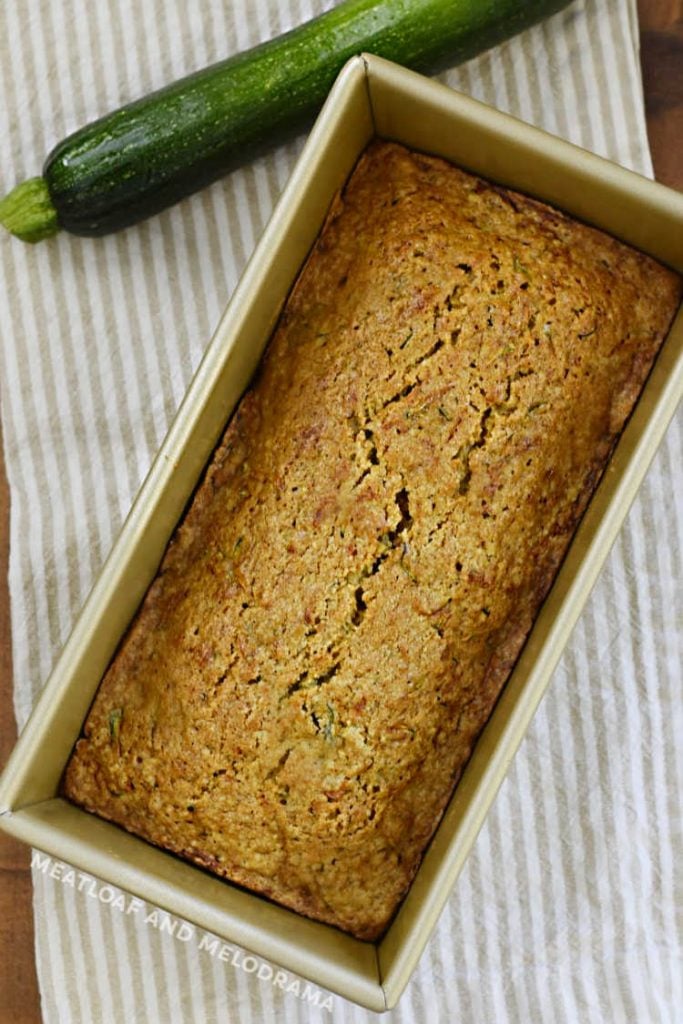 How to Store Zucchini Bread
Store uneaten sliced bread in an air tight container, zip top bag or wrap tightly in plastic wrap. You don't need to refrigerate the bread unless your house is hot.
To save an unsliced loaf for the next day or two, wrap in plastic wrap, then foil or store in an airtight container. For longer storage, keep in the freezer.
Frozen zucchini bread should be good for 3 to 4 months. Honestly though, this delicious bread lasts 2 days -tops- around here!
Recipe was originally published in 2016. It has been updated in May 2020 for clarity and new tips.
Pin Image to Save the Recipe
May contain affiliate links. See disclosure for more information.
The BEST Zucchini Bread Recipe
The BEST Zucchini Bread
The BEST Zucchini Bread is moist, delicious, super easy to make and turns out perfect every time with this classic zucchini bread recipe.
Ingredients
3

eggs

lightly beaten

1

cup

oil

I used olive oil

2

cups

granulated sugar

2

cups

grated zucchini

about 3 small

3

teaspoons

vanilla extract

3

cups

all purpose flour

1

teaspoon

baking soda

1/4

teaspoon

baking powder

3

teaspoons

ground cinnamon

1

teaspoon

sea salt
Instructions
Preheat oven to 325 degrees

Lightly grease 2 loaf pans

Mix all ingredients together in a large bowl until batter is wet

Pour evenly into 2 loaf pans

Bake for about 1 to 1 1/4 hours or until toothpick inserted into middle comes out clean

Enjoy!

Remove from oven, allow to cool, then remove from pans, and slice when ready
Notes
Recipe makes 2 loaves of zucchini bread.
Start testing doneness at 1 hour. Total bake time may vary with different ovens.
Nutrition
Calories:
212
kcal
Carbohydrates:
43
g
Protein:
3
g
Fat:
2
g
Cholesterol:
30
mg
Sodium:
227
mg
Potassium:
83
mg
Sugar:
25
g
Vitamin A:
75
IU
Vitamin C:
2.8
mg
Calcium:
17
mg
Iron:
1.3
mg
This is one of the few recipes that I really didn't change at all, and I usually have to tweak something. But I left this one completely alone.
The only thing that may be different from the original is that I used sea salt instead of iodized salt. Also, I used olive oil here, although my neighbor probably used vegetable oil.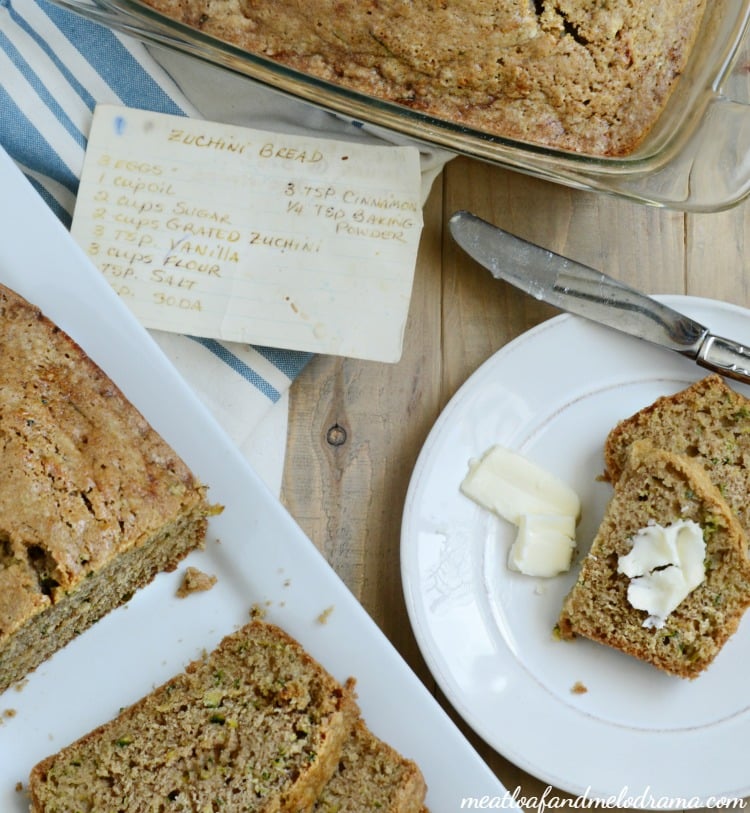 If you like this recipe as much as we do, leave a comment or give me a shout-out on social media! Sign up to receive weekly recipes by email!