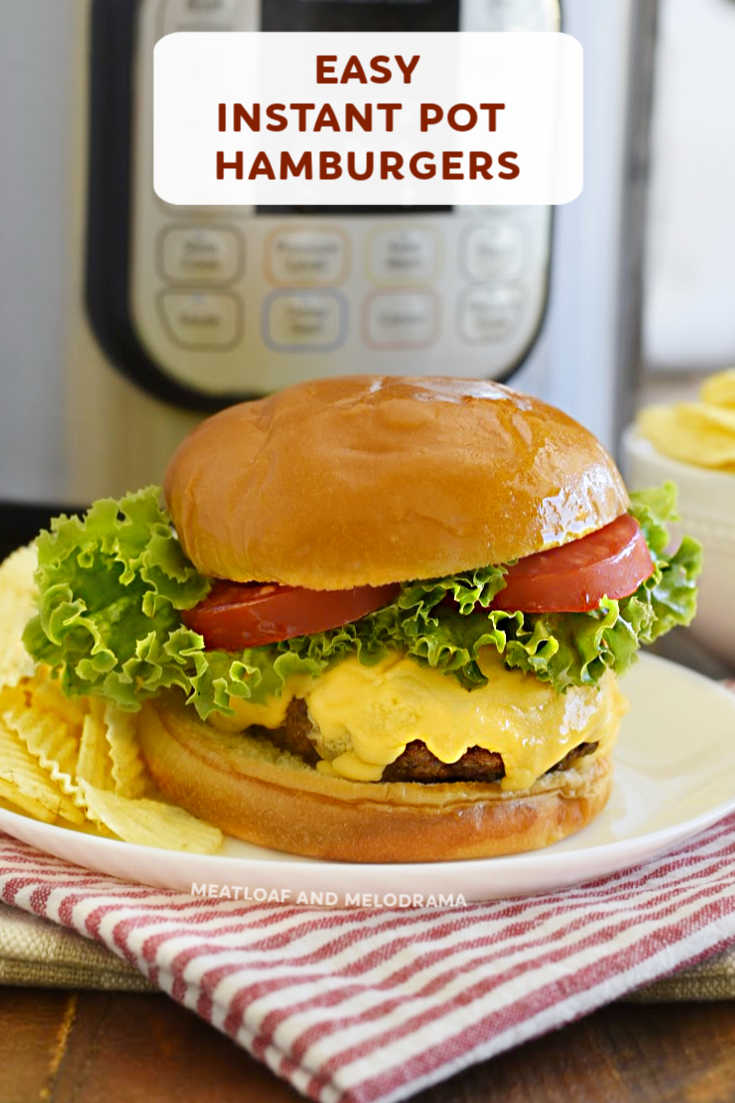 Make Easy Instant Pot Hamburgers for a quick dinner in your electric pressure cooker using ground beef and a few other ingredients. This easy recipe is perfect when you can't grill or fry hamburger patties, and even picky eaters approve!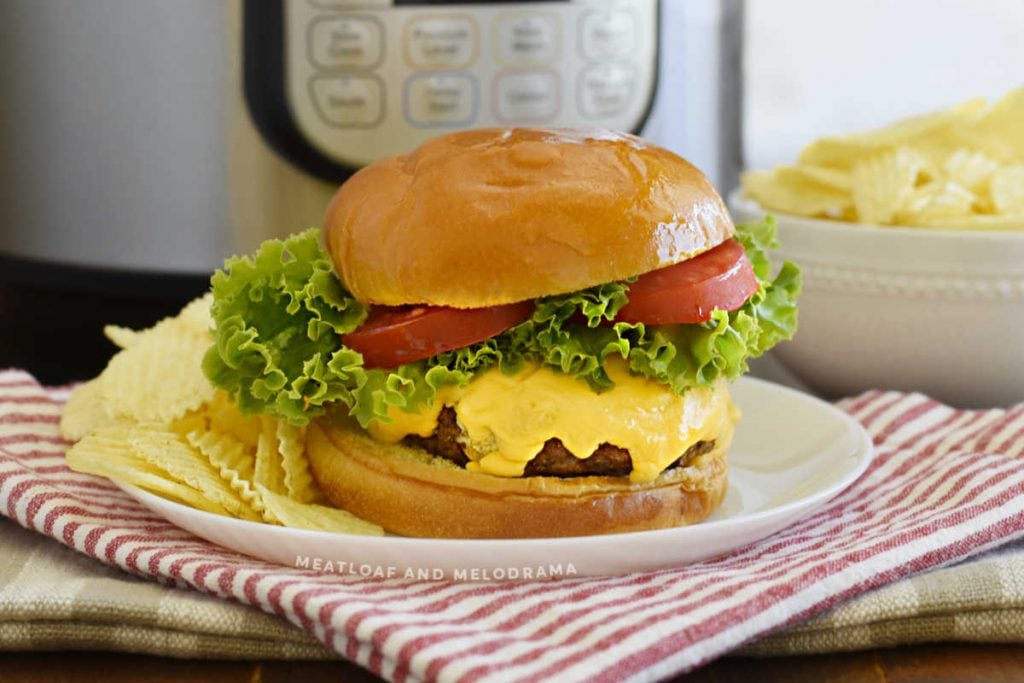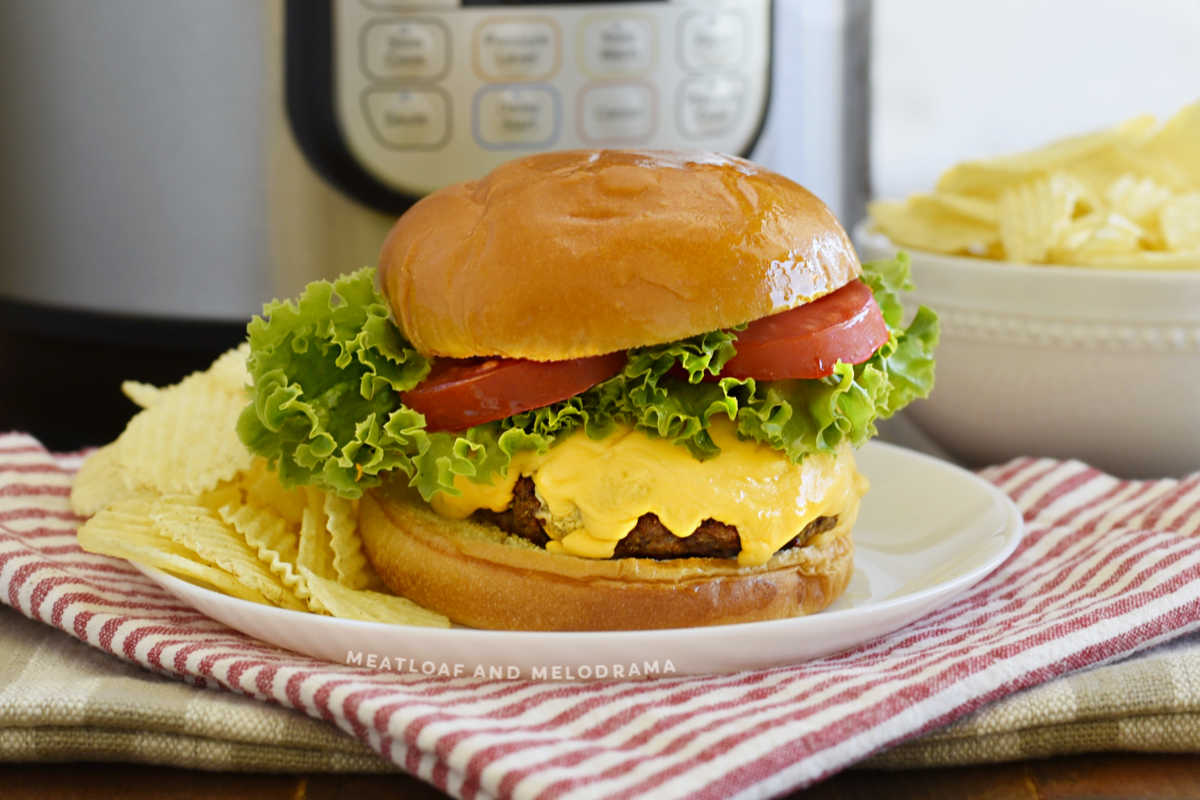 I've seen so many people talking about how to cook burgers in Instant Pot that I just had to try it. If you want hamburgers for dinner, but grilling isn't an option, making burgers in your electric pressure cooker is the next best thing.
It's an easy Instant Pot recipe with ground beef that's perfect for busy days! If you've ever had a steamed burger, like White Castle burgers, pressure cooker burgers are basically the same idea.
You guys, all I have to say about cooking burgers in the Instant Pot is don't knock it until you've tried it. I know, I know that nothing quite compares to a thick, juicy burger cooked to perfection on the grill, but hear me out on this one -- k?
Why Make Steamed Burgers
So, why on earth would anyone want to make hamburger patties in the Instant Pot? Well, maybe you don't have a grill, or maybe it's too hot or too cold for grilling. Maybe you don't even have an air fryer for burgers either. And if you've ever fried burgers on the stove, you know the clean-up isn't fun! Trust me -- been there, done that!
If you've got a pressure cooker, you can still make juicy, tasty hamburgers or cheeseburgers in just a few minutes. They're quick, easy and delicious. And the clean-up is easy, too!
How to Make Hamburgers in the Instant Pot
When you cook hamburger patties in the pressure cooker, you're basically steaming them. It's like making hobo dinners in foil packs when you go camping.
So, you season your ground meat, and then you form the meat into patties. I usually like to keep the seasonings on burgers pretty simple and let people go crazy on the toppings. I used my basic hamburger recipe here, but you can use your own if you have one you love.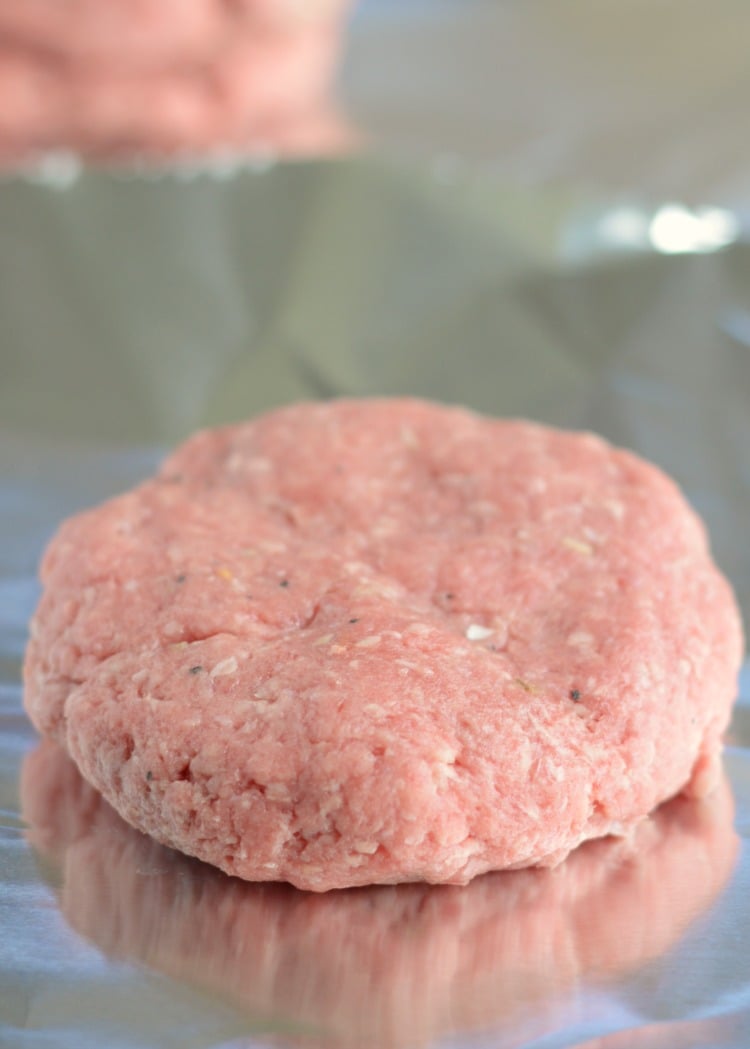 Then, place each hamburger patty on a square piece of aluminum foil, and fold the foil to make an envelope. Add a cup of water to your Instant pot, or more if using an 8 quart, along with a trivet, and stack the packets on top of each other.
If you don't want to use aluminum foil, you can use parchment paper, instead. I tried it both ways, and the results were the same!
How Long to Pressure Cook Burgers
We like our burgers on the thick side, so I cooked them for 15 minutes and let the pressure release for 5 minutes after that. You could also do 20 minutes with a quick release, or if your burgers are thinner, you could probably do 12 minutes. You might have to experiment to get the perfect cook time, but as long as the burgers are 160 degrees internally, you're good!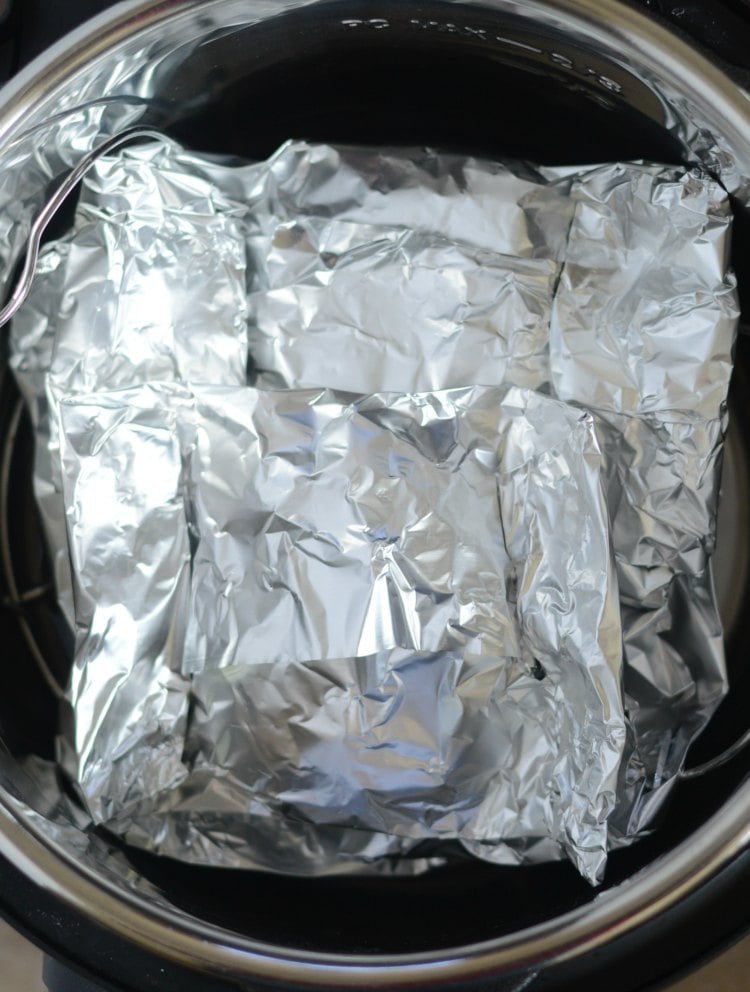 The first time I made Instant Pot hamburgers, we ate them right out of the pot, so to speak. But, the next time, I added a little BBQ sauce on top, broiled them for about 5 minutes, added some cheese slices, and they were even better!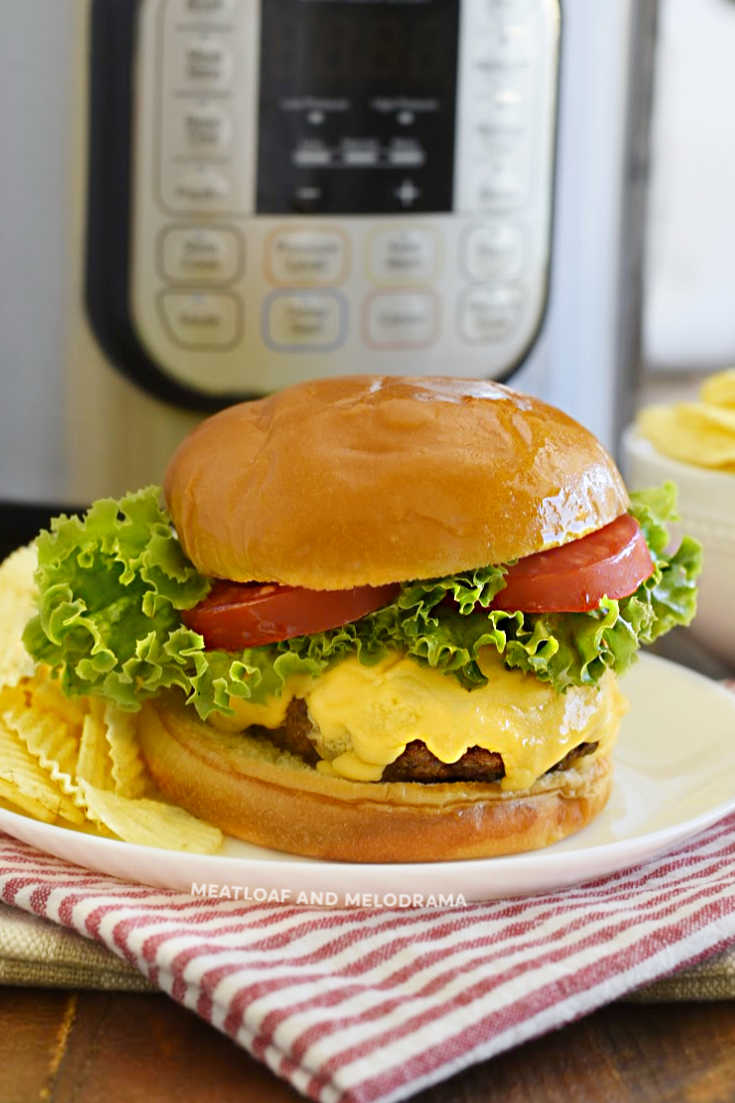 Tips for making the BEST hamburger patties in the Instant Pot
Keep patties roughly the same size for even cooking
Use a meat thermometer to check for correct temperature
Drain liquid from packets before serving
Broil after pressure cooking for extra flavor and texture
Looking for more Instant Pot ground beef recipes?
Instant Pot Hamburgers Recipe
Recipe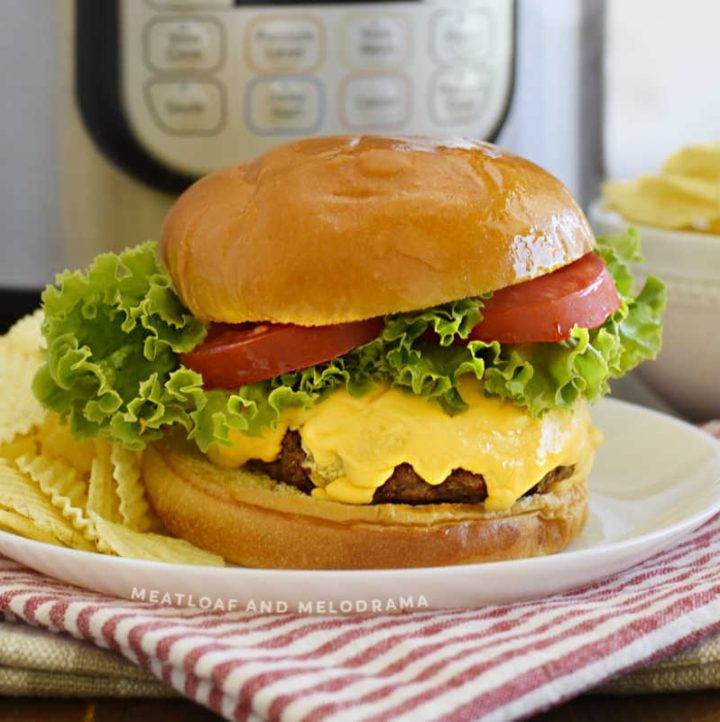 Easy Instant Pot Hamburgers
Make Easy Instant Pot Hamburgers for a quick dinner in your electric pressure cooker using ground beef and a few other ingredients in foil packs. This easy recipe is perfect when you can't grill or fry hamburger patties, and even picky eaters approve!
Ingredients
1 ½

pounds

lean ground beef

1

tablespoon

water

1

teaspoon

sea salt

1

teaspoon

dried minced onions

½

teaspoon

ground black pepper

1

cup

water

for pressure cooking

barbecue sauce

optional

cheese, if desired

optional
Instructions
Add water, sea salt, dried onions and pepper to ground beef, and mix well

Form into patties, about ½ inch thick

Place hamburger patties separately on squares of aluminum foil, and form into loose foil packs

Add 1 cup water to Instant Pot, place trivet inside, and pile foil packs on top of trivet

Turn valve to sealing position, hit PRESSURE COOK for 15 minutes, and do a 5 minute natural release

Hit cancel, and when pin drops, open cover, and remove foil packs.

Open foil packs, place hamburger patties on baking sheet, brush each patty with a thin layer of barbecue sauce, and broil in oven for 5 minutes, or until top is brown and slightly crisp

Turn oven off, add cheese, if desired, and serve on buns with your favorite toppings
Notes
Recipe was made in 6-quart Instant Pot pressure cooker. For an 8 quart or larger, add amount of water recommended for that size -- cooking time remains the same.
Hamburger patties should reach internal temperature of 160 degrees, according to meat thermometer, when cooked.
If you have the IP Duo Crisp, you can broil the tops after pressure cooking and removing burgers from foil.
Nutrition information is estimated. Please do your own calculation to fit special diets.
Nutrition

Originally published in 2018 and updated as of July 2020