Easy Sauteed Green Beans with Bacon is lighter and healthier than the traditional casserole and special enough for holiday dinners or anytime!

We used to always have a green bean casserole on the table at Thanksgiving and Christmas, but honestly, I was never a huge fan. Yes, I admit it! So when I started hosting holiday dinners, I decided to shake things up a little, and the casserole was one of the first things to go.
I'm not usually one to mess with tradition, but if you honestly don't care for a certain dish, go for it! Actually, the kids never liked the casserole either, and everyone else was fine with the change, so no hurt feelings anywhere.

Besides, I like to think that by serving lighter side dishes, I'll have more room for dessert, which is probably my favorite part of the meal! And by cooking the beans this way, you'll have one less dish to bake.

I usually buy a bag of fresh green beans from the store and prep them right before it's time to cook them. They usually don't take a lot of prep work other than a good rinsing, but sometimes, there are still a few stems attached, and of course, you want to get rid of those. 

Just heat up some olive oil and butter, and sautee the beans along with some cooked bacon and a little Parm. I usually cook enough bacon over the weekend so that we'll have leftovers to chop up into the beans.
It only takes a few minutes before they're ready to go. Some get a little softer, and some are a little brown and crispy, but they're all good!

Right before serving, I like to add a little lemon juice, just for some extra freshness. And that's all, folks!
How to Make Easy Sauteed Green Beans with Bacon
Easy Sauteed Green Beans with Bacon
Fresh green beans sauteed until tender adn topped with bacon and lemon juice
Ingredients
2

pounds

fresh green beans, washed and trimmed

1

tablespoon

olive oil

1

tablespoon

butter

1/2

cup

cooked bacon, chopped

1

teaspoon

sea salt

1

teaspoon

ground black pepper

1/2

teaspoon

fresh lemon juice

I usually just squeeze some over the beans

1/2

cup

grated Parmesan cheese

optional
Instructions
In a large skillet, melt the butter and olive oil over medium heat.


Add the green beans and bacon, and cook for about 10 to 15 minutes or until beans are slightly soft.

Add salt and pepper, to taste, and the shredded Parmesan cheese.

Sprinkle with fresh lemon juice right before serving.

Enjoy!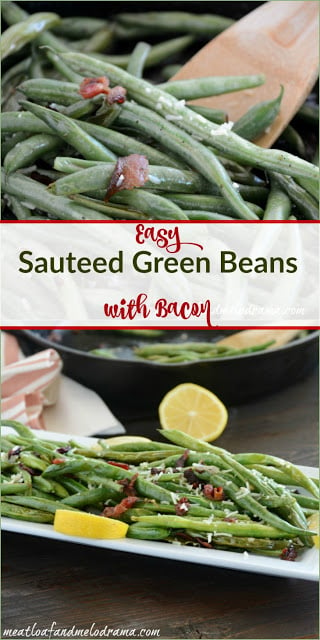 Wasn't that super easy?! Sauteed green beans are light, fresh and taste absolutely wonderful with all that bacon and Parm. You won't miss that casserole at all, and you'll have plenty of room for dessert!

Thanks so much for visiting, and happy cooking!
You Might Also Like