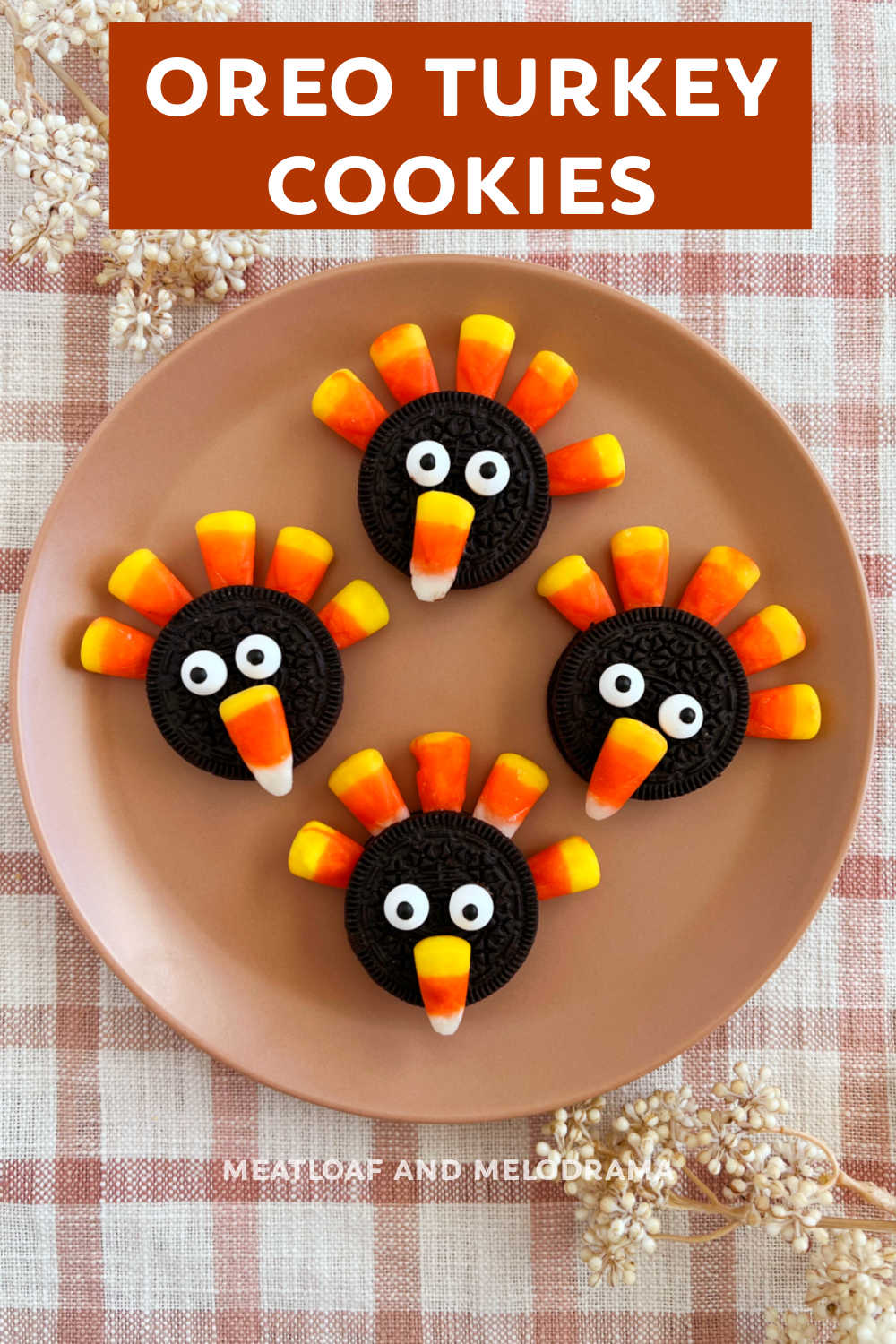 Oreo Turkey Cookies with Oreos and a few simple ingredients are an easy Thanksgiving dessert for kids of all ages. A cute no bake dessert perfect for Thanksgiving dinner!
If you're looking for cute Thanksgiving desserts for kids of all ages, check out these easy Oreo turkey cookies. This fun treat is super easy, and you can put the kids to work -- kind of like a Thanksgiving craft you can eat!
When it comes to Thanksgiving, the more desserts to choose from, the merrier! You have your traditional Thanksgiving desserts like pumpkin dump cake, pumpkin pie or pumpkin cheesecake, but it's always nice to have something fun, as well!
We used the chocolate creme Oreos because we are all serious chocolate lovers, but you can use any flavor. Just don't use the super thin ones, because the candy corn won't fit.
Ingredients
You only need a few simple ingredients for these cute Oreo turkey cookies. You can find these ingredients online or at the grocery store.
Oreo sandwich cookies, or any brand of sandwich cookie -- double-stuffed Oreos (double stuf Oreos) work best
Chocolate chips -- to hold the eyes and beak in place
Candy corn -- for the turkey tail
Candy eyeballs
How to Make Turkey Cookies with Oreos
These cute turkeys come together in just a few quick steps.
First, press the pointed side of the candy corn into the cream filling. The candy corn pieces will be the turkey feathers.
You don't need to take the cookie apart -- just gently press the pieces of candy corn into the middle.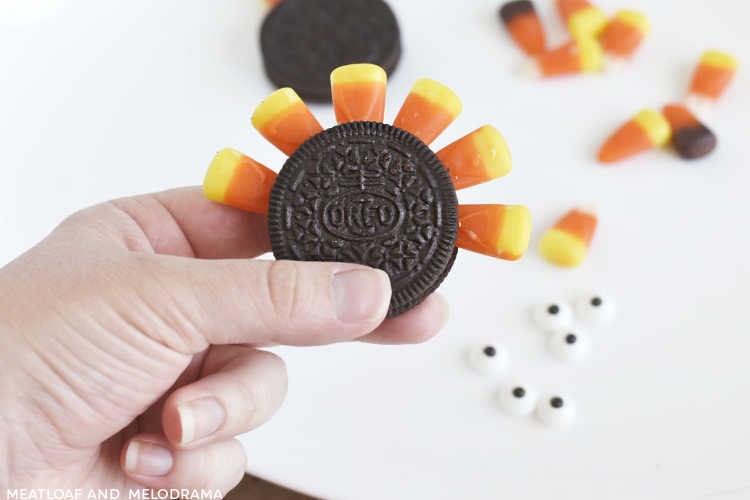 Then, using a toothpick, add three little dots of melted chocolate -- one for the beak and two for the eyes -- onto the center of the cookie.
Next, stick the candy eye balls and candy corn, make sure the white tip is facing down, onto the chocolate.
You can also place a small amount of melted chocolate onto the back of the candy eyes and candy corn. I just found it was easier put the chocolate directly onto the cookie instead.
My kids got way more chocolate on their hands the other way, but you can do what works for you!
After you press the eyes and beak onto the Oreo cookie turkeys, you're done! Now, just repeat the process until you have as many turkey cookies as you need!
Aren't these little turkeys cute?! We had a lot of fun making these Oreo turkeys-- even the grumpy teens liked them!
How to Store
Store these Thanksgiving Oreo turkeys in an airtight container at room temperature. Refrigerating these cookies will make them soggy.
Variations
There are a couple of different ways to customize these easy turkey cookies.
A great way to jazz up these simple turkey cookies with Oreos is by giving them turkey legs! Just stick two pretzel sticks into the bottom of each cookie.
Use white chocolate chips, chocolate frosting or white icing instead of semi sweet chocolate chips. Use a small dab of chocolate frosting or other frosting to glue the eyes and bead to the cookies.
Substitute the candy googly eyes with Reese's pieces or mini m&ms.
Add a turkey wattle by piping a thin line of red frosting around the beak.
More Easy Thanksgiving Dessert Recipes
Recipe
Oreo Turkey Cookies
Oreo Turkey Cookies with Oreos and a few simple ingredients are an easy Thanksgiving dessert for kids of all ages. A cute no bake dessert perfect for Thanksgiving dinner!
Ingredients
20

Oreo cookies

Candy Corn

1

cup

Semi sweet chocolate chips

Candy eyes
Instructions
Melt the chocolate according to package instructions

Stick candy corn, point side down, into the creme filling

Apply 3 small dots of melted chocolate onto the face of the Oreos, and carefully press 2 candy eyes and 1 candy corn on the chocolate
Notes
Can use any brand of sandwich cookie
Can use candy melts or frosting to glue the eyes and nose.
Nutrition information is estimated. Please do your own calculation to fit special diets.
Nutrition
Calories:
60.39
kcal
Carbohydrates:
13.2
g
Protein:
1.22
g
Fat:
5.82
g
Saturated Fat:
2.75
g
Cholesterol:
0.54
mg
Sodium:
56.1
mg
Potassium:
76.83
mg
Fiber:
1.06
g
Sugar:
8.22
g
Vitamin A:
4.5
IU
Calcium:
8.22
mg
Iron:
1.61
mg
I hope you like these Thanksgiving turkey Oreo cookies as much as we do! They're a great fun activity for the holiday season, and my kiddos just love making this no bake treat.
For more easy Thanksgiving recipes and delicious recipes for every day, please follow me on social media and subscribe to my weekly newsletter!

Recipe published in 2019 and updated in 2022.