Spicy Pico de Gallo, or salsa fresca, is an easy dip recipe loaded with fresh diced tomatoes, onions, cilantro and jalapeno peppers for a little added spice. Serve with tortilla chips, use it to top your favorite foods or eat it with a spoon -- it's that good!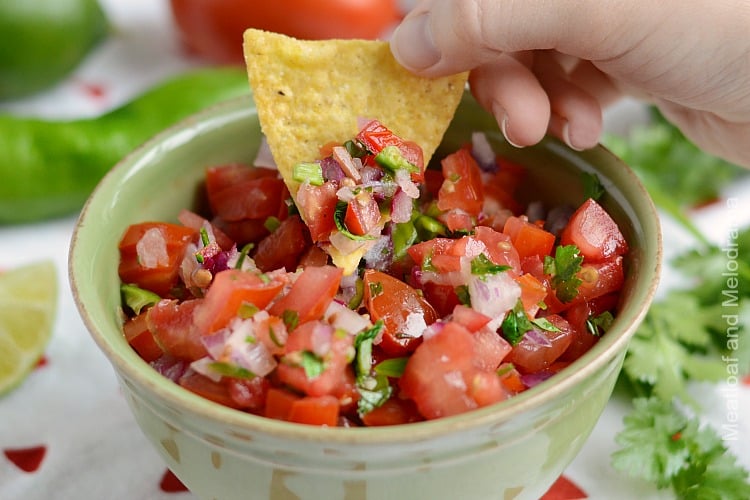 It's almost Cinco de Mayo, which means it's almost summer, and that means it's time for garden-fresh recipes, like this easy pico de gallo. We don't have a huge garden, but we do have a whole row of pots filled with herbs, tomatoes and peppers. We also have a small container garden with radishes, corn and peas. The Hubs and the little man are in charge of those, and so far, it's going pretty well.
If you follow me on Instagram, you probably saw the huge Anaheim peppers we picked. Trust me, they're big. And since we also have jalapeño peppers and some decent cilantro this year, I knew I had to make some Pico de gallo.
Pico de gallo, or salsa fresca, is a great way to use up fresh tomatoes, so we tend to eat a lot of it during the summer months. I like to serve it with chips as an easy appetizer, and then we'll use the rest over tacos, instead of the usual diced tomatoes. I'm such big tomato fan that I even like to use pico over salads!
I love spicy food, so whenever I have salsa, I usually go for the hot stuff. But my family members don't feel the same way, so when I make pico, I add a little bit of chopped jalapeño peppers, seeds and all, for just a touch of added heat. Of course, you can add Anaheim peppers for even milder flavor!
How to make spicy pico de gallo
Making pico is so easy. It's really all about freshness, and nothing is cooked. Basically, you just chop up fresh tomatoes, a red onion, cilantro and your choice of peppers and add them all to a large bowl.
Then, you add fresh lime juice and a little sea salt, to taste. And that's it!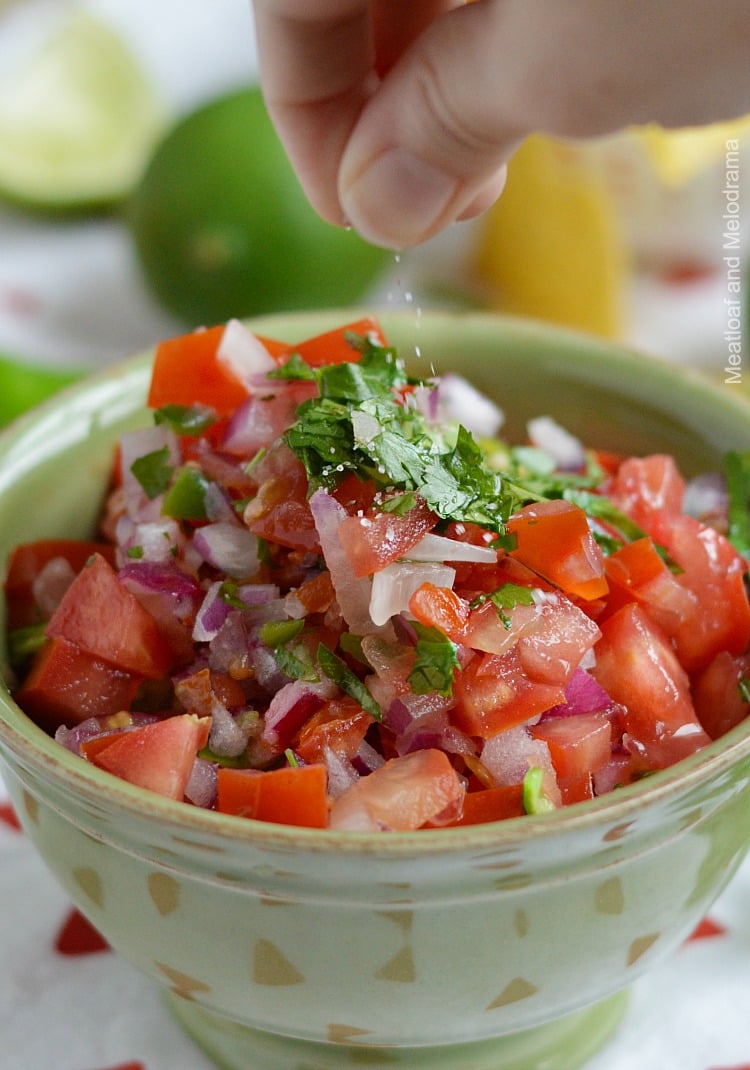 You can adjust the amount of sea salt to suit your personal preference, and you may also want to cut back on the onions if you aren't a fan.
This is one of those recipes that is so easy to customize, so there's really no exact amounts that you have to follow - totally my kind of recipe! You can easily make more pico by simply increasing the ingredients, so this is an awesome appetizer recipe for entertaining.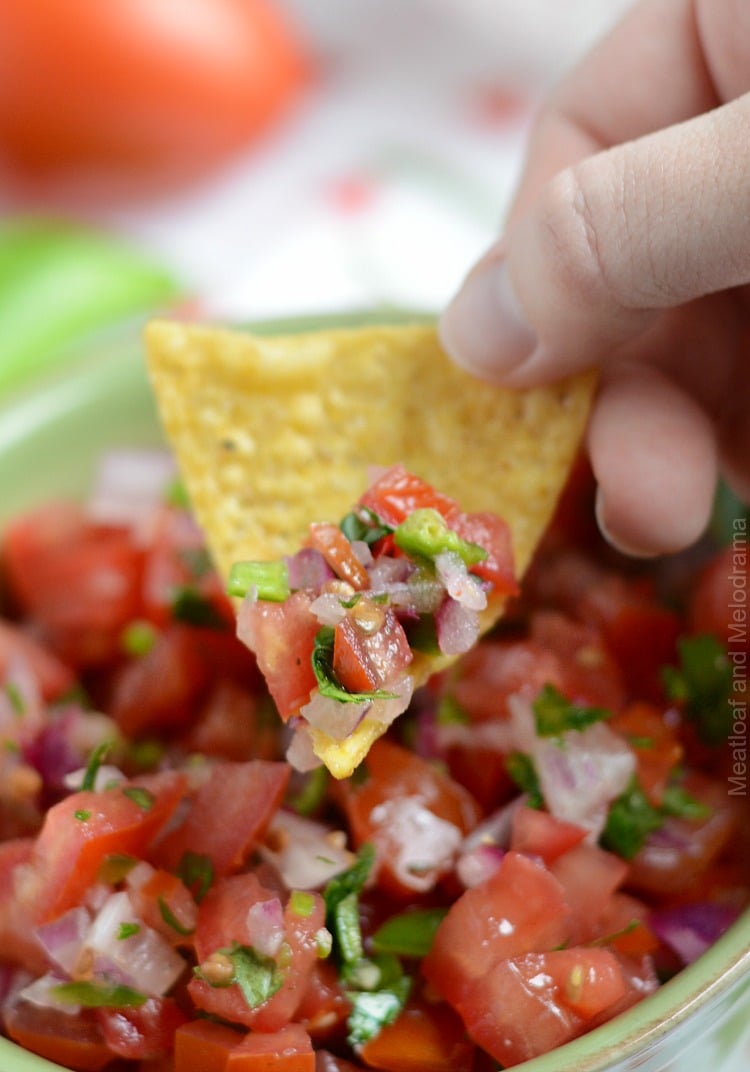 How long does pico de gallo last?
Not long -- you'll want to eat it up right away! Seriously though, the lime juice acts as a natural preservative, and it will be fine for several days in the refrigerator.
What can you serve with pico de gallo?
Our favorite way to enjoy this salsa fresca is with tortilla chips right out of the bowl. But it's perfect as a topping or seasoning for so many different recipes, like: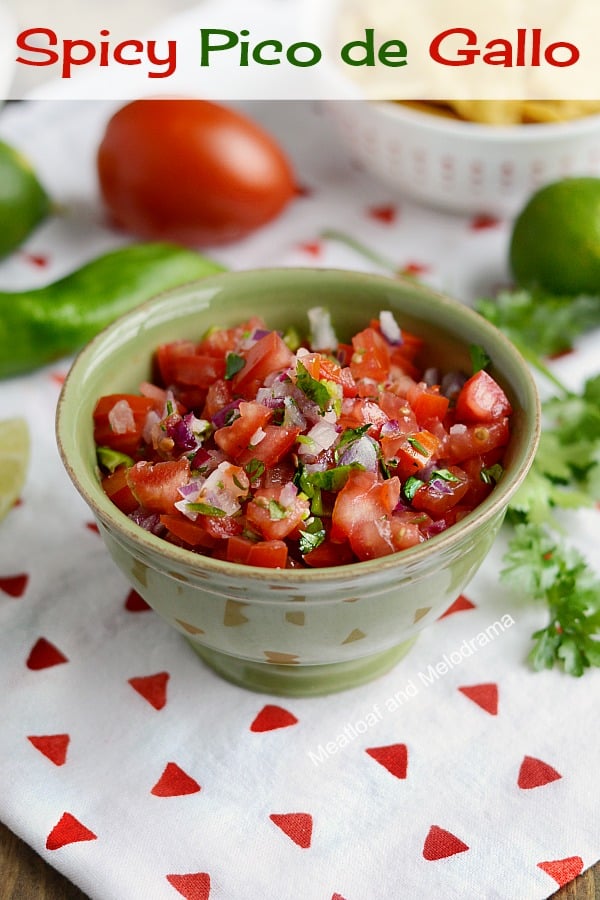 Recipe for Spicy Pico de Gallo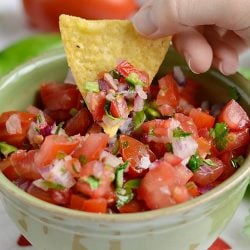 Spicy Pico de Gallo
Loaded with diced tomatoes and other fresh ingredients, this easy salsa can be used on just about anything
Ingredients
Four ripe roma tomatoes, seeded and finely diced

1

jalapeno pepper, finely, chopped

½

red onion

chopped

Juice from 1 small lime

2

tablespoons

chopped cilantro

sea salt and pepper

to taste
Instructions
Chop the tomatoes, pepper, onion and cilantro, and add to a small bowl

Pour the lime juice over the top, and mix well

Season with salt and pepper, to taste

Mix everything together, and refrigerate until ready to serve. It tastes better the longer it sits!
Nutrition information is estimated. Please do your own calculation to fit special diets.
Nutrition
This an updated version of a recipe originally published a couple of years ago.
I hope you enjoy this spicy pico de gallo recipe as much as we do!