This Easy Savory Pumpkin Soup recipe is incredibly simple, completely foolproof and takes only 30 minutes to make. It's the perfect fall comfort food!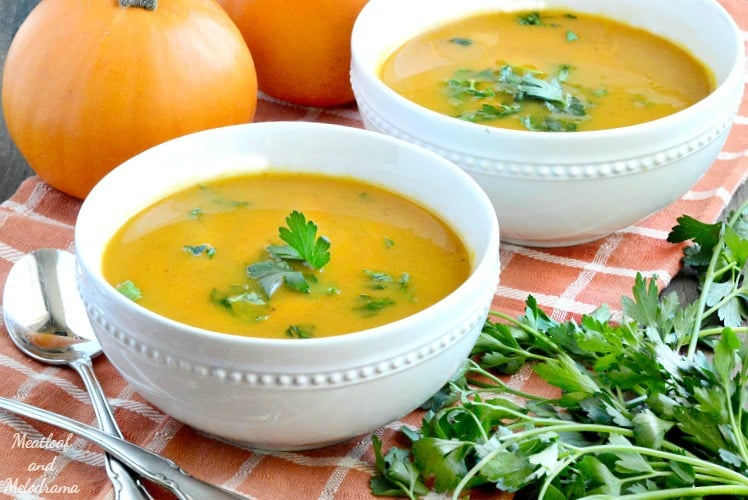 So last year, I made pumpkin soup for the very first time. In fact, when I told my family that I wanted to make pumpkin soup, they weren't impressed -- at all. They love sweet pumpkin recipes, like muffins, cookies and pies, but they thought that soup was just taking the pumpkin obsession a little too far.
But, I found a super easy recipe for pumpkin soup without cream, using canned pumpkin puree, in a magazine late last fall, and I just had to try it. I actually made it a couple of times, and even skeptics in the family admitted it was pretty good.
Because pumpkin season was about over by then, I had planned on posting the recipe for easy pumpkin soup this year. But as luck would have it, I couldn't find the magazine or my notes on the recipe anywhere. That's what I get for purging all my old magazines!
So anyway, I just decided to wing it and make my own homemade pumpkin soup with canned pumpkin. And guess what? It worked! My family thinks it's the best pumpkin soup ever!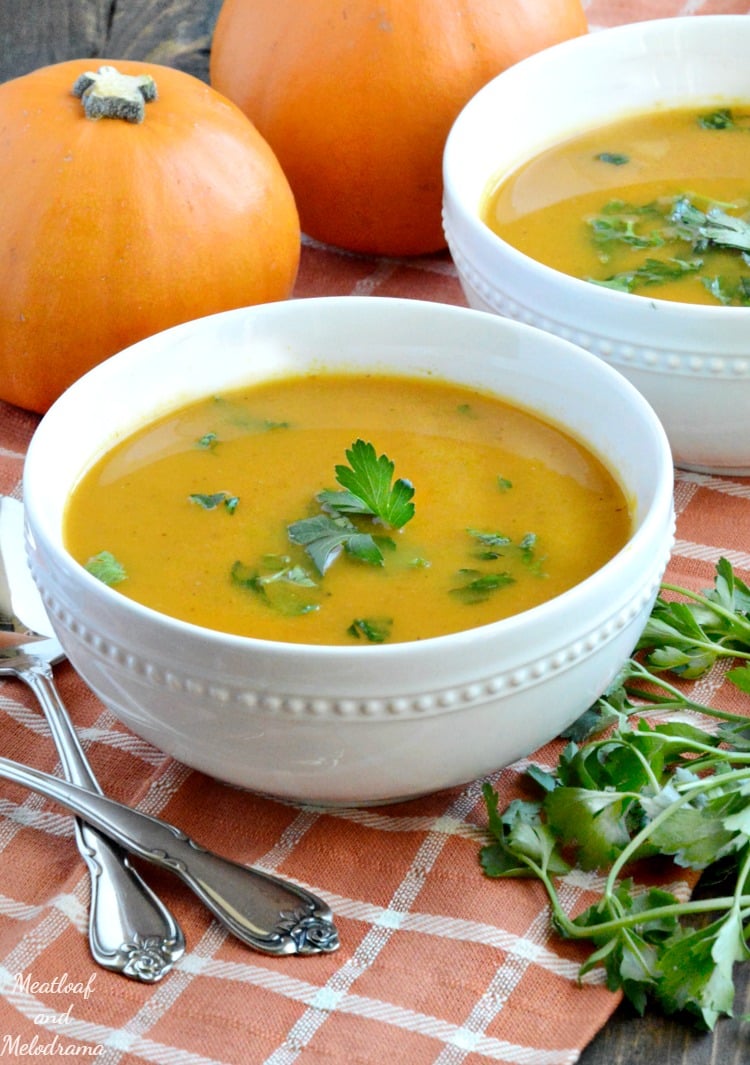 How to make easy pumpkin soup with canned pumpkin
This easy savory pumpkin soup starts out with sauteed onions, butter, canned pumpkin and chicken stock. It gets a little more flavor from a few spices and a little burst of freshness from lemon juice and fresh parsley.
The lemon juice is what really makes the pumpkin soup taste so good, and that's the one part of the original recipe that I remember. So whatever you do, don't skip it! The parsley is optional, but it just gives the soup another layer of flavor.
I use an immersion blender to puree the soup before serving, and it's probably my favorite part of the whole process. This is how you make creamy pumpkin soup without cream!
It almost makes me feel like I'm concocting a potion and makes me want to chant, Double, Double Toil and Trouble. After all, it's almost Halloween!
If you don't have an immersion blender, you can use a regular blender and puree the soup in small batches. It's not a required step but it does make the pumpkin soup a lot smoother and creamier, too.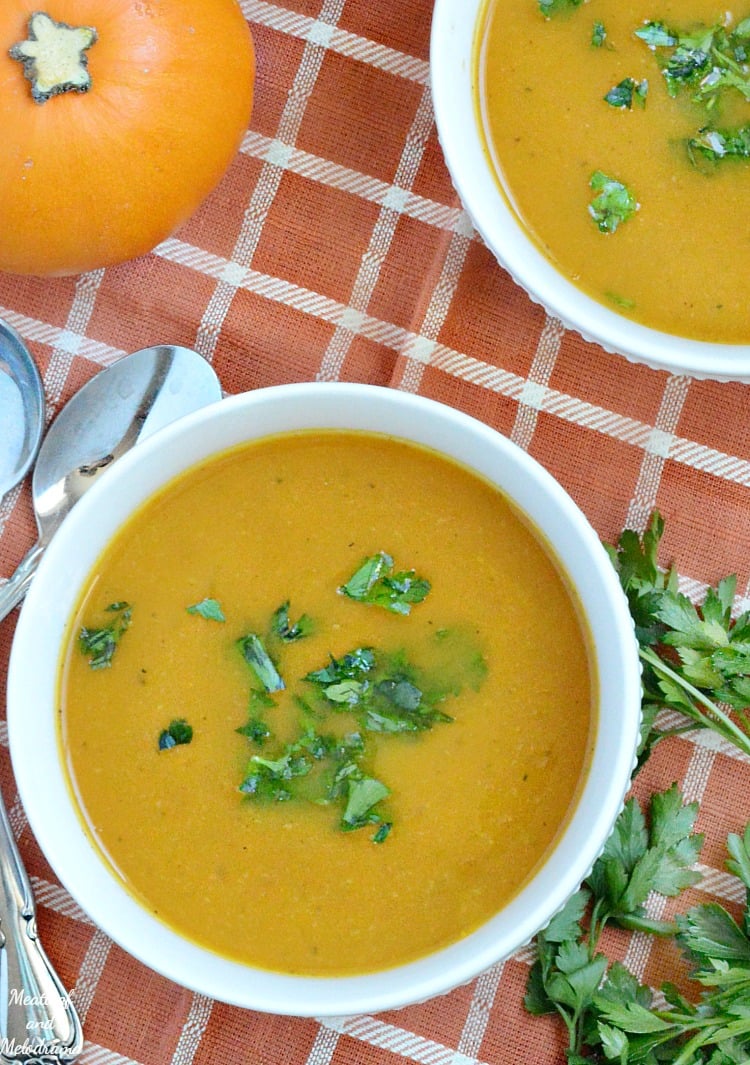 Recipe for Easy Savory Pumpkin Soup
Easy Savory Pumpkin Soup
Easy savory pumpkin soup is a simple quick and easy pumpkin soup recipe made with canned pureed pumpkin and without cream. It's smooth, with a hint of freshness and perfect for fall!
Ingredients
¼

cup

finely chopped white onion

1

tablespoon

butter

1

15-oz can

pureed pumpkin

not pumpkin pie filling!

1

32-oz box

low sodium chicken stock

½

teaspoon

ground black pepper

2

teaspoons

sea salt

¼

teaspoon

dried sage

1

tablespoon

fresh lemon juice

chopped parsley

optional
Instructions
In a large, heavy-bottomed pot, saute onions in butter on medium heat until soft and slightly brown

Stir in the pumpkin, and cook until warm

Add the chicken stock, sea salt, pepper, sage and lemon juice, cover, and cook on medium high heat until hot

Turn heat to low, or turn heat off and remove pot, and use immersion blender to puree soup until smooth

Serve with fresh chopped parsley, if desired
Notes
Blending the soup is optional but makes it velvety smooth. You can also blend the soup in a blender, in small batches, and return to stove to warm up.
Nutrition information is estimated. Please do your own calculation to fit special diets.
Nutrition
You can serve this easy savory pumpkin soup as is or add some Parmesan cheese or a little bit of cream at the end if you want. Either way, it's just a wonderfully delicious fall soup. Think comfort food!
Have a souper day, friends!