Learn how to clean and roast pumpkin seeds with this roasted pumpkin seeds recipe. This easy pumpkin seed recipe makes a delicious, crunchy snack that is perfect for fall!
Jump to:
Whether you're carving a spooky Jack o'lantern for Halloween or making homemade pumpkin puree from scratch, don't throw out the fresh pumpkin seeds!
Season them, and roast the raw pumpkin seeds in the oven for a few minutes for a delicious snack!
I've been baking roasted pumpkin seeds forever -- it's a Halloween tradition. So I thought it was high time to actually write the recipe down. It's super easy to do, and this is hands down the best method for roasted pumpkin seeds.
Note -- You don't have to bake the seeds right away.
Ingredients
You only need a few simple ingredients to make the best roasted pumpkin seeds! Most of these are in your grocery store or probably in your pantry:
Raw pumpkin seeds from sugar pumpkins or larger jack o-lanterns.
Cold water
Olive oil
Salt, black pepper or your favorite seasonings
How to Clean and Roast Pumpkin Seeds
To clean pumpkin seeds, first scoop the seeds out of the pumpkin, and remove as much of the stringy pumpkin pulp as possible. You can use a large metal spoon or an ice cream scoop or even an electric mixer for this part.
Don't worry if some pumpkin flesh sticks to the seeds. Next, place the raw pumpkin seeds into a large bowl of cool water.
Do you have to soak pumpkin seeds? Well, not really, but it's the easiest way to remove pulp and strings.
Then, rinse them off, and don't worry if some pumpkin sticks to the clean seeds -- it's fine.
Next, place the pumpkin seeds on a clean kitchen towel (do not use paper towels-- they won't be enough to soak up the excess water) or a baking sheet to pat the seeds dry.
If you try to bake wet pumpkin seeds, they'll steam and won't brown as well.
Line a rimmed baking sheet with parchment paper or aluminum foil for easy clean-up. Add a drizzle of olive oil, and lightly coat the dry seeds.
Then, spread the seeds evenly out in a single layer on the baking sheet. Now, you can sprinkle on your favorite seasonings.
How to Season Pumpkin Seeds
Use your favorite seasonings for roast pumpkin seeds. You can keep it super simple with sea salt and pepper or garlic powder.
We love spicy pumpkin seeds, so I used my homemade taco seasoning to make spicy roasted pumpkin seeds this time. You can use a packet of taco seasoning or use your favorite spices here:
Garlic powder
Smoked paprika
Curry powder
Chili Powder or ancho chile powder
Cumin
Onion powder
Cayenne pepper
Garlic salt
Black pepper
How Long to Roast Pumpkin Seeds at 350
Roast pumpkin seeds at 350 degrees f for about 20 minutes. Stir them about halfway through so that they cook evenly.
I found that roasting the pumpkin seeds at 400 or a higher temperature made them a little too crispy for us. And roasting at 325 took a little too long.
It really depends upon your preference. When the seeds are golden brown and crisp, they're done.
Variations
There are many different ways to alter this pumpkin seeds recipe to fit your preferences.
You can use larger seeds, or choose smaller pumpkins for smaller seeds. For less crispy seeds, roast them for less time.
For additional flavor, you can sprinkle a little more seasoning on them now if you want. Then, let the seeds cool down completely.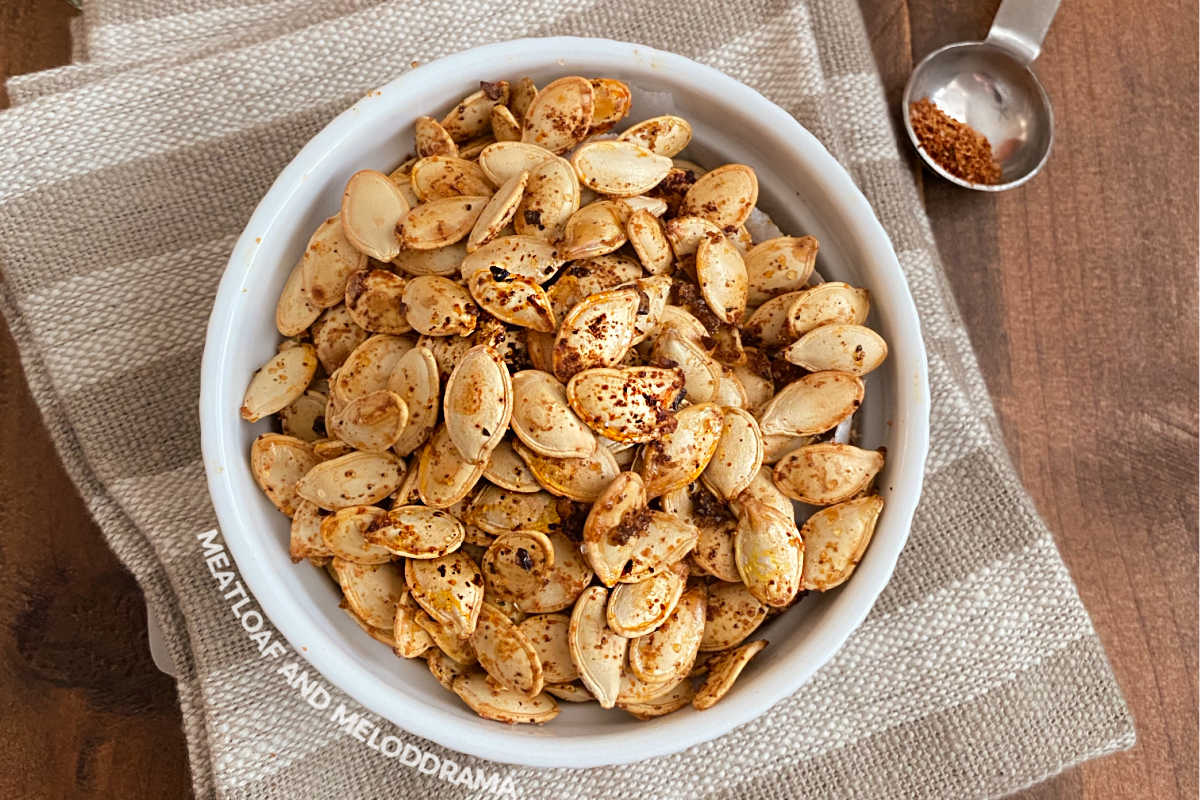 If you want sweet pumpkin seeds, you can season with pumpkin pie spice or brown sugar, or cinnamon sugar.
You can even drizzle maple syrup over the seeds.
Try a packet of ranch seasoning for something completely different!
The pumpkin seeds will dry completely as they cool. Aren't they gorgeous?! Now, you're ready to enjoy this delicious crunchy snack!
How to Store
Store roasted pumpkin seeds in an airtight container or zip top bag for freshness. They are fine to keep at room temperature.
For even longer storage, you can place the dry seeds in the refrigerator for up to 2 weeks.
FAQ
Do you need to wash pumpkin seeds before roasting?
Yes. Washing pumpkin seeds is the best way to remove the sticky pumpkin pulp off the seeds. You don't have to remove all of it. It's fine if there are bits of pulp left on the seeds. It will dry out in the oven.
How long should pumpkin seeds soak?
Let the pumpkin seeds soak overnight. There's no need to roast them right away. In the morning, you can pat them dry and roast the seeds.
Recipe
How to Make Roasted Pumpkin Seeds
Learn how to make Roasted Pumpkin Seeds with this foolproof method. This easy pumpkin seeds recipe makes a delicious, crunchy, healthy snack that is perfect for fall!
Ingredients
1

cup

pumpkin seeds

rinsed and dried, amount may vary

1

tablespoon

olive oil

1

teaspoon

taco seasoning

pinch

Sea salt and pepper
Instructions
Preheat oven to 350 degrees

Line a rimmed baking sheet with parchment paper or aluminum foil

Add olive oil to baking sheet, and lightly coat pumpkin seeds with oil

Sprinkle sea salt, pepper and taco seasoning over seeds, and spread evenly on baking sheet in a single layer so they're not overlapping

Bake for 20 minutes, stirring at least once, or until golden brown and crisp

Remove from oven, and cool completely before eating
Notes
Exact amount of pumpkin seeds will vary with size pumpkin.
You can use your favorite spices here or seasoning blends
Store in airtight container or zip top bag.
Nutrition information is estimated. Please do your own calculation to fit special diets.
Nutrition
Calories:
48
kcal
Carbohydrates:
1
g
Protein:
2
g
Fat:
5
g
Saturated Fat:
1
g
Sodium:
1
mg
Potassium:
52
mg
Fiber:
1
g
Sugar:
1
g
Vitamin C:
1
mg
Calcium:
3
mg
Iron:
1
mg
Hungry for more pumpkin recipes? Try Easy pumpkin soup or Instant Pot pumpkin soup.
Craving something sweet? Try easy pumpkin dump cake, no bake pumpkin pie, pumpkin muffins or Instant Pot pumpkin cheesecake!
For more easy recipes for pumpkin season and beyond, be sure to sign up for our weekly newsletter!