Instant Pot Creamy Sausage Tortellini is an easy dinner recipe made with chicken sausage and tortellini in a tomato cream sauce. Just dump, cook and eat!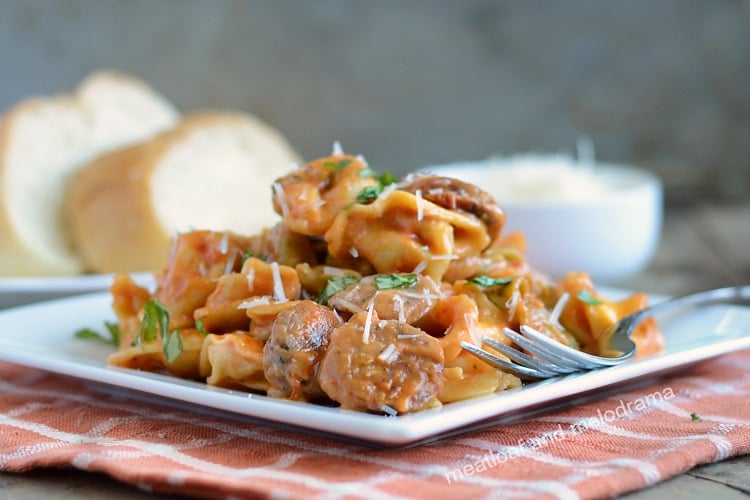 This delicious chicken sausage tortellini is one of my family's favorite Instant Pot recipes. I've made it about 3 or 4 times in the last couple of weeks, and they gobbled it up every time -- even the picky eater approved!
So, I've been going through my favorite one pot dinner recipes and converting them into Instant Pot dinner recipes, which is one reason why I made this one so many times. Only tried and true Instant Pot recipes here, folks! But honestly, it's so dang easy and good that I didn't mind!
Actually, the original sausage tortellini skillet recipe is pretty amazing, but this Instant Pot recipe is even easier. There's no stirring or standing by the stove. Just dump everything into the pressure cooker, press Start, and let the Instant Pot do the work!
It really is a dump and start dinner. As much as I hate to use the word "dump" when describing a recipe, that's exactly what you do here. And believe me, this easy dump dinner is exactly what you need when you're too tired to cook or when you're on vacation!
How to make Instant Pot creamy sausage tortellini
At first, I was worried about cooking tortellini in the Instant Pot, since I didn't want it to overcook and turn to mush. But you guys, you can cook tortellini in the pressure cooker without any trouble at all.
First, I like to add a little bit of olive oil to the pot to prevent the sausage from sticking. Then, you add the sausage slices, tortellini, water and marinara sauce.
I used Aidells brand of Italian chicken sausage since that's what I've always used for this recipe. It's precooked, so it saves time. You can use any brand you want, though.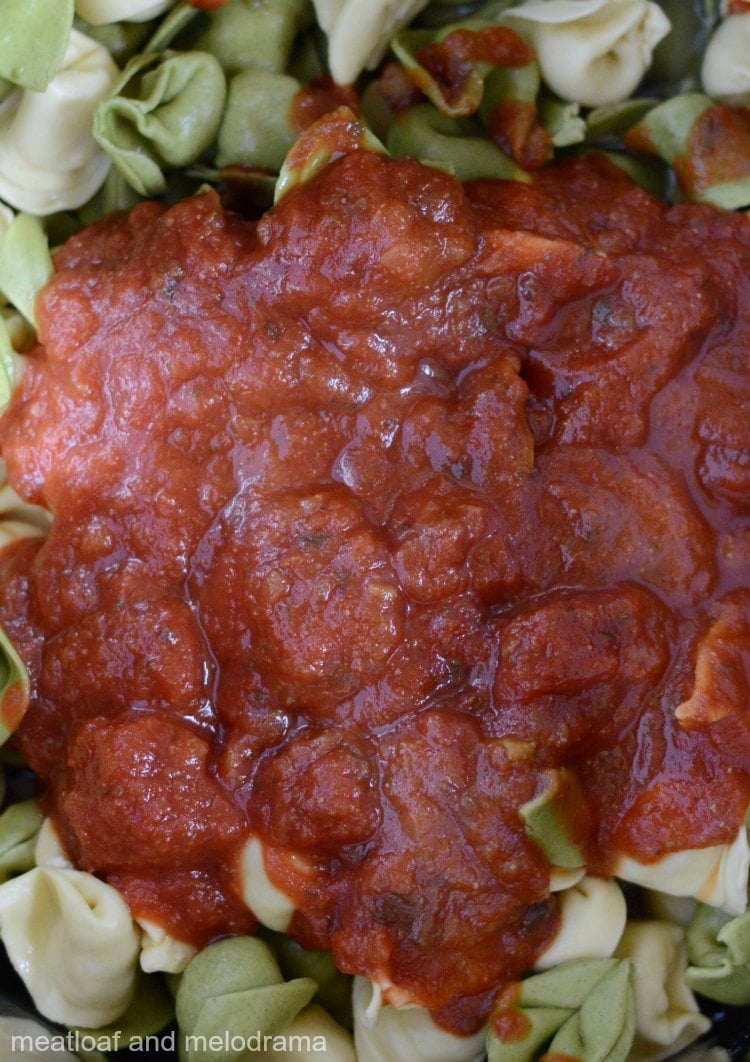 I also used just one cup of jarred marinara sauce here. If you want to cut down on the sodium, you can use an 8-ounce can of tomato sauce with no salt added.
Personally, I prefer the marinara sauce, but either sauce will work. If you do use the tomato sauce, be sure to add some Italian seasoning for extra flavor!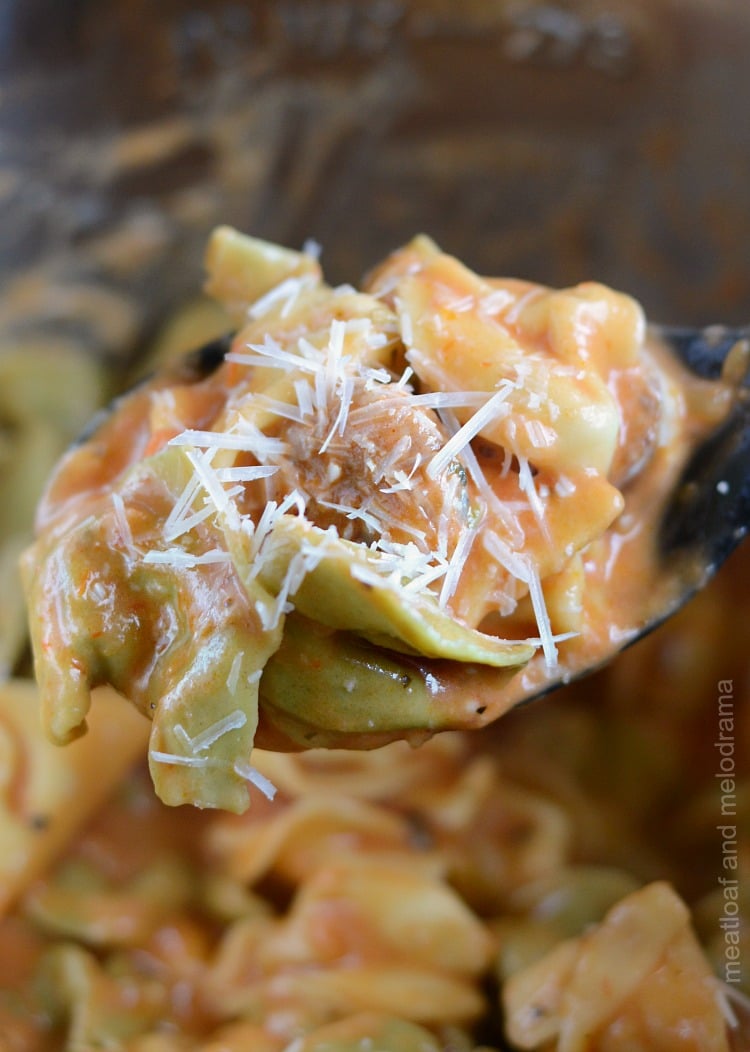 You can cook the sausage tortellini for 2 minutes if you like it more al dente, but 3 minutes is perfect if you like it a little softer. Then, add a little cream and grated Parm, and you're good to go!
Don't be afraid to add a little more cream or Parm if you want. You've got this!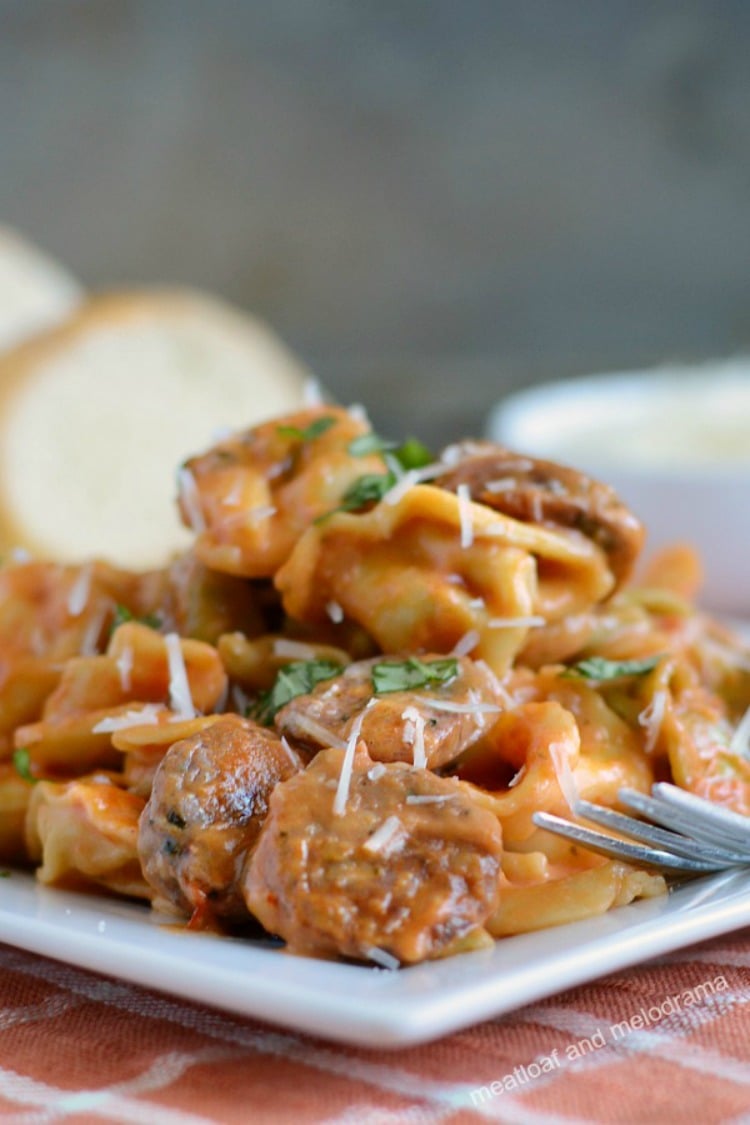 Here are more dump and start Instant Pot recipes
Recipe for Instant Pot Creamy Sausage Tortellini
Recipe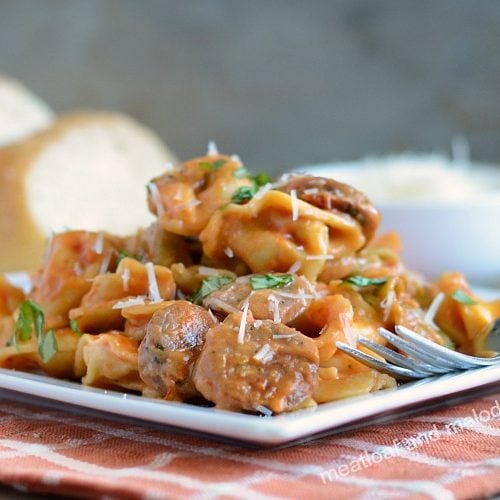 Instant Pot Creamy Sausage Tortellini
Instant Pot Creamy Sausage Tortellini pasta is an easy dinner recipe made in the pressure cooker with chicken sausage and tortellini in a tomato cream sauce. Just dump in the ingredients, press start, cook and eat!
Ingredients
1

tablespoon

olive oil

1

1-pound package

cooked Italian chicken sausage, sliced thin (Aidell's)

1

20-ounce package

refrigerated tortellini

1

cup

marinara sauce

2

cups

water

¼

cup

heavy cream

¼

cup

grated Parmesan cheese
Instructions
Add the olive oil to the inner instant pot, and spread evenly around bottom of pot

Arrange the sausage slices evenly in pot, then layer tortellini on top

Pour water around and over tortellini, then add marinara sauce over tortellini. DO NOT STIR

Cover with lid, and turn vent to sealing position. Hit PRESSURE COOK for 3 minutes. Pot may take 10 minutes to reach pressure.

After 3 minutes cook time, do a quick release when pot beeps. When pin drops, carefully remove lid, stir, then stir in cream and Parmesan cheese until blended. Sauce will thicken as it stands.
Notes
Recipe was made in 6-quart Instant Pot electric pressure cooker using pre-cooked Aidell's Italian Chicken sausage, Buitoni tortellini and Barilla marinara sauce.  Taste may vary if using different brands.
Recipe can also be made in 8-quart Instant Pot.
Nutrition information is estimated. Please do your own calculation to fit special diets.
Nutrition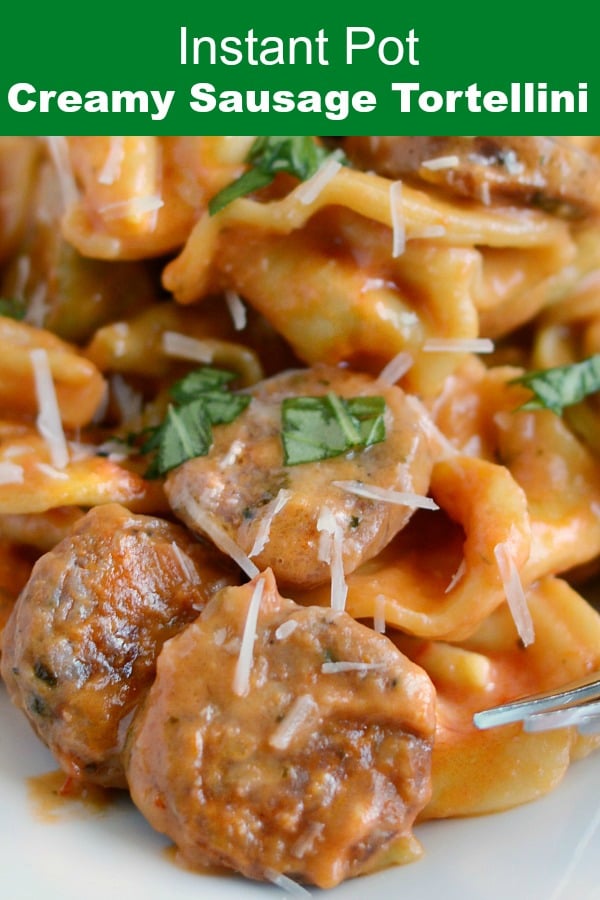 I hope you enjoy this easy Instant Pot Creamy Sausage Tortellini as much as we do!