This Instant Pot Pulled Pork recipe makes tender shredded pork from a pork butt or pork shoulder roast in the electric pressure cooker in about 2 hours! Use the tender meat for pulled pork sandwiches, carnitas, nachos or over mashed potatoes for an easy dinner the whole family will love!
Jump to:
I made pulled pork in the Instant Pot from a pork butt for the first time on New Year's Day a few years ago, and it was seriously the best pulled pork ever!
Actually, it's one of the best Instant Pot recipes ever!
You guys, I'm talking about fork-tender pork that just melts in your mouth in only 2 hours. Yes, two hours in the electric pressure cooker-- a fraction of the time it takes in the slow cooker!
Whenever I make a pork roast for pulled pork, I like to keep the seasonings as simple as possible. This way, I can make just about anything with the leftover pork.
I usually serve BBQ sauce and homemade coleslaw on the side for pulled pork sandwiches on brioche buns. Then, I add different spices to leftover pork for carnitas tacos and pulled pork nachos or leftover pork chili verde.
Ingredients
You only need a few simple ingredients for this easy pulled pork Instant Pot recipe. You can find them in your grocery store or online:
Pork butt -- We usually cook a 6 to 8 pound pork roast
Water -- or Coke, Dr. Pepper, or some dark soda, broth or beer
Sea salt
Garlic powder
Smoked paprika
Ground black pepper
Yellow or white onion -- use onion powder or dried minced onions in the rub if you don't have a whole onion.
Garlic cloves
Barbecue sauce -- add your favorite BBQ sauce after pressure cooking
Best Cut of Pork for Pulled Pork
The most popular cut of meat for pulled pork is a pork butt roast or Boston Butt roast. Butt roasts are well marbled and fattier, which adds tons of flavor.
It's also sometimes called pork shoulder roast, although a true pork shoulder is a slightly different cut and usually sold with the skin on.
You can use a bone-in pork butt roast or a boneless pork shoulder roast. I've used both cuts of pork and I didn't notice any difference in flavor.
How to Season Pork Shoulder
Make a simple dry rub to season the pork butt or pork shoulder before pressure cooking. Just mix the salt, pepper, garlic powder and smoked paprika together in a small bowl.
How to make Pulled Pork in the Instant Pot
First, I like to cut the pork roast into smaller pieces before cooking it in the Instant Pot. We usually cut the roast into 3 large chunks.
This is optional, but it helps the roast to cook evenly and fit better in the pot.
Next, season the meat all over with the homemade dry rub from the spices. We like to rub the spices into the meat so that it's well coated before pressure cooking.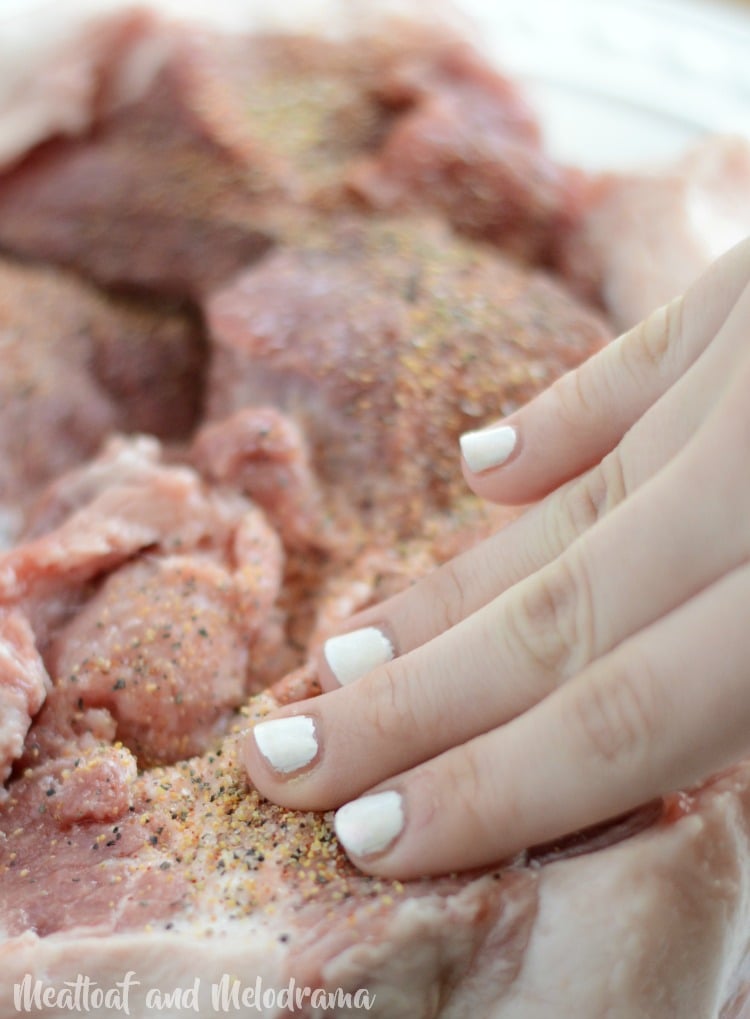 Then, place the cut-up roast into the bottom of the pot. Add the onion and some garlic cloves along with a little water, soda pop, broth or beer.
I have made Instant Pot pulled pork with Dr. Pepper and Coke in the Instant Pot, and these sodas make the meat insanely tender!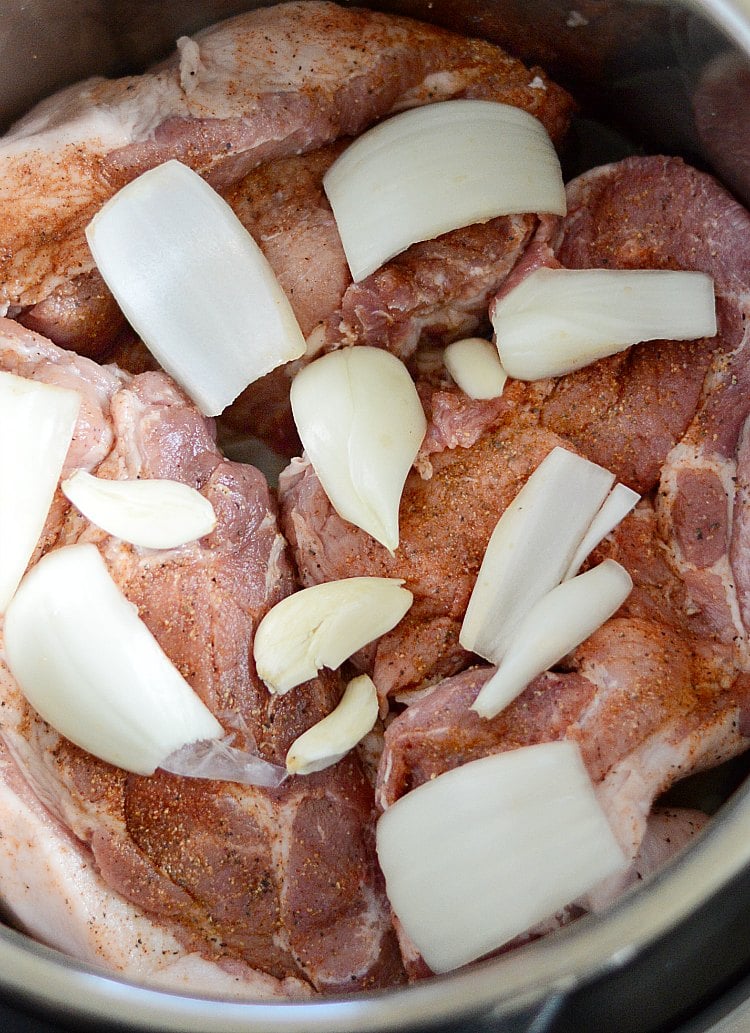 How Long to Cook Pulled Pork in Instant Pot
So, How long do you cook pulled pork in the Instant Pot? This, friends, is the $64,000 question! And honestly, you will get so many different answers.
Since we're dealing with a thick cut of meat, you need to cook it long enough to break down the fat and connective tissues to make it as tender as possible.
Generally, the cook time for pulled pork Instant Pot is 15 minutes per pound. But, larger cuts of pork or bone-in pork roasts take more time.
I find the best Instant Pot pulled pork cooking time to be 90 minutes high pressure followed by a natural release. It's the perfect time for making pulled pork in the Instant Pot.
Cook time may vary if you have a very large roast or don't cut it up. I have cooked a 6 pound, 7 pound, 8 pound, 9 pound and 11 pound pork roast for the same amount of time, 90 minutes, and the meat was perfectly tender.
You can cook Instant pot pulled pork from frozen pork roast. It will just take longer to reach pressure.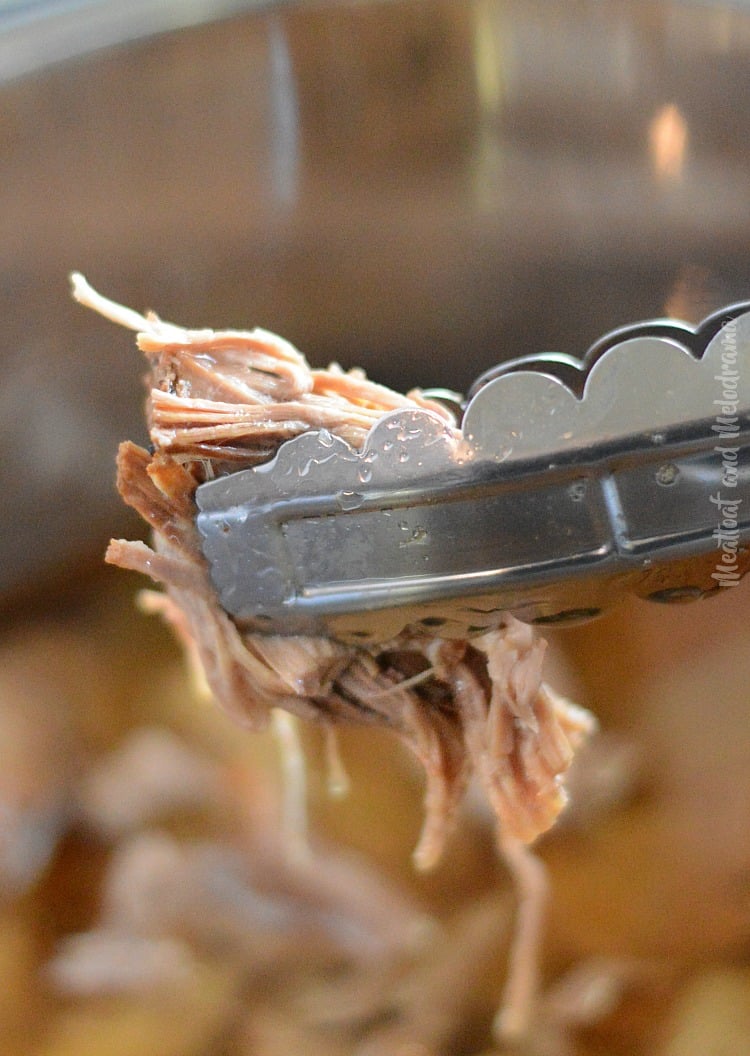 And when the time is up, the meat is fork tender and perfectly shreddable, which is exactly what you want for pulled pork!
You can drain the cooking liquids before shredding the pork or simply shake off the excess liquid when serving.
Variations
Make Instant Pot carnitas by using different flavors, such as a Mexican spice mixture, chili powder, and lime juice. Any leftover meat can be baked in the oven and served with shredded cheese and tortilla chips for delicious pork nachos!
If you want to add your favorite BBQ sauce while cooking the roast, don't just stir the sauce into the shredded pork--add it to the top of the meat and let it sit.
If you mix the BBQ sauce in, the sugars in the sauce might burn during cooking. You can also add some brown sugar for a richer BBQ taste!
A favorite way to add some extra flavor to the pork is to use a dark soda, such as Dr. Pepper, Coke, or root beer, to the Instant Pot instead of water.
Using these sodas also helps the pork tenderize, due to their acidity. Beef broth or chicken broth or apple cider vinegar, or apple juice works as well.
How to Store Leftovers
Store any leftover pulled pork in an airtight container in the refrigerator. It'll keep for about 4 days.
For longer storage, freeze leftover pulled pork for up to 6 months. This pork freezes and reheats quite well!
Leftover pulled pork also reheats well in the microwave. Pulled pork leftovers make great sandwiches, tacos, and nachos, but you could just eat the tasty meat on its own!
Cooking Tips
Tips for the BEST Instant Pot pulled pork!
Make an easy dry rub before cooking for best flavor. You can add BBQ sauce after cooking.
Cut a large cut of pork into smaller pieces for even cooking. You don't have to sear the meat. I never sear pork before cooking, and they turn out tender and flavorful every time.
Use a liquid other than water for more flavor.
Always do a natural pressure release for pork roast or any roast for at least 15 minutes in the Instant Pot.
FAQ
Why is my pulled pork tough in the Instant Pot?
If the pork is tough after pressure cooking, it hasn't cooked long enough. The easiest way to fix this is to cook the pork shoulder longer. Just place the meat back into the pressure cooker and cook for 15 minutes longer or until tender enough to pull apart easily. It's difficult to overcook a pork shoulder in the Instant Pot.
Can you cook a frozen pork roast in the Instant Pot?
Yes, you can. However, if the roast is large and you can't cut it into smaller pieces, the pressure cooker may take longer to reach pressure and the roast may take longer to cook.
Recipe
Instant Pot Pulled Pork
This Instant Pot Pulled Pork recipe makes tender shredded pork from a pork butt or pork shoulder roast in the electric pressure cooker in about 2 hours! Use the tender meat for pulled pork sandwiches, carnitas, nachos or over mashed potatoes for an easy dinner the whole family will love!
Ingredients
1

6-pound

pork shoulder roast (pork butt)

2

teaspoons

sea salt

1

teaspoon

garlic powder

1

teaspoon

smoked paprika

1

teaspoon

ground black pepper

1 ½

cups

water

coke, dr pepper or broth

1

yellow or white onion cut into large pieces

3

cloves

garlic, peeled
Instructions
Cut roast into 3 large pieces, and season with sea salt, garlic powder, paprika and pepper

Add water, then add roast, onion and garlic

Cover, move valve to sealing position, and hit PRESSURE COOK for 90 minutes

Allow natural release, and when pin drops, open lid, shred with forks, and serve
Notes
Recipe made with all natural pork shoulder roast in 8-quart Instant Pot pressure cooker.
Natural release takes about 20 minutes or more. Use quick release after 15 to 20 minutes to save time.
Use your favorite soda pop for added flavor and tenderness!
Nutrition information is estimated. Please do your own calculation to fit special diets.
Nutrition
Calories:
150
kcal
Carbohydrates:
1
g
Protein:
1
g
Fat:
1
g
Saturated Fat:
1
g
Polyunsaturated Fat:
1
g
Monounsaturated Fat:
1
g
Cholesterol:
1
mg
Sodium:
312
mg
Potassium:
7
mg
Fiber:
1
g
Sugar:
1
g
Vitamin A:
66
IU
Vitamin C:
1
mg
Calcium:
2
mg
Iron:
1
mg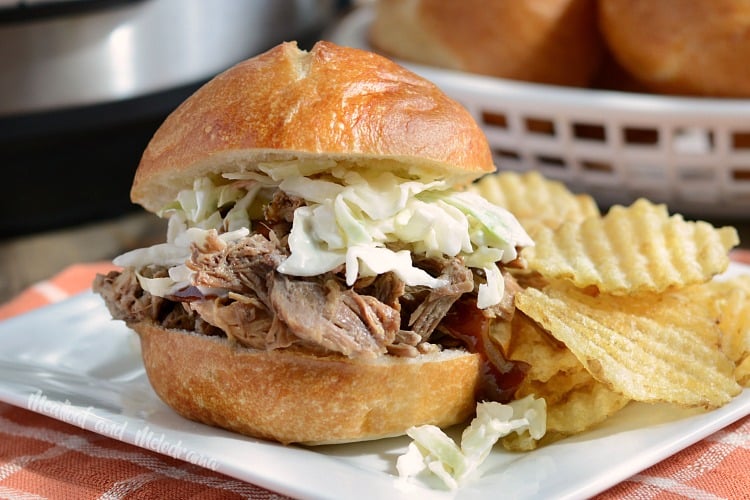 This perfect, easy Instant Pot pulled pork is one of our family favorites! I hope you enjoy this great recipe as much as we do! BBQ pulled pork sandwiches are perfect for game day!
For more easy recipe ideas and quick meals, be sure to subscribe to the newsletter and follow me on social media!
Happy Cooking,

Recipe first published in 2018 and updated in 2023