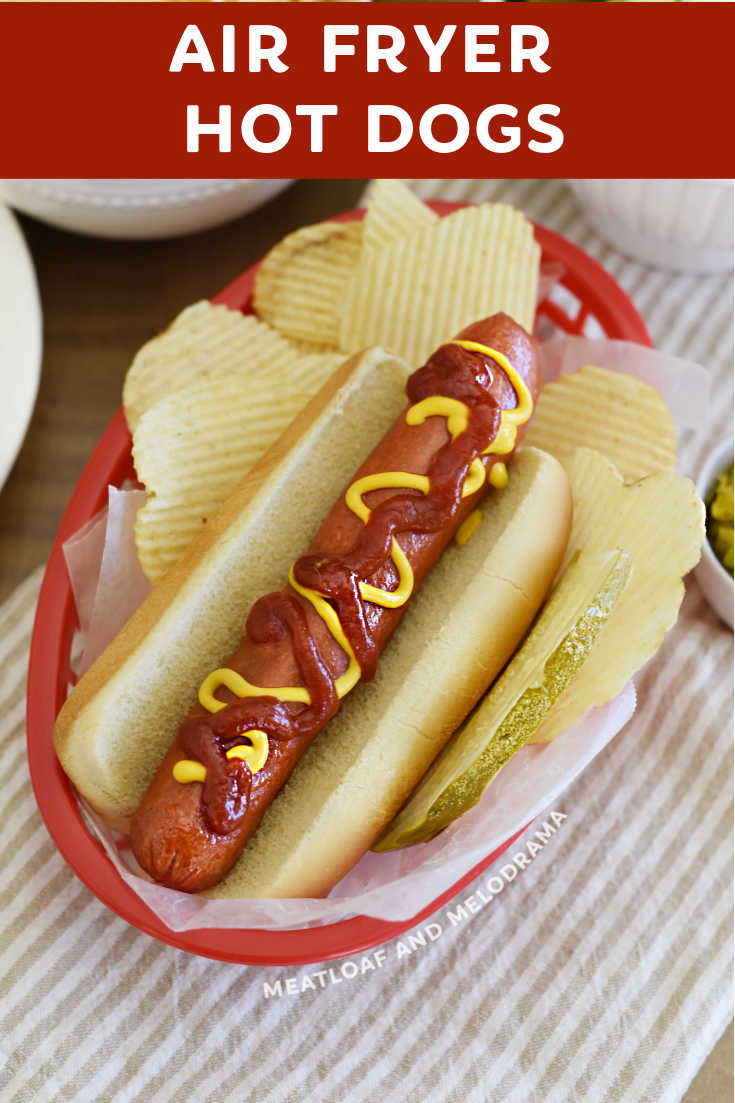 You can make perfect Air Fryer Hot Dogs for a quick and easy dinner or lunch in less than 10 minutes with this easy recipe.
I love cooking hot dogs in the air fryer! They're easy to make, easy to clean up, and they come out perfect every time. Seriously, this is one of the easiest air fryer recipes ever!
I make the hot dogs in my Instant Vortex or Instant Omni Plus Air Fryer. But the basic cooking directions are the same with just about any air fryer brand.
With oven-style air fryers like the Omni, you get some nice grill marks. So, when you can't grill, air fried hot dogs are the next best thing!
How to Air Fry Hot Dogs
First, preheat your air fryer to 390. I know a lot of people don't bother to preheat, but I personally like to.
If you're using the Vortex, Omni or similar appliance, you can place the hot dogs on the tray while you're waiting for it to heat up. Or, you can place them on the tray when the air fryer is hot.
If you're using a basket-style air fryer, add the hot dogs when it reaches the right temperature. Now, they're ready to cook!
How Long to Cook Them
For average sized hot dogs, you can air fry the hot dogs for 4 to 5 minutes. If you're using jumbo hot dogs, cook them for 6 to 7 minutes or until they're done to your liking.
Hot Dog Temperature
For safety, cook hot dogs until they're steaming hot or 140 degrees, according to a meat thermometer.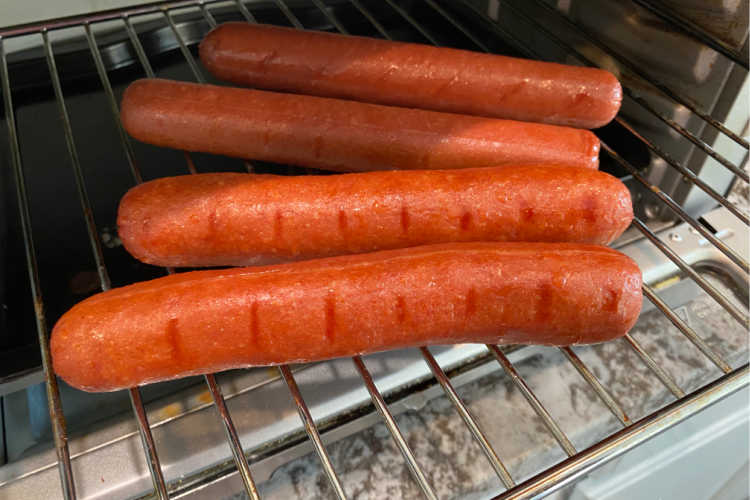 Favorite Toppings
Unless I"m making Cheeseburger Hot Dogs, Mummy Dogs or Polish Sausage Dogs I set out a bunch of hot dog toppings and let the family pile them on. Our favorites are:
Mustard
Ketchup
Relish
Pickles
Hot peppers
Tomato Slices
Mayo
Cheese
Chili
Air Fryer Hot Dog Recipe
Recipe
Air Fryer Hot Dogs
You can make Air Fryer Hot Dogs for a quick and easy dinner or lunch in less than 10 minutes with this easy recipe.
Instructions
Preheat air fryer to 390 degrees Fahrenheit

Place hot dogs on cooking tray, and cook for 4 to 5 minutes for small hot dogs or for 6 to 7 minutes for larger hot dogs
Notes
Cook hot dogs until steaming hot and 140 degrees or higher internally for safety.
Nutrition information is estimated. Please do your own calculation to fit special diets.
Nutrition
Calories:
111
kcal
Carbohydrates:
8
g
Protein:
5
g
Fat:
7
g
Saturated Fat:
2
g
Cholesterol:
20
mg
Sodium:
308
mg
Potassium:
66
mg
Calcium:
11
mg
Iron:
1
mg