25 easy Buffalo chicken recipes for game day, parties or dinner. From spicy wings to cheesy dips and hearty casseroles, you'll want to try them all!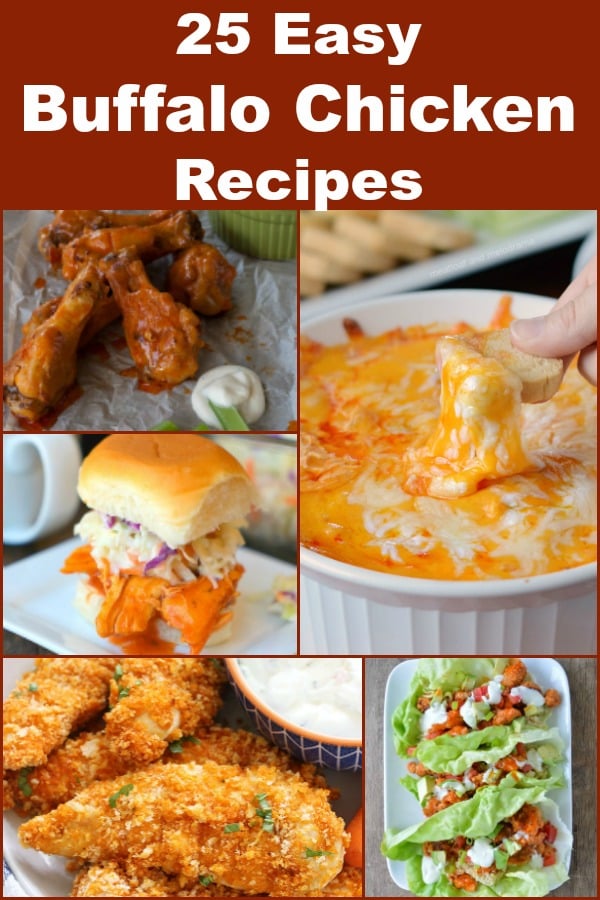 If you're looking for easy Buffalo chicken recipes, you've hit the jackpot today. Seriously. Why?
Well, I've got enough recipes using Buffalo chicken to satisfy just about anyone and everyone! We're talking fried wings, wings made in the air fryer, Buffalo chicken dip, Instant Pot sliders, casseroles and Buffalo chicken wraps! And that's just a sampling of the spicy deliciousness I'm sharing today!
In fact, I found so many creative recipes to make with Buffalo sauce, that I have another round-up coming soon. Can you tell how much I love me some Buffalo sauce?!
So, browse the Buffalo sauce recipes, make a few, and enjoy while you're watching the game, or hanging out with friends, or feeding the family. You get the idea!
25 Easy Buffalo Chicken Recipes you have to Try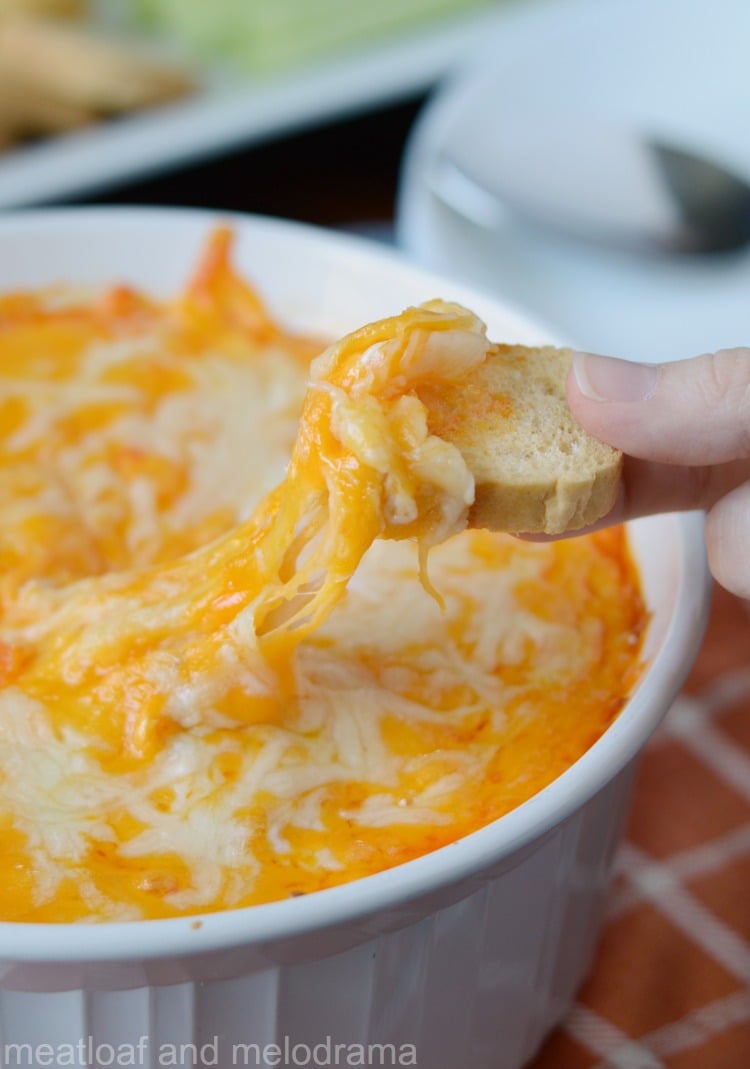 Instant Pot Buffalo Chicken Dip from Meatloaf and Melodrama. It's so quick to make in the pressure cooker!
Buffalo Chicken Hashbrown Casserole from Home and Plate. This is classic comfort food!
Spicy Electric Pressure Cooker Chicken Sliders from The Typical Mom. This one lets you use frozen chicken.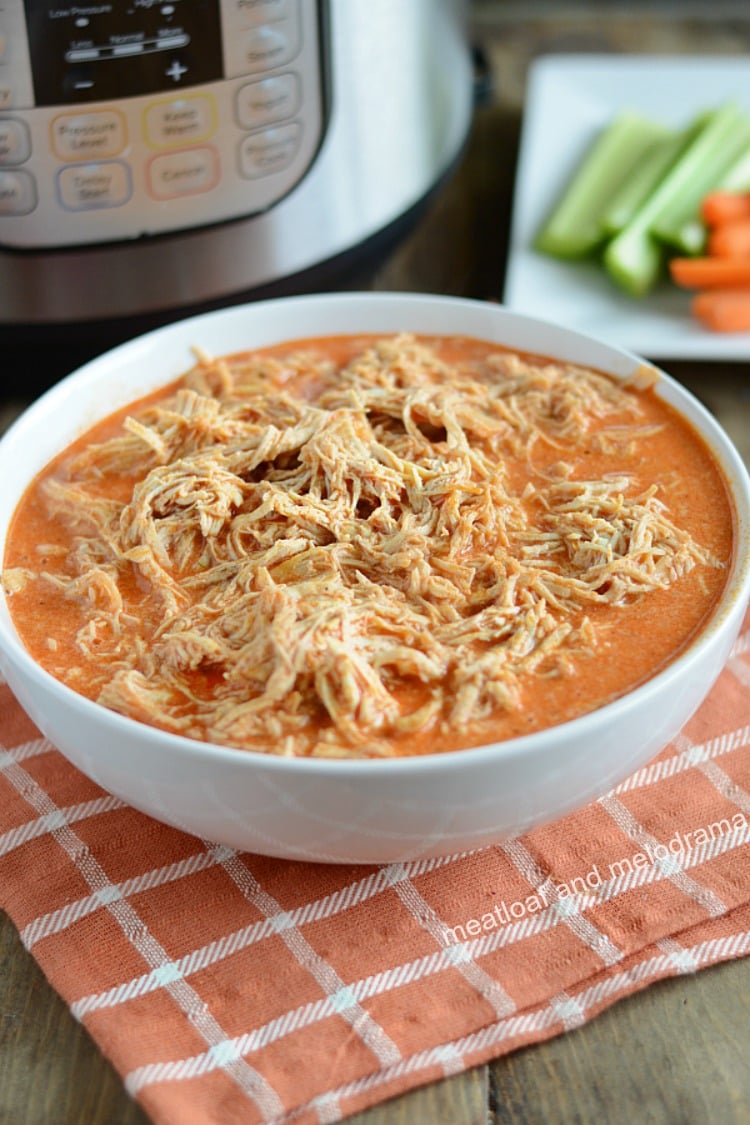 Instant Pot Buffalo Chicken This one uses fresh chicken.
Buffalo Chicken Nachos from My Suburban Kitchen. You can use frozen pre-made chicken here!
Instant Pot Buffalo Chicken Wonton Cups Portable party food!
Grilled Buffalo Chicken Burgers from Saving Room for Dessert. These are easy to make on the grill.
Slow Cooker Buffalo Chicken Chili from Mama Gourmand. Let your slow cooker do the work!
Crock-Pot Honey Buffalo Chicken Sliders Sweet and spicy chicken made in the slow cooker!
Buffalo Chicken Soup from Num's the Word. Nothing's better than a bowl of chicken soup!
Baked Buffalo Chicken Fingers from Belle of the Kitchen. These are kid friendly!
Buffalo Chicken Poppers. These are bite sized!
Buffalo Ranch Chicken Casserole from The Whole Cook. This recipe is healthy!
Shredded Buffalo Chicken Wraps from Don't Go Bacon My Heart. Perfect for a light lunch!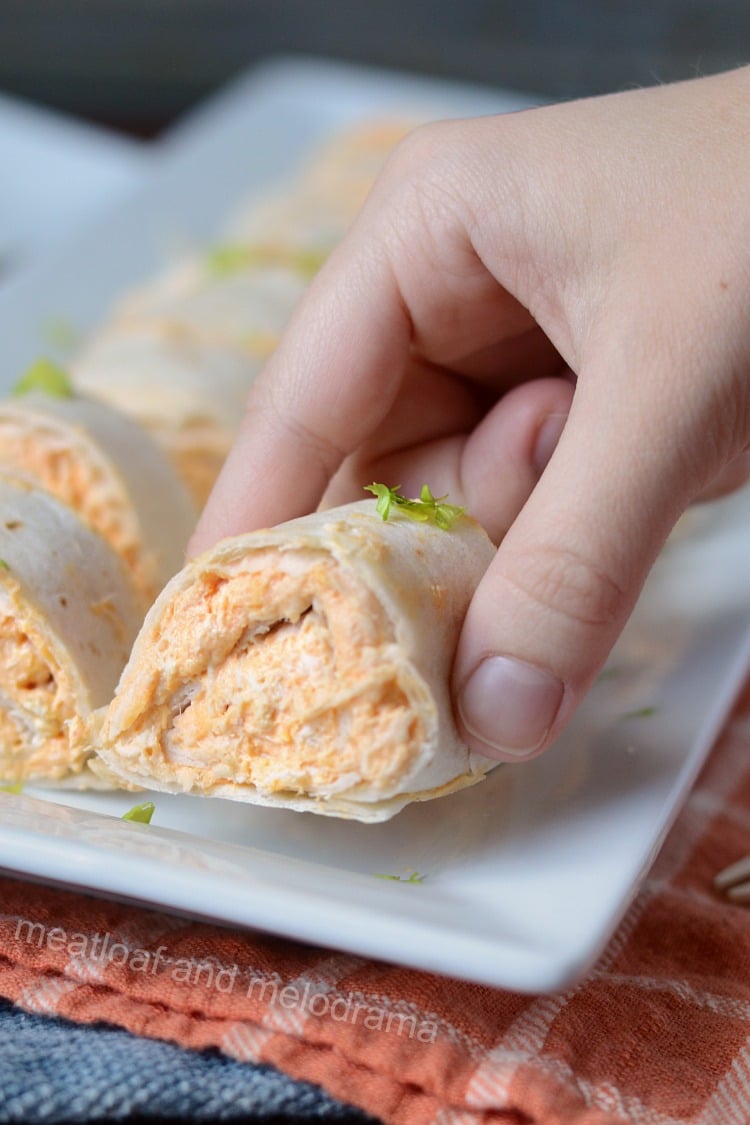 Instant Pot Buffalo Chicken Roll Ups. Perfect for parties or game day!
Buffalo Hot Chicken Wings from What a Girl Eats. These are baked, not fried.
Buffalo Rosemary Chicken Skewers from Culinary Ginger. These bites are grilled on rosemary for extra flavor.
Buffalo Chicken Meatballs from My Wife Can Cook. Your favorite flavor in meatball form!
Buffalo Chicken Grilled Cheese from We Are Not Martha. The best grilled cheese ever!
Instant Pot Buffalo Chicken Mac and Cheese. Two favorites in one dish!
Easy Air Fryer Chicken Wings from Low Carb Yum. These wings are made in the Air Fryer!
Buffalo Chicken Lettuce Wraps from Sugar Dish Me. A lighter way to enjoy Buffalo chicken!
Buffalo Chicken French Bread Pizza Perfect for pizza night!
Buffalo Chicken Stuffed Shells from Platter Talk. This is one awesome combo!
Buffalo Chicken Casserole from Moore or Less Cooking. A cheesy baked chicken casserole!
I hope you get a chance to try one or more of these 25 easy Buffalo Chicken recipes.