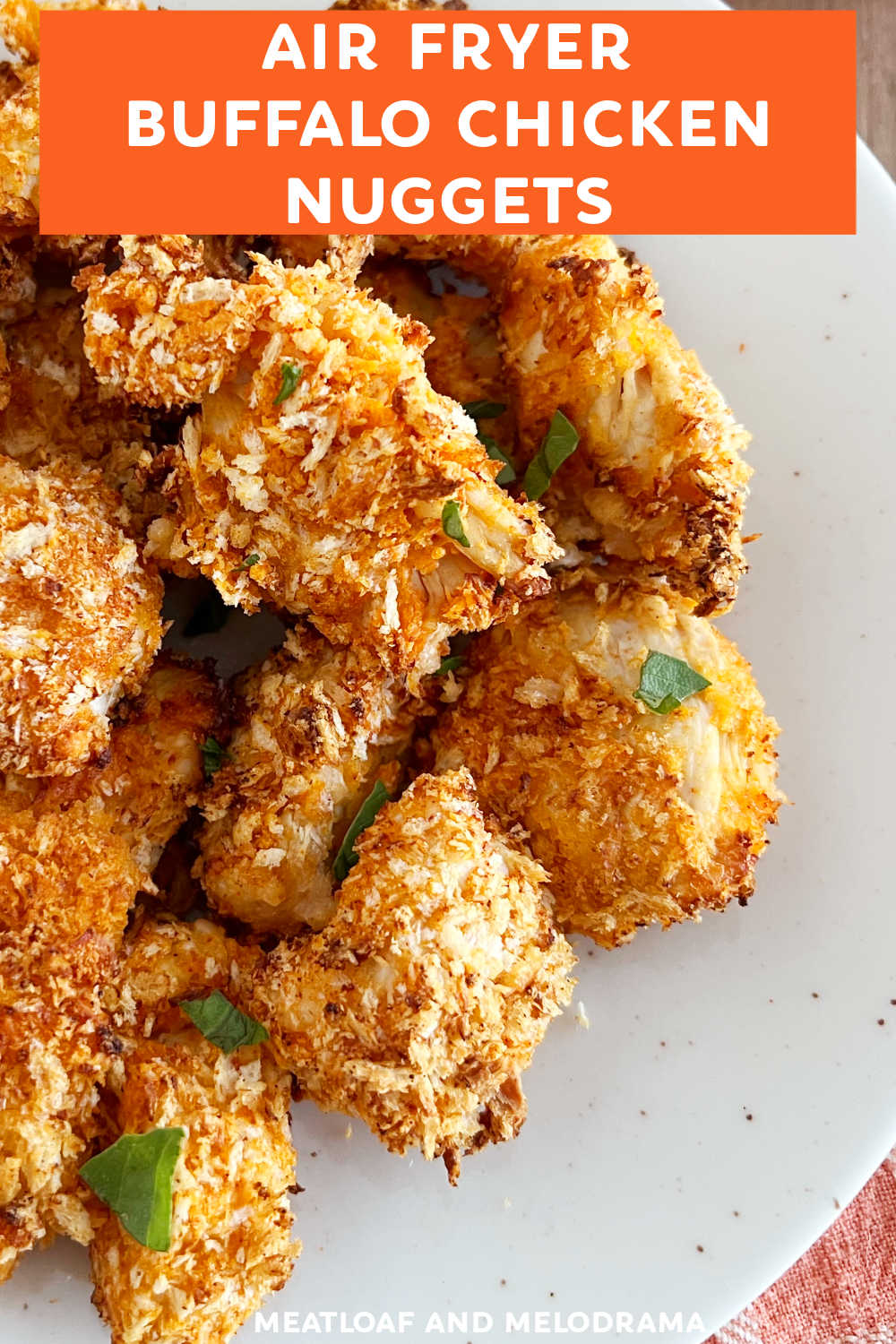 Air Fryer Buffalo Chicken Nuggets are boneless chicken breast bites dunked in hot sauce and panko bread crumbs and air fried until crispy. This easy recipe makes an easy appetizer or quick dinner! Air fryer Buffalo chicken bites are the perfect snack for football season!
Jump to:
Buffalo chicken nuggets are one of the first air fryer recipes I made. I used to make homemade chicken nuggets and Buffalo chicken bites in the oven, but they're super quick and easy in the air fryer!
At first, I was skeptical about cooking chicken in the air fryer, but it really does a great job. The chicken gets super crispy but stays juicy inside.
Plus, you don't have to heat up the house when you make these air fryer chicken nuggets! The best part is air frying is a healthier alternative to deep frying with oil.
These Buffalo chicken bites are perfect for a quick lunch or dinner, and they would be amazing as a game day appetizer. Try my air fryer Buffalo wings, air fryer BBQ chicken wings or air fryer chicken wings for something different!
Ingredients
You only need a few simple ingredients for Buffalo chicken nuggets. You can find them in your grocery store or online.
Boneless skinless chicken breasts or chicken tenderloins
Butter -- flavors the sauce
Buffalo sauce or hot wing sauce -- I used Frank's Red Hot Sauce
Panko bread crumbs -- makes the breading extra crispy
Salt, black pepper, garlic powder, and smoked paprika for extra flavor
Olive oil spray, avocado oil spray or cooking spray -- helps crisp up the bread crumbs
These boneless Buffalo chicken bites are made without flour, eggs or lots of oil, so they're lighter than fried Buffalo chicken wings or boneless wings, but they're just as delicious!
The thick Buffalo sauce helps the bread crumbs adhere to the chicken pieces.
How to Make Crispy Buffalo Chicken Bites in the Air Fryer
First, cut the chicken breasts into bite-sized pieces, roughly 2 inches long. Next, melt the butter and mix with the Buffalo sauce in a bowl or shallow baking dish.
You can use your microwave or melt the butter on the stove. Then, add the breadcrumbs to a large zip top bag, and season with salt, pepper, garlic and paprika.
Dip the chicken pieces into the Buffalo sauce. Use kitchen tongs for less mess!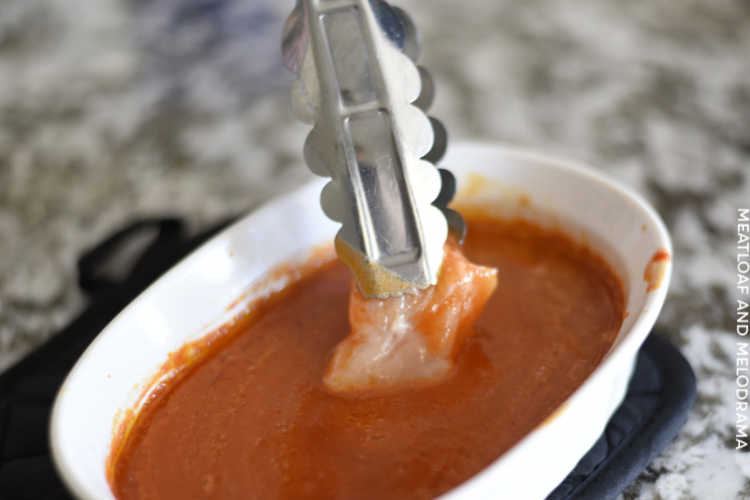 Shake off extra sauce. Then, add the chicken in the zip top bag. Shake well to coat the chicken pieces with seasoned panko breadcrumbs.
I use a zip-top bag for this step. If you prefer, you can use a shallow dish or pie pan.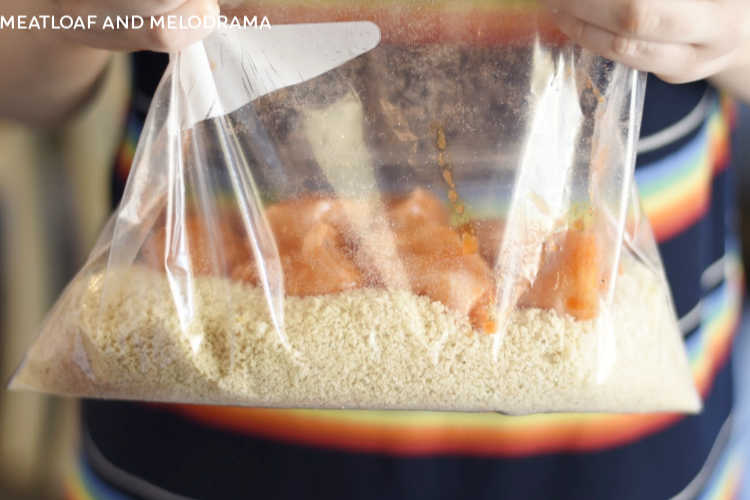 Remove the chicken to a tray or plate. Spritz the chicken with olive oil spray, and place into the air fryer basket in a single layer for best results.
If you are cooking a lot of chicken, you will have to do this in batches so that the chicken browns evenly.
Cooking Time
Cook the chicken for 8 to 10 minutes at 390 degrees f. Turn the nuggets over about halfway through the cooking time to make sure they brown on both sides.
Cook time may vary with different air fryer brands and the amount of chicken you are cooking.
Just make sure the chicken reaches 165 degrees internally. Use a meat thermometer to take the internal temperature.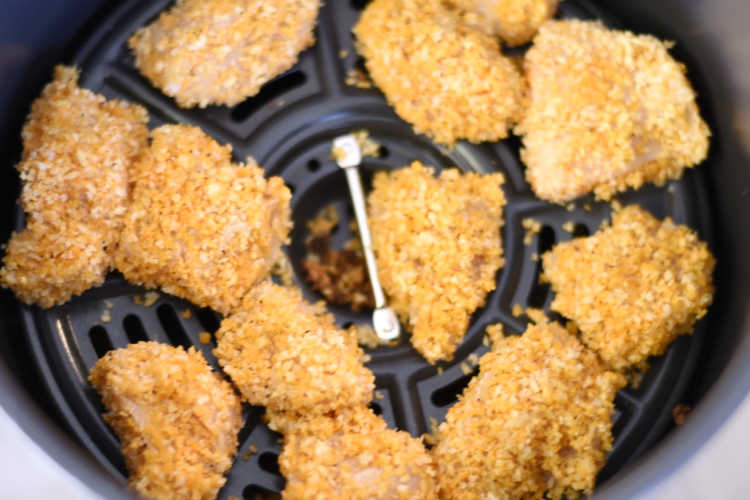 My family inhaled these crispy chicken bites! They're spicy but not super spicy, so even my kiddoes liked them.
If you want to add extra spice, you can add extra Buffalo sauce at the end.
Serve with ranch dressing or blue cheese dressing, carrot sticks and celery sticks. Or use your favorite dipping sauce and enjoy!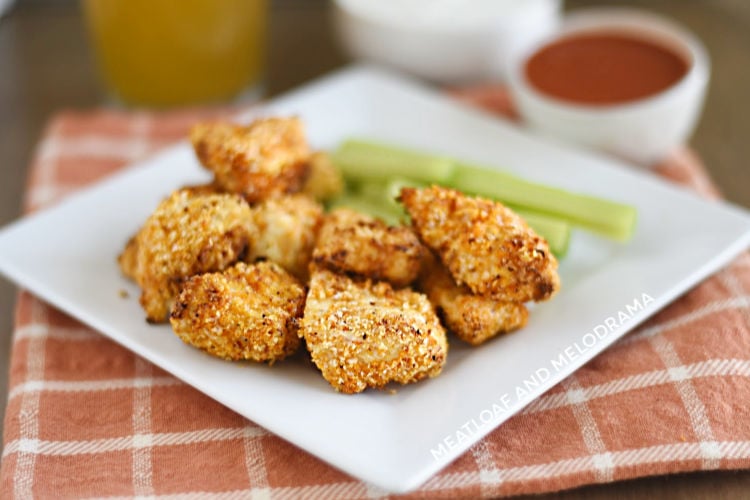 Recipe Variations
If you don't have panko crumbs, you can use regular breadcrumbs -- they won't be as crispy, though.
For extra spice, dip the nuggets in Buffalo sauce when they are just about done. Return to the air fryer and cook for another minute or two to crisp them back up.
You can also add cayenne pepper and onion powder to the bread crumbs for extra flavor.
For an air fryer Buffalo chicken bites no breading recipe, just omit the bread crumbs! Dunk the cooked chicken bites into Buffalo sauce after air frying.
Instead of chicken nuggets, make air fryer Buffalo chicken tenders.
To cook chicken nuggets or chicken tenders in the oven, place on a baking sheet and bake at 400 degrees f for 18 to 20 minutes. Check out my Buffalo Chicken Poppers recipe for details.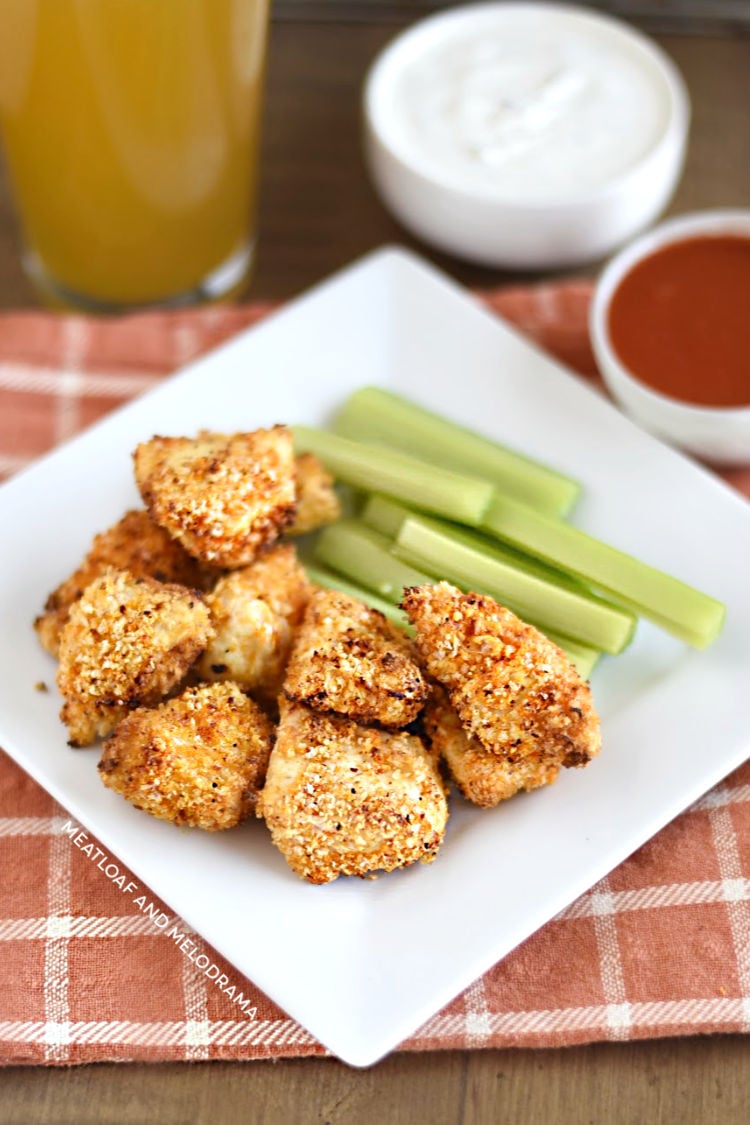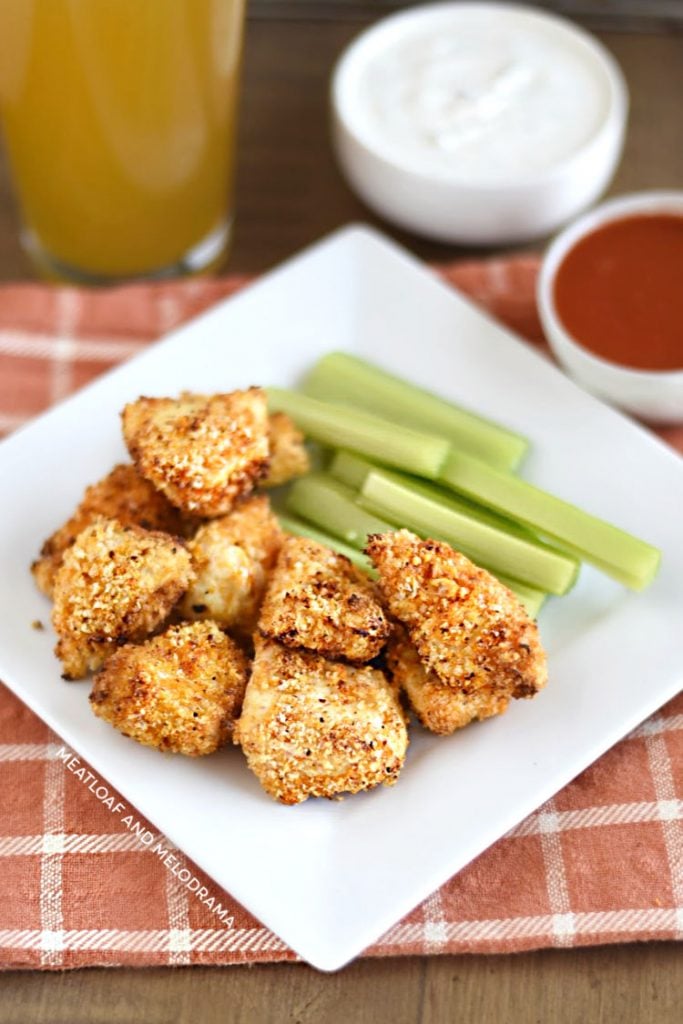 How to Store and Reheat
Store leftover chicken bites in an airtight container in your refrigerator. Consume within 4 days for food safety.
Freeze in a freezer safe bag for longer storage or meal prep!
Reheat leftover nuggets in your air fryer or in the oven.
Expert Tips
Pro tips for air frying!
Set ingredients out in an assembly line
Use a zip-top bag for easy breading
Have a platter or baking sheet ready to place the breaded nuggets on before air frying
Spritz with olive oil or cooking spray for extra crispy breading before air frying
Cook in single layer. Cook in batches if necessary.
Have a clean plate or platter ready for the cooked nuggets
May contain affiliate links. Please see disclosure for info.
Recipe
Air Fryer Buffalo Chicken Nuggets
Air Fryer Buffalo Chicken Nuggets are boneless chicken breast bites dunked in hot sauce and panko bread crumbs and air fried until crispy. This easy recipe makes an easy appetizer or quick dinner! Air fryer Buffalo chicken bites are the perfect snack for football season!
Ingredients
2

chicken breasts

boneless skinless cut into 2 inch pieces

1

cup

hot pepper sauce

or Buffalo sauce

2

tablespoons

butter

2

cups

panko bread crumbs

1

teaspoon

sea salt

1

teaspoon

smoked paprika

1

teaspoon

garlic powder

½

teaspoon

pepper

olive oil spray
Instructions
Melt the butter and the hot sauce in a shallow bowl in microwave

Place the panko breadcrumbs, sea salt, garlic powder, paprika and pepper in a shallow bowl or zip top bag and mix together

Dip the chicken into the Buffalo Sauce, shake off excess, and dip chicken into breadcrumbs, pressing to make sure crumbs stick. You may have to do this in batches

Place chicken on a baking sheet or plate, and spray with olive oil spray

Preheat air fryer, and set temperature to 390 degrees

Add chicken to air fryer basket in single layer, and cook for 8 minutes, pausing and turning over halfway through the cooking process

Remove chicken from air fryer, and serve or keep warm to finish cooking all of the chicken. Chicken should be at least 165 degrees when done, according to meat thermometer
Notes
Recipe was made in a Ninja foodi Air Fryer. Follow directions for your make/model if necessary.
Cook times may vary with amount of chicken and brand of air fryer.
Nutrition information is estimated. Please do your own calculation to fit special diets.
Nutrition
Calories:
160
kcal
Carbohydrates:
15
g
Protein:
11
g
Fat:
6
g
Saturated Fat:
3
g
Cholesterol:
34
mg
Sodium:
1281
mg
Potassium:
236
mg
Fiber:
1
g
Sugar:
2
g
Vitamin A:
195
IU
Vitamin C:
30.4
mg
Calcium:
42
mg
Iron:
1.3
mg
I hope you enjoy these easy crispy Buffalo Chicken bites as much as we do! It's a simple recipe but so good!
Be sure to leave a star rating and/or comment!
For more air fryer recipes, air fryer chicken recipes and all new recipes, be sure to sign up for the newsletter and follow me on social media.

Recipe published in 2019 and updated in 2022