Instant Pot Corn on the Cob with butter is a delicious summer side dish that you can make in the pressure cooker in just a few minutes. The corn is tender, juicy and perfectly cooked every time!
After hearing so many people rave about Instant Pot corn on the cob, I had to give it a try. And oh, you guys, I am sooo glad I did! Once you make corn in your pressure cooker, you'll never want boiled corn again!
I know it sounds corny, but I think eating corn on the cob is one of my favorite things about summer. Okay, that was bad, but you get what I mean!
Chowing down on a sweet, juicy ear of corn that's slathered with butter and seasoned with a touch of salt is pure heaven! Seriously though, we don't have it any other time of the year, but in the summertime, it's on the menu at least once a week.
How do you make corn on the cob?
There are so many ways to cook corn on the cob, and over the years, I think I've tried them all. My family loves foil grilled corn on the cob, but when it's 120 degrees out, it's not that practical!
If grilling corn isn't an option, I like to boil the corn in a big pot of salted water with a stick of butter added. It's so good, but again, it gets a tad warm in the summer!
How to make corn on the cob in the Instant Pot
Making corn on the cob in the Instant Pot is so easy. It's definitely the easiest method of cooking corn I've ever used! And, it doesn't heat up your kitchen or make a mess all over your stove.
All you do is remove the husks and place your clean ears of corn on the trivet in your Instant Pot. I used my 6-quart electric pressure cooker, so I added a cup of water, as well.
And because butter makes everything better, I added a few pats of butter on the corn.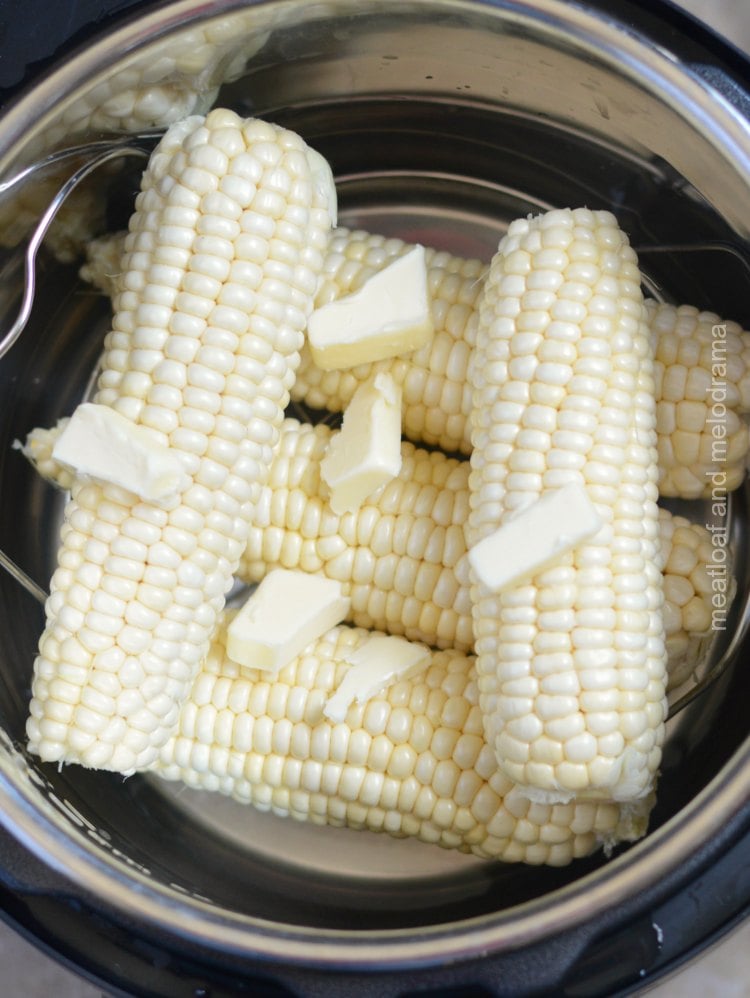 How long do you cook corn on the cob in the electric pressure cooker?
How long you cook the corn in the Instant Pot depends upon how soft you like it. 3 minutes was too soft for us, but 2 minutes was perfect!
The corn was still slightly firm, but definitely juicy and soft enough to easily bite and chew.
When the corn was done, I placed the ears on a large platter and poured the butter water all over. This is an optional step, but it adds extra flavor. I do this when I boil the corn, too!
You can add more butter and a little salt before you chow down. Mmm. So good! This would be a delicious side to serve with Instant Pot Hamburgers!
Looking for more Instant Pot side dishes?
Recipe for Instant Pot Corn on the Cob with Butter
Instant Pot Corn on the Cob
Tender, juicy Instant Pot corn on the cob with butter is quick and easy to make in the electric pressure cooker and makes a perfect summer side dish!
Ingredients
5

medium

corn on the cob ears, husks removed and rinsed

1

cup

water

2

tablespoons

butter
Instructions
Place the trivet in the Instant Pot, and add the water

Place the corn on the trivet, and add the butter on top of the corn

Cover, turn valve to sealing position, and hit PRESSURE COOK for 2 minutes

When pot beeps, and cook time is over, turn valve to venting position for a quick release

When pin drops, open lid, and remove corn to a large platter. Top with melted butter, if desired, and serve immediately
Nutrition
Loved this recipe?
Leave a comment or share on social media
My family loved this easy Instant Pot corn on the cob with butter. I hope you enjoy it as much as we do.