These 20 Recipes with BBQ Sauce are quick, easy and kid friendly! From bbq chicken to ham and cheese sliders, barbecue sauce makes everything better!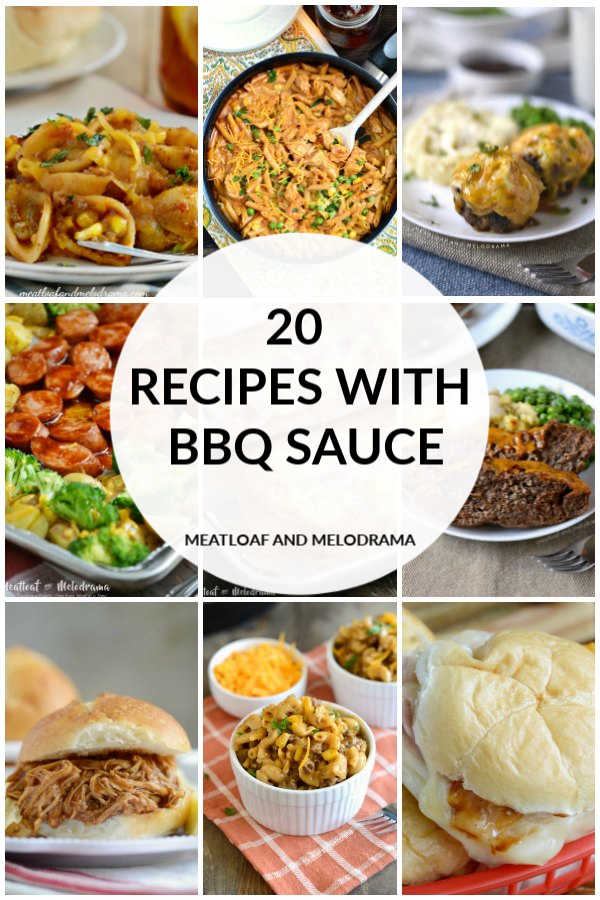 I have so many recipes with BBQ sauce on the blog because my kids just love the stuff! My pickiest eater will eat anything if she can drown it in this sweet, tangy sauce. If you have picky eaters, you know exactly what I mean.
This recipe collection has a little something for BBQ lovers everywhere. From chicken sliders, to leftover chicken quesadillas, to meatloaf, everything tastes better with a little barbecue sauce on it! So, if you have leftover BBQ sauce to use up or you just want a super easy, kid friendly dinner, these recipes are for you!
20 Recipes to Make with BBQ Sauce
BBQ Ham
BBQ Ham and Provolone Cheese Quesadillas -- Deli meat and cheese make this a super easy meal!

Hawaiian BBQ Ham and Cheese Sliders --
Pineapple gives these sliders a fun Hawaiian twist!
Baked Ham and Cheese Sliders with Barbecue Sauce --
Perfect for game day or a quick dinner!
Hawaiian French Bread Pizza --
Make your own pizza with a loaf of French bread!
Baked Ham and Cheese Roll Ups with BBQ Sauce --
Crescent dough makes these roll-ups easy!
Recipes with BBQ Sauce and Chicken
Instant Pot Hawaiian BBQ Chicken -- Pineapple Chicken in a sweet and tangy sauce

Instant Pot BBQ Chicken --
Pulled chicken is quick and easy in the Instant Pot!
One Pot BBQ Chicken Bacon Ranch Pasta --
An easy one pan dinner!
One Pot Cheddar BBQ Chicken Pasta --
A 30 minute one dish meal!
Honey BBQ Chicken Bites --
Another kid friendly favorite!
Leftover BBQ Chicken Quesadillas --
Use leftover chicken or rotisserie chicken for these!
Sheet Pan Honey BBQ Chicken Dinner --
A complete dinner in one sheet pan.
Easy Barbecue Chicken Sliders --
Grill or bake chicken tenders and top with sauce.
BBQ Beef
Instant Pot BBQ Macaroni Beef -- Beefy mac with a little extra flavor.

One Pot Cheddar BBQ Shells and Beef --
An easy one pot dinner.
Instant Pot Meatloaf with Cheddar BBQ Sauce --
My favorite way to make meatloaf!
Cheddar BBQ Meatloaf Muffins --
Kids love meatloaf muffins!
BBQ Pork
Hawaiian BBQ Pork Chops -- Super easy to make in a pan or in the Instant Pot!

Sheet Pan BBQ Smoked Sausage Dinner --
An easy sheet pan dinner with Kielbasa!
Instant Pot Baby Back Ribs --
You have to try these easy pressure cooker ribs! Or make
ribs in the slow cooker
!