Enjoy over 20 of our Favorite Kid Friendly Instant Pot Recipes that are easy to make, budget friendly and kid approved. Perfect for dinner tonight!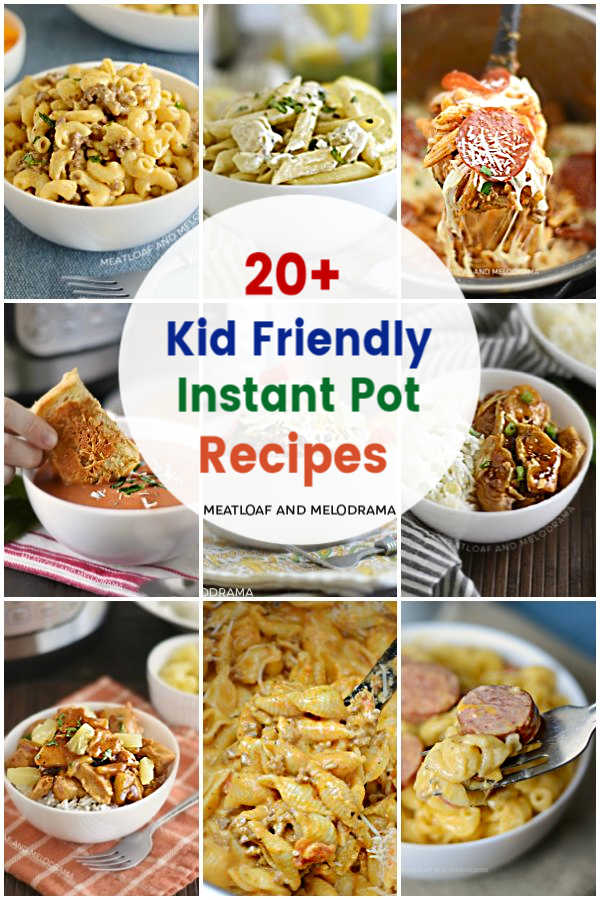 Looking for super easy Instant Pot recipes? Want to make a delicious budget-friendly dinner that your kids will actually eat? Then, you've come to the right place!
I've put together a collection of over 20 of our favorite kid friendly Instant Pot recipes just for you. Right here.
And how do I know these recipes are kid and picky eater approved? Because these easy dinners are all my kids' favorites. And friends, I have some of the pickiest eaters ever!
So, whether you're looking for easy chicken dinners or recipes with ground beef or pasta, I've got you covered. Check them out, try them, and let me know what you think!
Favorite Kid Friendly Instant Pot Recipes
Recipes with Ground Beef
Instant Pot Spaghetti and Meat Sauce cooks together in one pot for easy clean-up! For a meatless version, skip the ground beef!
Instant Pot Creamy Shells and Beef is my most popular recipe, and everyone -- I mean EVERYONE loves it. You can also make it with Italian sausage or chicken!
Instant Pot BBQ Macaroni and Beef is made with barbecue sauce. What kid doesn't like BBQ sauce?
Instant Pot Creamy Taco Pasta combines ground beef tacos and pasta all in one dish!
Instant Pot Beef Taco Meat makes the perfect ground beef for tacos, burritos or burrito bowls!
Instant Pot Cheeseburger Macaroni is like homemade Hamburger Helper!
Instant Pot Hamburgers are perfect to make when you can't grill and don't want to mess up your stove!
Mom's Best Instant Pot Chili is very mild and not spicy at all.
Instant Pot Ground Beef Stroganoff is an entire meal made in one pot!
Recipes with Chicken
Instant Pot Lemon Chicken Pasta is perfect when you want a lighter pasta dish. My kids requested this twice last week!
Instant Pot BBQ Chicken is an easy pulled chicken recipe perfect for sandwiches!
Instant Pot Hawaiian BBQ Chicken is sweet, savory, and it has pineapple chunks in it!
Instant Pot Teriyaki Chicken is perfect when you don't want to order takeout!
Instant Pot Chicken Noodle Casserole is comfort food and a great way to use up leftover chicken!
Instant Pot Creamy Chicken Bacon Ranch Pasta has everyone's favorite flavors in one dish!
Instant Pot Dump and Start Dinners
Instant Pot Smoked Sausage Mac and Cheese is easy, cheesy and gets extra protein from kielbasa slices.
Instant Pot Creamy Kielbasa Tortellini is another one of my kids' favorite dinners! You can make it on the stove, too!
Instant Pot Pasta and Meatballs uses frozen meatballs for convenience, but you can use fresh if you want!
Instant Pot Pizza Pasta is like a big pot of pepperoni pizza!
Creamy Instant Pot Mac and Cheese is an easy meatless meal, and you can use any cheese here!
Instant Pot Tuna Noodle Casserole is a favorite for kids of all ages!
Soup Recipes
Instant Pot Creamy Tomato Basil Soup is light, fresh and goes well with grilled cheese!
Instant Pot Creamy Lasagna Soup is thick, cheesy and tastes like lasagna in a bowl!
I hope you and your kids enjoy these easy pressure cooker recipes as much as we do!